Marijuana legalization provided a double-barreled boost to Colorado's economy: First, tourists come in droves to smoke joints without fear of a rap sheet. A survey of more than 3,000 tourists by the state found that 22 percent of respondents judged marijuana as an "extremely influential" motivation for their visit. Then plenty of the baked tourists end up in the hospital, filling local coffers with their medical expenditures. Denver's Marijuana Policy Group estimated that pot legalization has funded more than 18,000 jobs in the state.  
As amusing as it is to joke about travelers who can't cope with their smoke, the time has come to start taking marijuana seriously as a business. More than half the U.S. states now allow some kind of consumption, including eight (plus the District of Columbia) that permit recreational use. Arcview Market Research predicts that revenues from the legal marijuana trade will exceed $20 billion by 2020.
As the booming industry matures and more states allow marijuana sales, the availability of legal weed won't be enough to draw visitors.
So California pot growers are taking a page from the book of winemakers. They have begun to promote marijuana appellations. Like Napa Valley or New York's Finger Lakes, cannabis cultivators of California will be able to tout special qualities for their products' origin, establishing a collective branding growers outside that area will be prohibited from using.
Certifying an appellation isn't the same as establishing a popular strain, such as Blue Dream or Banana Kush (two of today's most popular). Just as a Riesling can be grown in Germany or New York, a strain could come from many places. On the other hand, a consumer might have more confidence that an ounce of Sour Diesel certified as originating in Humboldt county really is 100 percent the advertised strain.
California allowed counties to regulate the cannabis industry with legislation that became law in October 2015, as Cannabis Wire explains in its California Legalization Report. Humboldt County got way out ahead the appellation concept by launching a "proof of origin" pilot program in 2016. "In Humboldt County," notes the website sponsored by a coalition of pot producers, "great climate, diverse strains and years of growing experience work together to produce some of the world's finest medical cannabis." If the region can establish its brand, people won't visit there just to smoke weed. They'll visit because the appellation has given the local weed a positive reputation.
SEE ALSO: Marijuana meets fine dining.
Officials in Mendocino County, similarly, are in the middle of the same conversation. Both places have to decide whether or not they want to have lots of small appellations or a few big ones. Both argue that the long history of cultivation there gives their strains a unique quality. Many growers there operate outdoors, using real water and sun, which is unusual in an industry that uses hydroponics to remain out of sight and under the radar.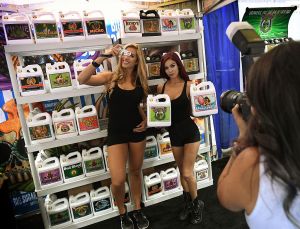 California, which legalized medical marijuana in 1996, has several advantages over the rest of the country. As the nation's leading wine region, its farmers have proven they know how to establish a regional brand. And the state already attracts plenty of tourists: 263 million travelers visited the state in 2015. The Observer reached out to industry associations in other states where adult use has been legalized. So far, it seems like none of the others are as organized as these two counties.
The question for cannabis growers is whether the flower will come off the industry should the legalization trend continue nationwide, as marijuana consultant Leslie Bocskor, the president of Electrum Partners, predicts. Atlantic City, N.J., offers a case in point. After the city embraced gambling as the basis for the local economy, it enjoyed a burst of economic activity. That bubble popped, however, when it became much easier to find a game of cards in nearby cities on the east coast. Widespread legalization of gaming revealed there's only so many people who enjoy throwing their money away in garish settings, even if you get a free buffet.
But pot is not the same product, and its gourmet growers have a strong interest in convincing consumers to sample more refined strains. Look for other parts of the country with legal cultivation to follow California so that one day you can ask for local ganja by name.  
READ MORE ABOUT THE COMING YEAR…
The Next Big Anthony Bourdain: Michael Twitty
The Next Big Protest: The New Sanctuary Movement
The Next Big Consumer Trend: Imperfection
The Next Big Career Hack: Equine Therapy
The Next Big Workout: VR in the Gym
The Next Big Disrupted Industry: The Music Business
The Next Big Cologne: Hawthorne for Men
The Next Big Cocktail Ingredient: Activated Charcoal
The Next Big Democratic Governor: Phil Murphy
The Next Big Guru: Light Watkins
The Next Big Zika Fighter: BugBling
The Next Big Book About Jews in the Old West