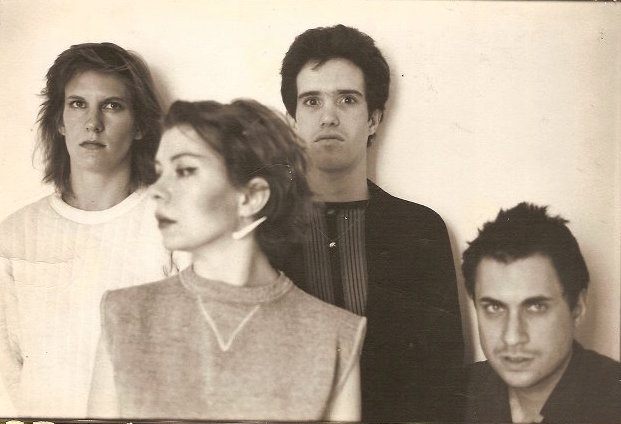 Mark Cunningham is experiencing a late-career renaissance.
In December 1975 he co-founded Mars, the earliest of the NYC No Wave iconoclasts, who perplexed both unsuspecting downtown rockers and budding Bowery punks. Come 1991, he relocated to Barcelona and evolved into an elder statesman of his adopted metropolis by spearheading the avant-garde aggregations Raeo, Convolution, and Bèstia Ferida.
So it's pretty damn remarkable that after four illustrious decades he's making some of the most provocative and bewitching music of his life. 
Deep Red, the subtly ferocious debut album by Cunningham's new project, Blood Quartet, was recently issued on CD by Spain's Hang the DJ Records and on vinyl courtesy of Massachusetts's stunningly prolific Feeding Tube label. The group includes three younger players from the Catalan combo Murnau B. and their sophisticated gnarl brings to mind a slow-motion spaghetti Western soundtrack scratched by discreet abrasives but bathed in sensuous, jazzy refinement. Covert clamor intrudes upon a loose but undeniably hefty rhythm section as cool wisps of trumpet float like purple smoke rings over desert skies.
Released simultaneously via Negative Glam, a division of Feeding Tube run by Sonic Youth's Thurston Moore and critic extraordinaire Byron Coley, Mars Archives Volume 2: 11,000 Volts to Tunnel continues the imprint's series of nicely assembled, historical live anthologies.
Excerpting two 1978 gigs at CBGB plus a third at Max's Kansas City, the LP finds bassist Cunningham, guitarist-vocalists Sumner Crane and Connie Burg, and drummer Nancy Arlen shedding a developmental penchant for Velvet Underground garage pop and instead coating local stages with corrosive, alien bile.
Around this time, famed producer Brian Eno tapped the band to appear on his scene-birthing No New York compilation alongside DNA, the Contortions, and Teenage Jesus and the Jerks. But even among their decidedly difficult no wave peers, Mars stood apart, specializing in a cryptic and disturbing strain of discord that would pave the way for everything from Silk Purse to the Dead C to Sonic Youth.
Sourly tuned instruments yielded grating atonality, song structures collapsed in on themselves, and the singers catatonically mumbled or psychotically retched lyrics about wax-encased torsos and Puerto Rican ghosts. Veiled references to profound thinkers Marcel Proust, Søren Kierkegaard, and Thorstein Veblen anchored an avalanche of primal expressionism and Koch-era urban decay. From a purely artistic perspective, Mars achieved more in its 36-month existence than many performers can accomplish in 36 years.
Chatting with the Observer from his balmy Mediterranean base, the soft-spoken but thoughtful Cunningham reflected on the relationship between his radical past and his equally fascinating present.
[bandcamp width=350 height=470 album=2768247977 size=large bgcol=ffffff linkcol=0687f5 tracklist=false]
Blood Quartet is the first band you've been in since Mars that plays really physical, rock-like music. Aren't performers supposed to mellow as they grow older? 
I guess I'm getting back in touch with my roots: '60s rock, free jazz, folk, and no wave. It's what Blood Quartet does to me—age, too, perhaps. But it's never too late to rock.
There's a lot of sanguine imagery in your work, from the title of your 1997 solo album, Blood River Dusk, to the name of your new band. What does this iconography mean to you?
The inspiration for Blood River Dusk came from Cormac McCarthy's [1985 novel] Blood Meridian, a surrealistic western filled with ritual violence and hallucinogenic landscapes. References to blood, in vampire myths, old sagas, and elsewhere, really resonate. After the album, I started a series of solo shows with the title "Blood Mysteries," an ongoing work in progress. I thought of the band name soon after seeing [Jim] Jarmusch's [2014 vampire film] Only Lovers Left Alive, which really haunted me. It just seemed to be a perfect fit.
Blood Quartet consists of you and all three members of Barcelona's Murnau B. Please explain the genesis of the project. 
We were brought together to play at a party for a fanzine, in which we had appeared in separate articles. [Our hosts] thought it would be an interesting experiment, and it was. For the show, we did a couple of rehearsals just to organize some improv pieces. It worked so well that we decided to go for it and form a band.
How familiar were those guys with your earlier work? What are their musical backgrounds?
They've all been playing in bands—hardcore, metal, underground rock—since they were youngsters. Apart from their trio, Murnau B., [drummer] Càndid [Coll] has a solo Catalan folk-punk protest project, Autodestrucció. [Guitarist] Lluís [Rueda] and [bassist] Kike [Bela] were fans of Mars but didn't know much about my other groups. Càndid, not even that. But we just clicked. They're all in their late 30s; the age difference only makes it more interesting. What we do together has evolved into another beast, with soundtrack elements and echoes of all of our past work and influences. All has become very "Blood Quartet."
The project began as an improvisational group but became more structured, right?
At first, it was more improvisational, by necessity. But really, I've always preferred developing flexible structures, and Blood Quartet does this very easily. We have a knack for finding songs on the fly, in rehearsal. This makes it more interesting for the public and for us, as well.
There's a limit to free improv. I discovered this in my last band, Bèstia Ferida, which was more about spontaneous composition with no previous structural work. I think this hinders development because, in a way, you're always starting from zero. I like to help compose pieces that can be reinvented every time we play them. If that isn't possible, we get bored with them immediately.
There's been an electronic element in your music as far back as your '80s band Don King and especially with Convolution, your more recent duo with your partner, Silvia Mestres. With Blood Quartet, that's mostly disappeared. Why the return to a lower-tech approach?
I still use delays and reverb. But in an electric quartet with an already dense sound, the effects get lost easily and don't make sense. So I'm becoming more direct. It's a nice change.
Your trumpet playing has a very distinct tone. How do you achieve this full but also chilled-out horn sound? Who are your influences?
My sound is from playing the trumpet my own way since I was a kid. I had very rudimentary school-band training. After that, I lost interest for a few years and took up guitar to play rock as a teen in a very amateur garage band.
Later, in college during the early '70s, I started listening to free jazz and that got me back to the horn, playing [in this manner] with friends but also playing along with records: Miles [Davis], Pharaoh Sanders, Sun Ra, Alice Coltrane. This was my real education. Then, in New York, I took up bass with Mars, not knowing yet how to use the trumpet in that context. But musically, it was putting into practice the same freedom I'd discovered.
Finally, with the [Mars-related] John Gavanti project [in 1980] and with [my subsequent band with Connie Burg], Don King, I started finding my voice on the trumpet. That's what I've been working on ever since. In terms of how I think about it, I'm still true to no wave.
One thing that is rarely commented on was our work ethic. We might have been lazy about lots of stuff, but not the music. A lot of work went into those bands, or, at least, into most of them. The idea of just picking up an instrument and playing it was not the whole story. Doing that comes with a technical disadvantage. You have to make up for that by finding your own way to play the thing. If you don't work hard at it, it goes nowhere.
Blood Quartet was initially instrumental but the new album has wordless vocals. How did those work their way into the music?  
Càndid, our drummer, has an amazing voice, which I didn't realize at first. But he started singing like an angel at rehearsal, and we composed "Only Lovers" on the spot. Yes, it is wordless, using just syllables in that song. But there will be more to come, perhaps with lyrics.
You mentioned that you'd been listening to the drone-metal band Earth. That's surprising. Is it an influence? 
Not an influence exactly, as I hadn't been familiar with them, except by name. I heard them whilst surfing around Spotify, looking for bands akin to Blood Quartet. I really felt something there, especially in their latest incarnations. [Earth founder] Dylan Carlson's solo work as Drcarlsonalbion is great, too. I'd love to play with him sometime.
An Andalusian or Moorish atmosphere pervades some of Blood Quartet's music. Do you or your bandmates listen to any traditional Spanish or Catalan folk?
We're all steeped in it to one degree or another. I'd been into the old Spanish sound ever since [Miles Davis' 1960 album] Sketches of Spain, and, of course, I went much deeper when I came here. It happened quite naturally in "Dragon Tree," one of our first songs, which we usually open our set with. A bit of cosmic jazz bleeds into that, as well.
You sometimes play guitar in Blood Quartet. That hasn't been your instrument since the very earliest Mars gigs. Why the switch?
I never completely stopped playing guitar and bass, and I have been looking to work them back into my projects. Since Kike's such a great bass player, I brought out my old Danelectro Convertible [guitar] and started banging away on that. Lluís is into odd tunings, which suited me fine, and we love playing together. At first, I was pretty awful but it's starting to sound O.K. now.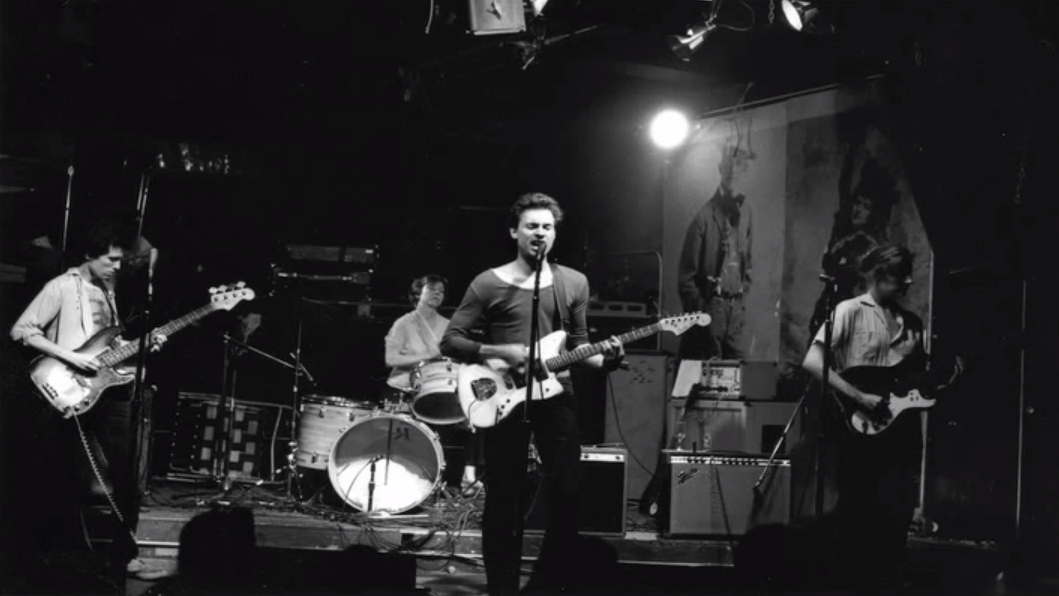 You once told me that Blood Quartet was "finding some very Mars moments, without any direct intention." Please explain.
It happened quite naturally when I was playing guitar, at first during the improvs. It wasn't my intention, exactly. But Mars was where I learned to play, so when the heat builds, [that feeling] comes back to me. The rest feeds off it. You can hear that in "Dark Energy 74," another early song; Luís's guitar in particular channels some real no wave moments.
"Fly Your Eyes" repurposes some of the Mars song "Helen Forsdale," specifically your classic bassline. It's not quite a cover nor is it wholly original. How did that happen? 
They wanted to do a Mars cover, which I resisted at first. We tried jamming on "Helen Forsdale," with me on guitar. It took off into a different but interesting place, with strange references from the guys. I'm also playing an adaptation of [the riff] on guitar, but not at the same time as [Kike's bass]. So there's a warped call and response in there.
The new Mars live album documents three gigs from early 1978. The previous volume in the Mars Archives series was more straightforward; the band's initial Velvet Underground and punk rock influences were much more audible. But Volume 2 is quite unhinged. What happened between 1975 and 1978 that changed Mars's music so drastically?
We spent a year just figuring out how to play together and make our own songs. We started by jamming on Velvet Underground songs but Sumner began throwing in his own lyrics. From there, we developed our first set, in which you could hear some distorted references to other New York bands, from the Velvets to what we were hearing at CBGB, [e.g.] Richard Hell, Talking Heads, etc.
In the first few months of playing live, this already started to mutate and mature. We were practicing almost every day, so the development was very fluid. We started making new songs that were more open, with other influences. We were all going out a lot and, apart from the underground rock clubs, the free jazz and minimalist loft scenes were very important: Ornette [Coleman]'s Artist House, Sam Rivers, and so on.
A strong influence on my playing was also Charlemagne Palestine, who did monthly shows in his loft with extreme trance piano, creating choirs of overtones from interval blending, and with a performance-art edge. Other minimalists doing underground shows were Philip Glass, Joan La Barbara, and La Monte Young and his crew, but none made the same impression on me as Charlemagne. And I was listening to a lot of ethnic music, especially primitive trance stuff. So we kept mutating and getting darker and denser.
Mars' de facto leader, Sumner Crane, once spoke of taking the music back to zero, presumably as a metaphor for going from rock to pure noise. Please elaborate on this.
Part of the process, or our way of going deeper, was a kind of deconstruction, getting as far away as possible from rock structure. It wasn't so much planned as it was organic. Not so much us pushing it as us being pulled by some force.
[youtube https://www.youtube.com/watch?v=GlQJO4QYdMk&w=560&h=315]
The song "11,000 Volts" was a real step forward with its narcotic feel, shards of chords, and Connie's dispassionate vocals. Did writing it feel significant? The words are about some kind of masochistic robot, correct?
As for the lyrics and theme, that was really between Connie and Sumner. I was more interested in what we were doing with the music, which was a rhythmic and tonal dislocation we hadn't tried before. Difficult but also intuitive for us. It definitely led the way into new territory.
Connie's voice on that song and on "Hairwaves" is so bizarre. Did she ever mention why she chose to sing that way?
Connie created a persona that enabled her to be detached like that. In some songs, she pretended she was Sumner: "Cairo," for example, which most people probably think is him singing.
No kidding. I've been listening to that song for decades and I always assumed it was Sumner's voice. 
It was a running joke between them to confuse the public.
Andy Warhol and Patti Smith attended your gigs in 1977. Did they ever check out the wilder stuff you were doing later on?
That was all just part of the scene. Andy did whatever was on his agenda, which some secretary kept for him. So he'd be at CBGB one night but not knowing much about what he was seeing. Patti also seemed indifferent to the no wave scene—too immersed in her persona, at least back then.
There were plenty of stars around in general but I don't remember them paying much attention, apart from Brian Eno. The first time he came to see us, at [the short-lived] CBGB Theater [on Second Avenue] in December '77, he came backstage and we got on really well.
On the second side of the new record, you can hear members of the audience yelling for Mars to play covers of classic rock songs like "Louie Louie" and "Mustang Sally." Were those taunts or were they in-jokes from friends?
I'd say more jokes, though we had taunts often, as well. But the audience that night was definitely on our side and those are very familiar voices. I'm hoping some of those who have survived will get to hear it.
A lot has been made of rock fans not comprehending Mars. But that crowd actually sounds very enthusiastic.
We had our public, absolutely. Especially at CBGB. Sometimes it depended on who we played with; if it was someone that had their own crowd, maybe they didn't get us at all. This particularly happened while playing with punk or hard rock bands.
When we played in a series at Folk City with the Heartbreakers, [the audience was] throwing things at us. But on those nights captured on the record, you can really hear the complicity that we provoked in our immediate circles. For them, the weirder and more intense, the better. In this sense, we were very much a product of our time and place, not ahead of it as is generally thought.
[youtube https://www.youtube.com/watch?v=58gRiVYSDss&w=560&h=315]
Please recount the story behind the song "RTMT."
That's basically a joke on [music critic] Robert Christgau describing us as "arty and empty" in The Village Voice. We threw that song together as a reply. I wish I could tell you more of the words but a number of Sumner's lyrics have not survived him and they're notoriously difficult to decipher.
During this period, Sumner stopped sounding like the singer in a punk band and started babbling in these insane voices, almost speaking in tongues. Do you recall how he developed this vocal style? How did it reflect his personality?
Perhaps, at this distance, I could reveal that Sumner had some type of bipolar condition; I never knew what the official diagnosis was. He was treated, at times. But mostly it was under control, and we accepted it as eccentricity, which I suppose was and is common. He could become obsessed with something or someone and use it to create characters in a song or even musical forms.
There was a period, I believe in the fall of '78, when he would disguise himself and go hang out with homeless [people] that he had noticed in the neighborhood. The lyrics of "Scorn" were the result of that. In the last few months of Mars, he was going deeper into a kind of creative madness that is most definitely reflected in our last concerts and on the Mars EP [released posthumously in 1980]. The third and final volume of the Mars Archives will show this more clearly.
What's the story behind Eno courting Mars for the No New York compilation?
As I mentioned above, we first talked to him at the CBGB Theater show in late '77. It was not months later at the Artists Space in May. The story that's commonly told is that he came to see all the bands in that [five-night performance] series and then decided immediately to do No New York; it wasn't like that at all.
He had regular contact with all the bands before that and had pretty much made decisions about it before those shows. We didn't need courting, as we were all fans and everybody wanted to take advantage of the opportunity.
The problem was more that, as there was some effort [from the musicians] to get as much space as possible on the album, there were interests in keeping down the number of bands included. I really didn't participate much in that, so I can't say more about it. It came down to who had more influence with Eno.
[youtube https://www.youtube.com/watch?v=ZmSKNTM1nhk&w=560&h=315]
What do you remember about the recording?
I think, having now read everybody else's recollections of their sessions, that the Mars experience was possibly the most positive. We were comfortable and he was really accommodating.
I do remember that during the mixes, which I'm sure he would have preferred doing on his own, we were a bit tough with him about the use of [studio] effects. We had never used any live. But as we went along, we gave him more slack and the result was the wild mix of "Helen Forsdale," which surprised even him; a lot of his approach was purposely and methodically chaotic, to see what would happen.
Who was "Helen Forsdale"?
Good question. Had something to do with the town in upstate New York where Sumner's parents had moved and some trip he took there. Hence the influence [of the sounds of insects in the countryside] on the guitars. But who Helen was, I have no recollection.
Did it seem like No New York was going to be something significant at the time? It took ages for that record to garner the respect it deserved.
Well, the hard thing for Mars was that we broke up shortly after it was released, so we were unable to really take advantage of it. There didn't seem to be many repercussions at first, no. But I think it got distributed to a great number of areas where we had potential fans, around the States and Europe.
I remember going to small towns in Italy in the early '80s, on tour with Don King, and finding fans there. But yeah, it wasn't until it was reissued, post-millennium, that Mars in particular became more widely known.
[youtube https://www.youtube.com/watch?v=HoSLo9Y9z9o&w=560&h=315]
Mars began in 1975, well before the other bands on No New York. How did you end up influencing them?
[DNA frontman] Arto [Lindsay], Connie, myself, and some others like [Teenage Jesus and the Jerks bassist] Gordon Stevenson and [Beirut Slump members] Bobby and Liz Swope all went to college in St. Pete, Fla. I was Arto's roommate there for four years and we came to New York together in '74, with Connie, as well.
I was thinking more about doing experimental theater and Arto [was interested in] poetry. But in the end, we were all drawn into the music scene, which seemed like the most powerful thing happening at that moment, as well as the easiest thing to take part in.
So Mars weren't the only ones thinking along the same lines. We were just maybe the first of what became our little movement. I think we had an impact just because we showed them how doable it was.
Pretty soon, everyone was starting their own band, using whatever instruments seemed convenient. Connie's guitar playing was certainly a big influence on Arto, [Teenage Jesus and the Jerks leader] Lydia [Lunch], and others. But stylistically, we were all quite different.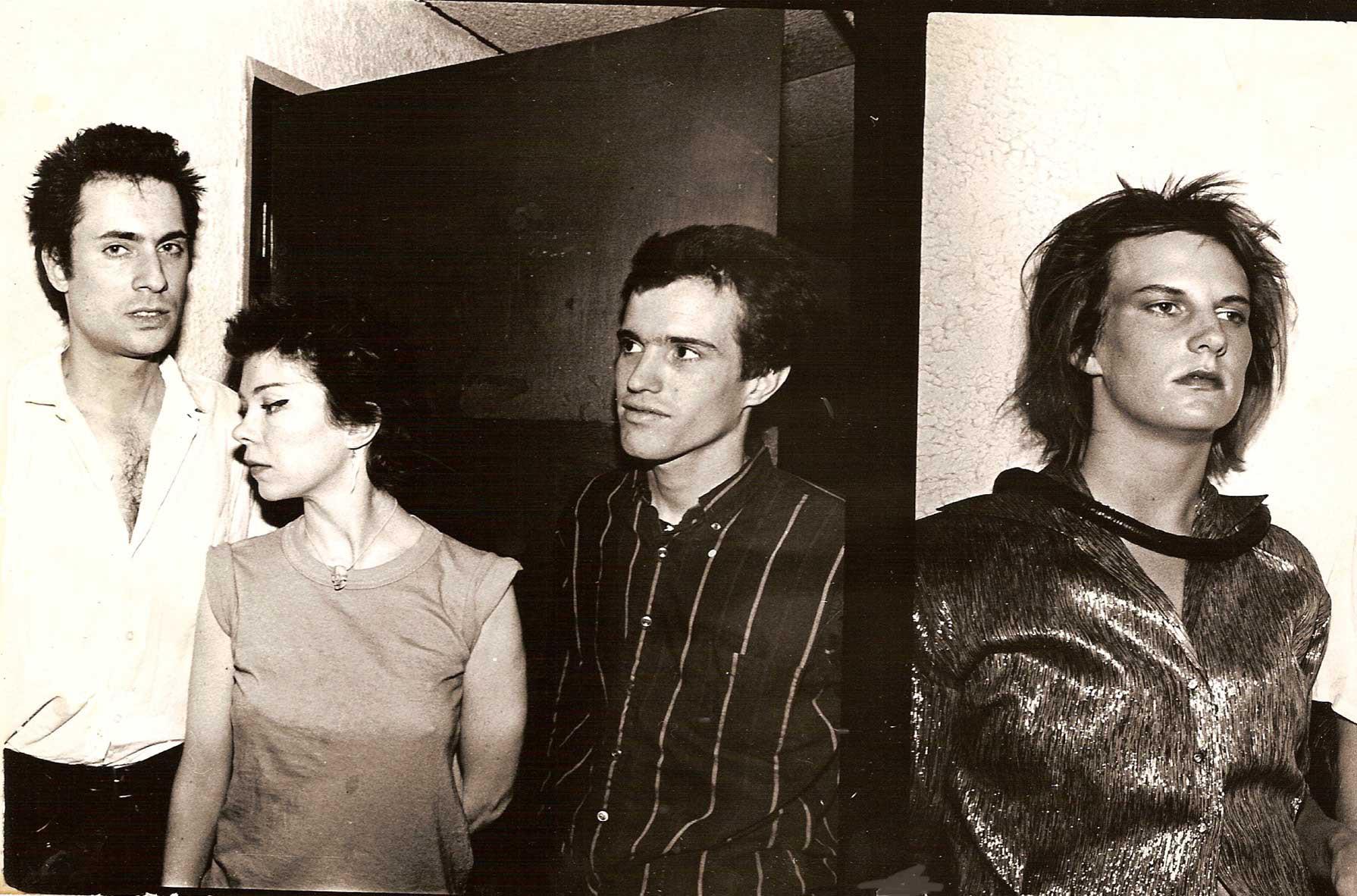 Why did Connie change her stage name from China Burg to Don Burg to Lucy Hamilton? And Sumner was calling himself Sumner Audrey for a while?
Again, it was the game we were all playing, not taking anything too seriously. Quite Warholian, really. And also a way of distancing ourselves. Sumner had already adopted the surname Crane long before Mars. I don't remember that story either. [I don't know] if I ever knew. His real name was Schoenwetter. Connie just wanted to be somebody else. So when it came time to formulate the credits for a record, they got creative.
After No New York, Mars' music got even more savage. Everything became so percussive with no melodies whatsoever. Were you trying to push people's buttons?
Not really. We were doing what we liked and going where our instincts took us. As I mentioned before, I was deep into primitive African and other trance music, so I started detuning the bass and playing it like drums.
By the end of 1978, Mars was done. How and why did the band unravel?
There were several reasons. But since I guess I'm coming closer to the truth in this interview, I'll try to be more specific than usual.
Partly, it's what I've said all along: that we had come to the end of something, to zero, as Sumner had stated. To continue meant a new process of construction, which perhaps would not even be recognizable as Mars. This, in effect, is what happened since, a year later, Connie and I were already working together with Sumner on [the] John Gavanti [project]. But there were personal reasons, as well.
Sumner was not coping well with his demons, and we didn't know too well how to help him. Nancy had lost interest and wanted to concentrate on her [visual] art. There was also a serious lull in the interest of the clubs, in terms of booking us. The scene was changing and though other bands were adapting to it, we weren't. So we went some weeks without practicing and that's what killed it. It was our first break in two years and we couldn't find a way back together again, at least not as Mars.
The violence, filth, and creativity of New York during the '70s definitely had an impact on Mars' music. What goes through your mind when you visit the city as an expat, 40 years later?
I haven't been back for six years. I was already horrified then and now I don't even want to face it. I prefer to remember how it was and I hope that this horrible process of selling the city off to the rich can be somehow subverted.