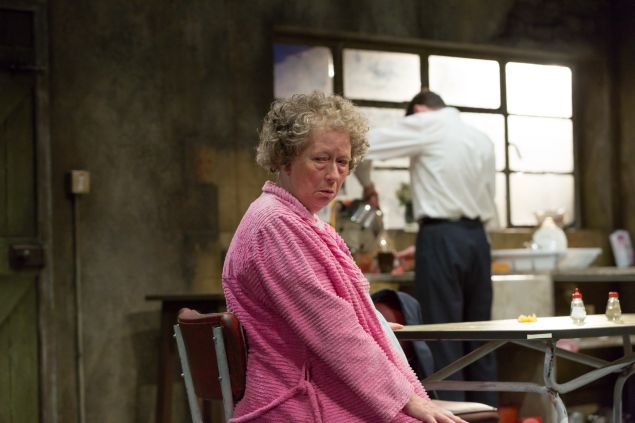 Marie Mullen has made only one stop on Broadway, but it won her the Tony for Best Actress in a Play. She played Maureen Folan, a 40-year-old plain Jane resigned to a life of terminal spinsterhood until, miracle of miracles, she meets an equally shy kindred spirit who, in his romantic exuberance, dubs her "the beauty queen of Leenane."
She might well be just that, since the only other woman in the play is her ma, Mag, a hefty old heifer determined to keep her daughter a full-time caretaker and handmaiden till death does them part. The prospect of a beau is a threat for Mag, who plots to stop the relationship before it starts. When Maureen realizes the old bag shot down her last chance at happiness and an escape, she violently hastens Mama's exit.
Yes, it's a comedy—and dark as they come—the first produced play by Martin McDonagh, who subsequently made a career, even an art form, of such deliriously macabre storytelling. The Beauty Queen of Leenane also marked the Broadway beachhead for the Druid Theatre Company and remains its crowning achievement.
Three-fourths of the cast—Mullen, Anna Manahan as the hateful Mag, and Tom Murphy, who delivered love messages to Maureen (via, alas, Mag)—won Tonys that year. So did their director, Garry Hynes. The other cast member—Brian F. O'Byrne, who played the amorously inclined brother of the faulty messenger—was included in a special award Theatre World doled out to all four actors for Best Ensemble Performance. All in all, quite a haul, but the Best Play Tony still went to Art (the play).
Two decades have rolled by since Beauty Queen was first unveiled in Galway, courtesy of Druid, the theater company founded there by Hynes, Mullen and the late Mick Lally. Two of its Tony winners have died in the interim—Manahan at 85 and Murphy at 39—and O'Byrne stayed put stateside and won his Tony for Frozen. As for McDonagh, he returned to Broadway with five more helpings of giddy Grand Guignol (The Lonesome West, directed by Hynes; The Pillowman and A Behanding in Spokane, both directed by John Crowley, presently of The Present; and two-thirds of his Aran Islands Trilogy, The Lieutenant of Inishmore and The Cripple of Inishmaan).
It was director Hynes, who felt it was high time to send Beauty Queen out on a 20th anniversary world tour to the provinces and the colonies, this time with Mullen playing the murderable matriarch. It will play BAM's Harvey Theater January 11th to February 5th.
Mullen was happy to revive the work. In fact, she said long distance from Galway last week, "I'd love to do all four parts. I don't know if I could do the men's roles, but I have played English lords in Shakespeare, so I suppose that that, too, is possible."
In point of fact, she began acting with a gender switch: "It was at an all-girls boarding school in the '70s in West of Ireland. We just had a little drama class, and we did this little obscure one-act Irish play where I was a 90-year-old man sitting by the fire, smoking his pipe, giving out words of wisdom. That was the start of it all."
Which sounds pretty much like Mag without a pipe. "Exactly!" Mullen agreed.
The image is indelible and, she soon learned, inerasable. "When I started rehearsals, Anna's rhythms were all in my head," she recalled. "I didn't clear them out either, because they were so on the ball. I just let them settle in my head and tried to make the responses that were coming from my mouth as truthful as I possibly could."
Having a different scene partner to bounce the lines off of—Aisling O'Sullivan is the new Maureen—helped. "I learned the right thing to do was not fight Anna's interpretation. My own responses started changing with a different Maureen. What's now happening on stage is a mixture of me and Anna and Martin."
McDonagh's writing does most of the work, she insisted. "It's like a roller coaster when you speak the lines because they're brimming with energy and madness. Martin takes the audience on a path they don't expect to go on. His language is so forceful that it just falls out of your mouth and cascades all over the stage."
One thing Mullen has noticed doing the revival is the sharp shift in audience sympathy. In the original production, Mag's negative personality is so profoundly established at the outset that all Maureen has to do is toss off a vaguely derisive crack about her to bring the house down. "That's when the audience says, 'Oh, my God! She has a sense of humor. She might survive this.' Laughter is them recognizing a sport is going on, but, later in the play when Maureen attacks her mother, I could always sense a physical withdrawal from them. It was very painful, but it had to happen—for the sake of the play. The audience has to think, 'We've been backing the wrong horse. The poor woman is not well, mentally.' Accepting, then withdrawing, their way of protecting themselves and giving an impartial view of the play."
Taking it from the top again, from the more hissable perspective of the manipulative mom, was a radically different experience for Mullen. "Right from the beginning, I feel they have a huge amount of animosity toward me as the mother," she admitted.
But she had an edge on playing two such diametrically opposite roles: Both times she was directed by her best friend. She and Hynes met in 1971 when they were 17 and in the same archeology class at the University College of Galway. When both joined the Dramatic Society there, they started doing plays together, and they have never really stopped. After college, they wanted to keep on doing them in Galway so they founded a company that did that called Druid. It was the first Irish theater outside of Dublin; before Druid, Galway denizens had to drive to Dublin to see plays.
"I think our work has made our relationship develop as well," said Mullen. "We grew up together, really, with Druid—learned our craft and how to behave with Druid. I think that our relationship gained maturity because of the kind of work we did. Like, if we didn't have the theater in common, I don't know if we'd still be friends.
"Our professional relationship is very much professional, really. Because we're so familiar with each other as friends, there's that familiarity, but, professionally, if I'm not cracking a part, she will help me as much as she can, but I'm treated the same as the other actors in the show. We have this work ethic, which is you just slug your guts out and it's all about delivering whatever it is that the writer has written."
Hynes seconded that. "In my direction, I tried to be as authentic as I can to Martin's vision," she said. "Like audiences, I sympathize with both of his characters. I recoil in horror at their actions, but I sympathize with their situation. There but for the grace of God go any of us. As far as the mother-daughter relationship is concerned, every woman experiences either one or both, and Martin has caught that so well."
Her Tony win for Beauty Queen was, fleetingly, historic—the first time a female director won a Tony Award. "I remember, initially when people were wondering if I would get a nomination, finding it very hard to believe that a woman hadn't been nominated for direction before that. That was the first big surprise. The second big surprise was when I did actually win it." The third big surprise came seven minutes later when The Lion King's Julie Taymor became the second woman director to win a Tony. "We had to wait a long time for that to happen," said Hynes with a long sigh.
A Tony also makes a fitting reward for the woman who unearthed and brought to world attention the works of Martin McDonagh. In the mid-90s, Hynes returned to Druid after a four-year break and went on an archeological dig through unsolicited scripts that had been submitted in her absence. "I read, I think, A Skull in Connemara, and I remember asking, 'Who is this guy? Has he sent in anything else?' They said he had. He'd sent in another two plays, which I then read. I was blown away by them.
"I arranged to meet Martin a month and a week later, and then we optioned all three plays and later made a decision about which to premiere first. For a variety of reasons, including the availability of cast, it was Beauty Queen. The skill of the construction, the sheer technical achievement of the play—and to be done by a young writer!—it's still mind-boggling. He was only 25 when he wrote Beauty Queen, and he did it in three weeks. His humor is incredible and, sometimes, universal. It's based on a sharply observed sense of what we are. We laugh at his characters because we see ourselves in them—our foibles and our weaknesses."
In recent years, McDonagh's gleeful mayhem has spread to cinema where his 27-minute Six Shooter won an Oscar for Best Live Action Short of 2006 and his feature-length In Bruges was Oscar-nominated for Best Original Screenplay of 2009. He is now in post-production on a new film, Three Billboards Outside Ebbing, Missouri.
His media jump is something Hynes saw coming long ago. "I knew from Day One he wanted to make films. Film was the thing he was utterly passionate about. The fact he then went on to become a successful writer-director doesn't surprise me at all. I just want to make sure he continues to write for the theater, which, thankfully, he's doing. He had a new play in London last year called Hangman, and he's done another one so I just hope that we continue to have the benefit of his talent in the theater.
"When Martin came into the rehearsal room to work with me on Beauty Queen for the first time—he had never been in rehearsal before and he had not worked with actors before—it was clear to me, very quickly within hours—that he fundamentally understood the act of theater. That's a gift, and Martin has it. He knows. He knows his audiences. He knows how theater works. That was always there in large print."