The week's social circuit began with dinner on Tuesday evening, behind the private doors of The Players. The members-only club for thespians and their friends overlooking Gramercy Park South played host to a traditional "pipe night" celebrating the work of Raymond Kinstler, who is widely regarded as the greatest living portrait artist in the world. While he's been tasked with producing more than a few Presidential portraits including Ronald Reagan and Gerald Ford, some of his longtime favorite subjects were there to celebrate. There was Tom Wolfe, dressed in his signature, year-round garb of a white three piece suit. In his speech he trumpeted his bizarre, hilarious adoration for Kinstler's unforgettable eyebrows. To the left of Mr. Wolfe, sat Tony Bennett with wife Susan Benedetto, both of whom are members of the club. "I just want everything nice to happen tonight," Bennett said closing out his remarks in which he lauded his high school classmate sitting just a few feet away. "Because Raymond deserves every moment of it."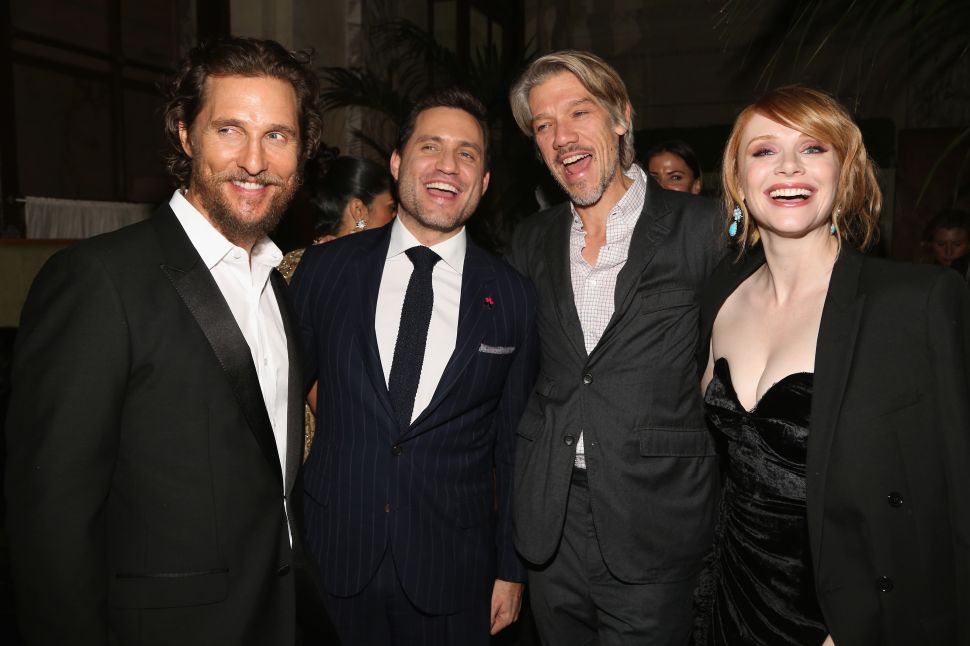 Later at The Plaza Hotel, leading man Matthew McConaughey swanned into The Palm Court with wife Camilla Alves on his arm. The two had come from the premiere of Gold, the Steven Gaghan-directed blockbuster that made its world debut hours earlier at the AMC Loews Lincoln Square Theater. Cinema Society members were out in full force to celebrate the cast, which in addition to McConnaughey includes Bryce Dallas Howard, Edgar Ramirez, and Corey Stoll, all of whom were in attendance. McConnaughey, with a tumbler of Wild Turkey in hand, spent the night recounting stories of filming (and flooding) in the ruthless jungle of Indonesia where much of Gold was staged. 
On Thursday night, New Yorkers got their last bit of fun in before gluing themselves to their televisions – or trekking down to Washington, D.C. – for the Presidential Inauguration. First, The Oracle of Omaha Warren Buffet made a rare New York appearance at The Museum of Modern Art to fete the debut of the Peter Kunhardt-directed documentary, Becoming Warren Buffett, due out January 30th on HBO. The film gives a intimate look inside the humble beginnings, and current comings and goings of the billionaire scion. Some fun moments of note? He eats McDonalds for breakfast nearly every day, his office walls are decorated with newspaper clippings from the 1929 stock market crash, and, perhaps most shocking of all, he is slated to spend less than 1% of his over $62 billion fortune in his lifetime. 
Following the premiere, a party was put on in honor of the man himself,  who had arrived from his Nebraska residence to attend the screening. Buffett worshippers took to the museum's atrium to dine with him, where he remained accessible to friends and fans alike.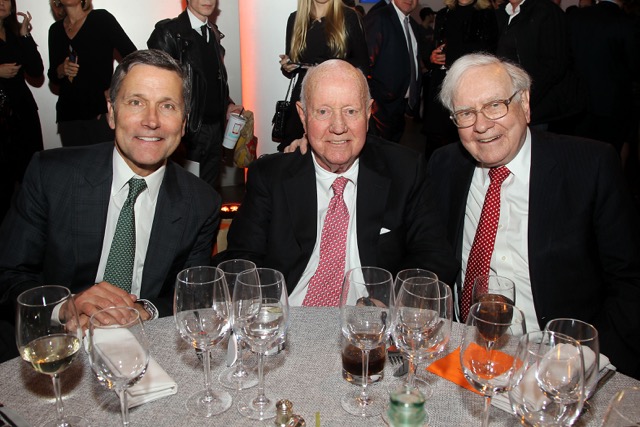 Later, Paul Sevigny's new boîte, Paul's Casablanca, played host to a rip-roaring after party in celebration of the newest Assouline tome, Manhattan's Babe. Many partygoers like Alex Assouline and DJ Mia Moretti, had come directly from the French Consulate's Albertine Library on the Upper East Side with the book by Frédéric Beigbeder (featuring Rafael Alterio illustrations) in hand, but left them safely tucked away on corner banquettes for optimal dancing and cocktail swilling. As the party stretched into the wee hours, it gave credence to my new favorite mantra: Thursday is the new Friday.
Shindigger is Observer's weekly party column, written by Zachary Weiss and published every Friday morning, recapping the best parties in New York City and beyond.