On Wednesday, President Donald Trump ordered the construction of a wall on the Mexican border, a pause on immigration from  "terror prone" countries and targeting sanctuary cities for undocumented immigrants. Those actions—while in line with Trump's campaign promises—have sparked concern from a number of New Jersey elected officials who claim that such restrictions are "un-American."
According to New Jersey Senator Bob Menendez, a Democrat, Trump's actions do not represent the best interests of America.
"This is a terrible and ugly decision by a President who is more concerned with right-wing fringe movements than doing what's right for all of America, for the economy, and for the future of this country. Donald Trump started his campaign by calling Mexicans rapists and murderers, and he is shamefully starting his presidency by declaring open season on immigrants and refugees, and making taxpayers foot the bill for his nativist impulses," Menendez said in a statement. "But it is clear to me that President Trump simply does not comprehend the full magnitude or the real human cost of this decision."
Menendez, a Cuban-American, said that Trump's immigration actions must spark action from congress on comprehensive immigration reform in order to "prevent playing a game of whack-a-mole with President Trump's attacks on our immigrant and refugee communities." In 2013, Menendez was one of the members of the "Gang of Eight" U.S. senators who pushed for immigration reform legislation. That bill eventually stalled.
As part of Trump's new immigration actions, federal funds will be stripped from U.S. cities that are sanctuaries for undocumented immigrants. According to Mayor Ras Baraka of Newark—one of those cities—the change in federal funding will not impact how the city handles immigrant populations. Baraka said that Newark will continue "protect undocumented immigrants" despite Trump's executive orders.
"Our city has a policy of protecting undocumented immigrants from deportation by U.S. immigration authorities. We see no reason to change that policy," Baraka said in a statement, noting that undocumented immigrants who conduct criminal activity are held to the same laws as American citizens. "We are not going to sacrifice thousands of people who live among us, who are part of our community, and who contribute to the economy and vitality of Newark. We are not going to tear families apart."
Baraka also called Trump's border wall decision "ridiculous" and said that those funds could better serve the American public through funding for education, infrastructure, and programs that could aid in eliminating unemployment.
Union City Mayor Brian Stack also said that his support of immigrants "remains resolute."
"Ninety-five percent of Union City residents are of Hispanic descent," Stack said in a statement. "Undocumented immigrants provide and economic and cultural benefit to our community and to our country. I will not support any policy that will hinder economic growth and rip families apart."
Congressman Frank Pallone of New Jersey's 6th district  released a statement on Thursday accusing Trump of unjustly "targeting" sanctuary cities.
"I will do everything within my power to work to protect New Jersey's local governments and leaders who have based their decisions involving immigration on compassion and the practical needs of their communities. I am confident that the people of New Jersey will not accept being targeted by their own President, and I look forward to standing with them every step of the way," Pallone said. In his statement, the congressman also said Trump's decision to pause immigration from majority-Muslim countries is "shameful" and "contrary to American values."
Like Pallone, N.J. district 8 Congressman Albio Sires also condemned Trump's action on sanctuary cities.
"Stripping funding from hundreds of cities across America will deprive resources from some of America's biggest cities, the same places President Trump claimed to want to make safer," Sires said in a statement. "His actions will take away precious resources from law enforcement offices that work hard to keep our communities safe… So called 'sanctuary cities' exist so people living in these communities can come out of the shadows to report crimes in their neighborhoods and cooperate with law enforcement officials. Removing funding from these cities only makes it harder for cops to do their jobs, putting more people at risk."

Sires also called for sweeping immigration reform in place of such policies or a wall along the U.S.-Mexico border.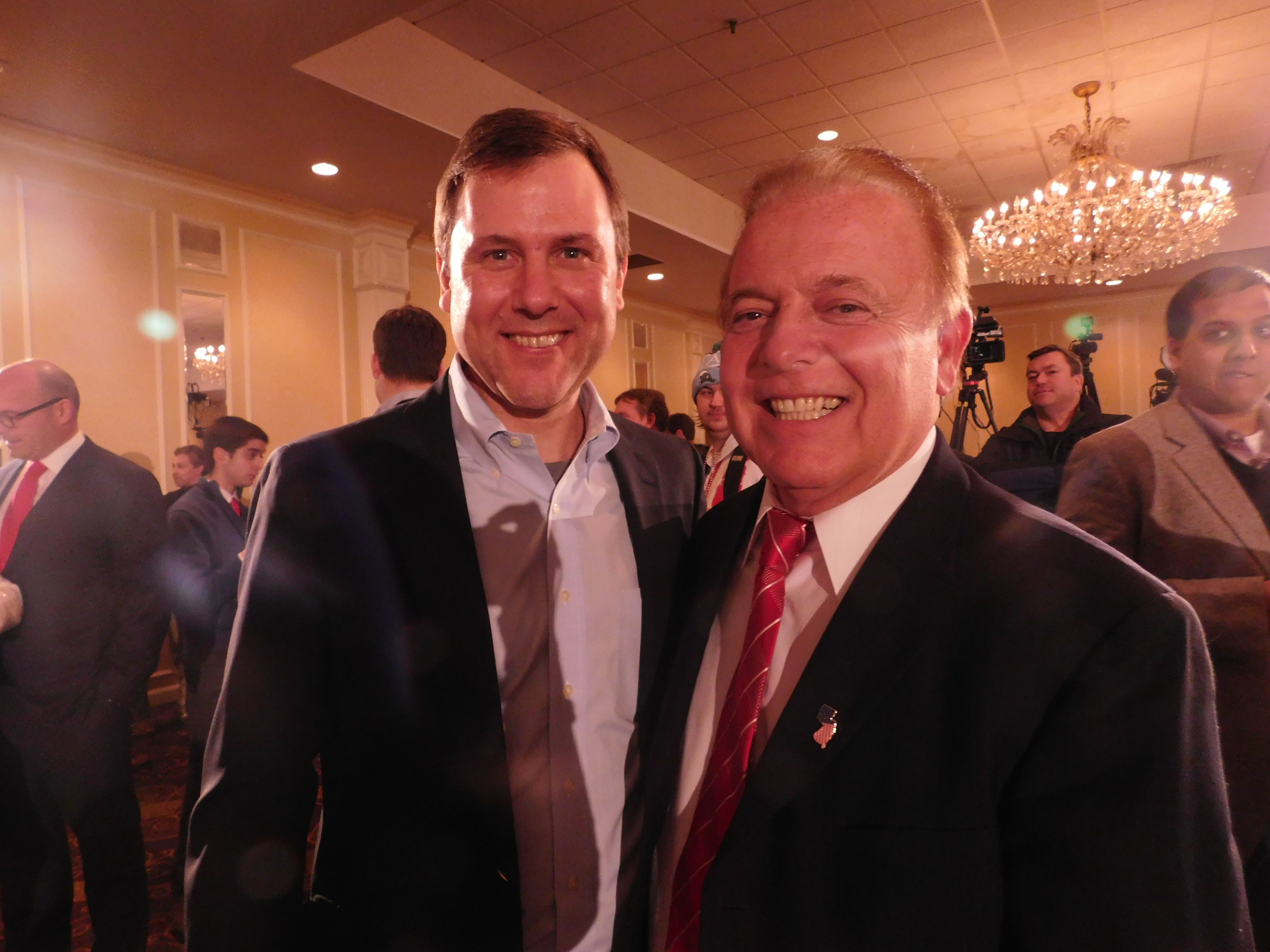 However, while many New Jersey elected officials voiced concern about Trump's executive actions on immigration, not everyone feels the same. Republican State Senator Joe Pennacchio of New Jersey's 26th legislative district was an early Trump supporter during the 2016 presidential primary. According to Pennacchio, Trump's actions during his first week in office are in line with promises he made on the campaign trail and necessary steps to create a more secure America.
"Isn't it refreshing that a politician—especially a president of the United States—actually follows through with what he said in the campaign?," Pennacchio said. According to the senator a "pause" on immigration will help ensures that the "U.S. does not allow anyone into the country who may want to hurt us." He also said that securing the border is a necessity.
According to Trump, America will initially front the cost of the border wall but the president maintains that Mexico will eventually reimburse the cost. The New York Times cited estimates from the Government Accountability Office that estimate $6.5 million per mile to build a single-layer fence and additional $4.2 million per mile for roads and more fencing. The U.S.-Mexico border is nearly 2,000 miles. Trump's immigration plan will also halt immigration from Syria and limit it from other countries like Afghanistan and Iraq until the administration can determine how to properly vet refugees.