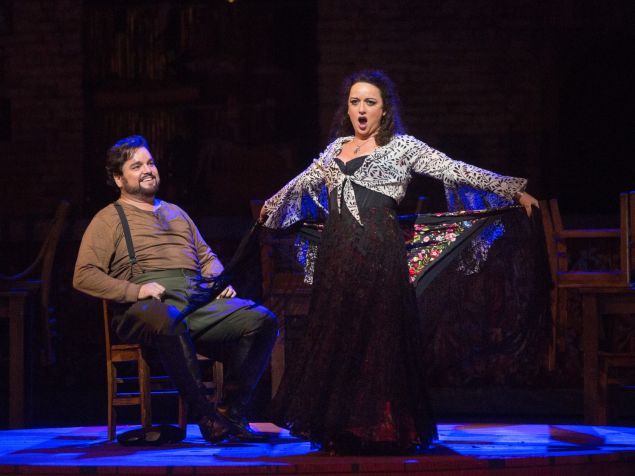 Former Met General Manager Joseph Volpe's regime (1990-2006) is now generally remembered with disaste toward his abrasive management style and reactionary artistic policies, but he did do some things right. One of the approximately three good ideas he had during his time at the helm was a hiatus in the Met schedule for a couple of weeks in the dead of winter.
It makes sense: after the holidays, the tourists go home and the natives don't want to brave the sludge any more than they have to. And, of course, there's also the issue that for some reason Met performances in late January tend to be on the dull side. So its hardly worth going to the theater even if an opera is playing that night.
This generalization was certainly true last weekened, with a generally lackluster Carmen on Friday night and a downright dreary Rigoletto the following Monday.
Bizet's opera this season has been particularly ill-starred, with leading lady, tenor and conductor all replaced by opening night. In one cast, though, the replacement turned out to be a signifcant upgrade: instead of the glum Sophie Koch in the title role, the Met offered a intriguing newcomer to the company, French mezzo-soprano Clémentine Margaine.
She's a mesmerizing performer who from her first moment onstage seemed to be enveloped in an aura presaging doom. This dark nimbus didn't oppress Margaine's Carmen; she wore it as easily and casually as a lacy shawl. But somehow in a very profound way, this woman was clearly marked for high tragedy. You could tell that her life would be memorable, important somehow.
Her slightly off-center singing enhanced the mysterious quality of her performance. In her opening aria, Carmen famously describes love as "un oiseau rebelle / Que nul ne peut apprivoiser," and that metaphor could serve handily as a description of Margaine's smoky voice: it's a wild bird nobody can quite tame. If the timbre and delivery are something less than classically beautiful, that hardly matters. With her vast dynamic range and idiosyncratically abrubt changes of tempo, Margaine keeps the listener on their toes: you can't wait to hear what she's going to do next.
Her unique take on the part blossomed in the final act, when Carmen is threatened by her ex-lover Don José. We've all seen Carmens who were terrified and Carmens who were defiant, but Margaine dug deeper, finding pity for her stalker and a hopeless wish they could go their own ways amicably. Finally, realizing that José would hound her forever, Carmen committed the only act of freedom remaining to her, choosing to be murdered rather than living in fear.
Next to such subtle and sophisticated art, the performances of Margaine's colleagues felt pretty rudimentary. Tenor Rafael Davila is a big, beefy fellow with a big, beefy voice that came into its own with Don José's wild cries in the final act. Bass-baritone Kyle Ketelsen (Escamillo) and soprano Maria Agresta (Micaëla) boast handsome, well-schooled voices, though hers felt more Met-sized. Derrick Inouye's conducting and Richard Eyre's production both got the job done without any particular distinction.
Which is more than can be said for their equivalents on the Rigoletto project: Pier Giorgio Morandi conducted as if he were asleep, and Michael Mayer's staging—updating the action to a Rat Pack era Las Vegas—riddled the story with plot holes.
Worse, you had time to ponder these shortcomings because the performances of the leading singers consistently failed to engage. Baritone Zeljko Lucic marked his way through the role of the vengeful jester, letting the voice out only for a few driven high notes. As his daughter Gilda, Olga Peretyatko chirped in a pretty soprano that veered off pitch as the evening progressed.
In the role of the Duke, here a randy lounge singer, Stephen Costello caught precisely the sociopath's dead eyes and listless body language. His lyric tenor, beautifully smooth and even, sounded a little recessed for most of the show, finally gaining brilliance and heft for the celebrated last act quartet.
So many rows of the auditorium were empty that I thought the Met must have imposed a Volpe-style performance hiatus without bothering to tell the performers.