The four-bedroom unit Mike Myers just listed.
Compass
The comedian just bought the apartment last week.
Compass
The Christopher Peacock-designed kitchen.
Compass
Just a few of the arched windows.
Compass
It's like a spa in your bathroom.
Compass
And even more arched windows...
Compass
The comedian also owns a penthouse on Mercer Street.
Compass
Perhaps Jennifer Lawrence will check it out.
Compass
Less than a week ago, Mike Myers bought a Tribeca apartment that we suggested he decorate in Austin Powers-approved blue velvet.
We wonder what happened in the past six days, because the comedian just put the four-bedroom, 4.5-bath condo at 443 Greenwich back on the market, with a listing price of $15 million.
The Austin Powers actor paid $14.65 million for the 4,241-square-foot condo (he used the Perry Trust to complete the purchase), and we assumed he was trading in his penthouse at 72 Mercer in order to move into this new pad.
It seems it was not to be—but why would Myers and his wife, Kelly Tisdale, decide it was already time to let go of this quite luxurious home? Did he find he wasn't as taken with the 14 arched windows and restored original columns and beams once he actually owned the place? Is the white oak flooring and private elevator entrance not everything he hoped for?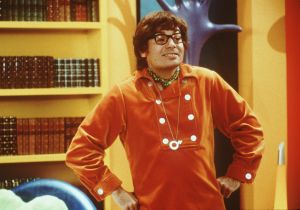 Or maybe he purchased the home as an investment property…or perhaps he found that the "paparazzi-proof" building simply wasn't for him. No matter, the lofty place is now on the market with Compass brokers Leonard Steinberg, Herve Senequier, Amy Mendizabal and Calli Sarkesh. Steinberg told the Observer he was unable to comment on the listing, but at least we finally have a better look at the lavish interiors of the building—we were getting a little bored of the same renderings, over and over again.
The master suite contains two walk-in closets, while the Italian Calacatta marble master bath is equipped with a walk-in steam shower and built-in stone benches, as well as a free-standing bathtub. The eat-in windowed kitchen has Calcatta marble countertops as well as an island with stainless steel accents, and there's a wet bar in the room.
Perhaps Myers decided he wasn't ready to part ways with his penthouse at 72 Mercer Street, and finds the streets of Soho to be more inviting than those of Tribeca. He did, after all, take that penthouse off the market in 2015 (it was last listed for $21.5 million).
Jennifer Lawrence toured a unit in the building last year…maybe she should consider checking out Myers' newly discarded condo.