Millie Bobby Brown, the breakout star from Netflix's Stranger Things series, has more fashion clout than any average 12-year-old. She's hit countless red carpets dressed in Kate Spade from head-to-toe, made TV appearances in Burberry, perched front row at Coach's September 2016 fashion show and has landed fashion editorials (with accompanying interviews) in the pages of W, Dazed and Confused and Interview. 
Her latest fashion coup has really piqued the interest of the fashion set: she was just cast in Raf Simons' debut campaign as chief creative officer at Calvin Klein. With her now-signature close cropped coif, the preteen actress wears a fiery tassel festooned white t-shirt and a pair of red tuxedo trousers. The image, captured by photographer Willy Vanderperre and styled by Olivier Rizzo, is striking because it's a mature look for such a young star.
Brown shared the image on her Instagram, captioning it: "I am so honored to be a part of this -'A cast of distinct individuals brings the idea to life: Strength of character is key. Whether famous or unknown, all are treated equally' — Calvin Klein By Appointment." That also happens to be the tagline for the rest of the campaign; Brown shares the spotlight with actress Abbey Lee and models Natalie Westling, Jamie Bochert, Kiki Willems, Lineisy Montero and Julia Nobis, among others.
As the name of the collection might allude to, this first collection from Simons is a made-to-measure operation, but rather than being offered to only celebrities and top clients, the public has access to it, too. Shortened to CKBA, the first appointments for the personal service will begin on April 1, 2017 at Calvin Klein's New York headquarters in the heart of the Garment District, at 205 West 39th Street. You can email ByAppointment@ck.com to set up your opportunity to peruse the handcrafted threads.
"Calvin Klein By Appointment 1-14 is very much about celebrating the American woman and American fashion," Simons explains on the brand's website.
"It is driven by character; it's about a woman feeling empowered and being her own person in what she wears," added Pieter Mulier, Calvin Klein's creative director.
The website also alludes to an Americana influence, citing the integration of every decade from the 1920s to the aughts into this range. Further, you might notice that each photograph from the range is featured opposite from a simple image of iconic Calvin Klein skivvies. It offers quite the image of high versus low; a pair of mass produced undies is presented next to an outfit that has been custom made for an individual.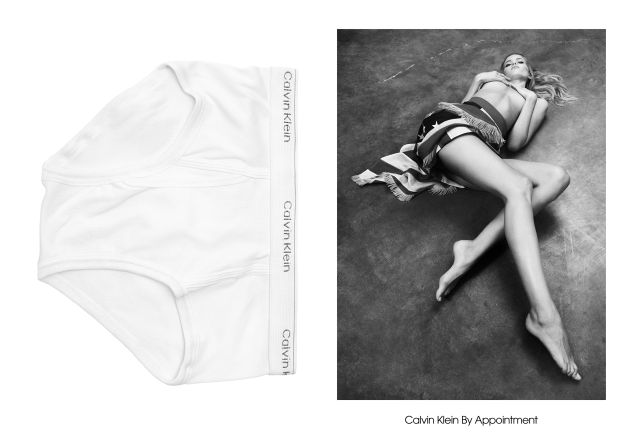 Regardless, this marks a major moment for Brown, as it's the first big fashion campaign the burgeoning actress has been cast in. You might liken her success to that of Kiernan Shipka's, who became a pint-sized fashion darling following her debut in Mad Men at the tender age of six. It took a few years for Shipka to grow into her Oscar de la Renta gowns and Christian Dior Couture trousers, but she was always applauded for keeping her wardrobe age appropriate, and impressively stylish. We have a strong hunch that Brown will follow in her footsteps. So watch this space…or just follow the star on Instagram.