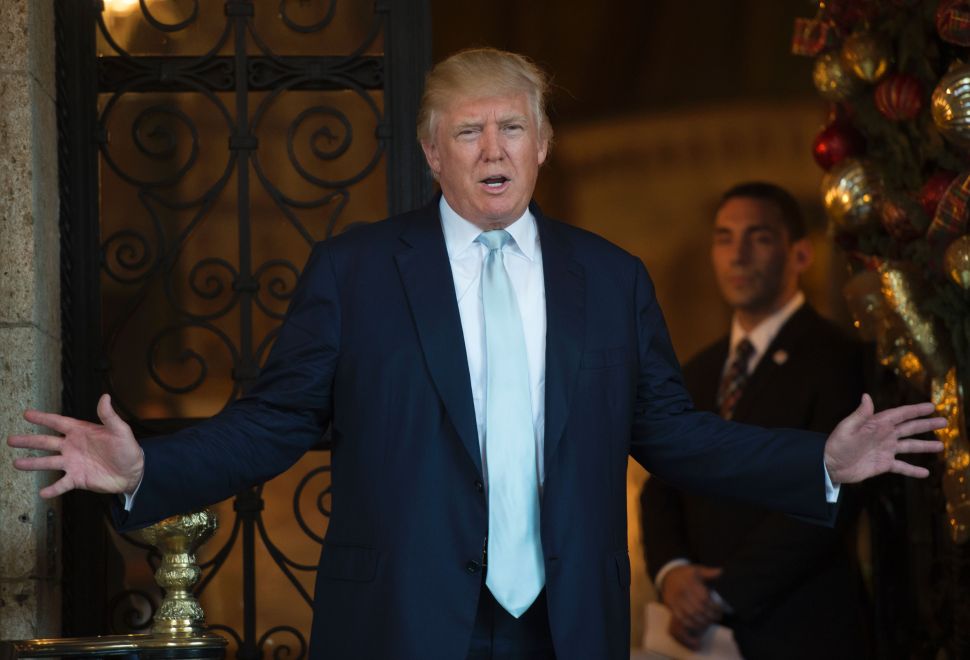 Twitter's war against President-elect Donald Trump has officially backfired. Despite the tech giant's best efforts to aggressively censor and ban conservative and libertarian voices, since Trump's win, several high-profile conservative figures—including Milo Yiannopoulos, James Woods and James O'Keefe—have benefitted tremendously from the ongoing battle.
Twitter has afforded Trump a direct vehicle to speak, unfiltered, to his 18.7 million followers, and the President-elect has effectively leveraged his popularity on the platform to correct and even scold the media. He has also used Twitter to praise and communicate with other world leaders. It's hard to dispute that his unprecedented use of social media had a hand in his election victory—and therein lies the irony of Twitter's full-scale war against Trump and his conservative counterparts.
But despite Trump's nearly 19 million followers, Twitter's search function does not direct users to his account, @realDonaldTrump, when the first several characters of his handle are entered. Incredibly, Twitter's search engine pulls up phony, imitation accounts—like @realdonald and @RealDonalTrump. Even Politico made the mistake of following @realdonald, citing the handle's December 24 tweet in the publisher's own post about Trump. The two fake accounts, @realdonald and @RealDonalTrump, have a combined total following of less than 3,000, yet Twitter's algorithms push users to these handles instead of that of our soon-to-be president. Of course, it makes sense that when users type the first two characters of President Barack Obama's handle—which has over 80 million followers—his verified account quickly auto-populates.
Banning and censoring conservatives on social media is nothing new, as Observer has reported before. During the 2016 presidential campaign, Twitter edited its algorithms to favor positive posts about Hillary Clinton and promote negative Tweets about Trump, and Buzzfeed revealed that in 2015 Twitter's then-CEO Dick Costolo secretly ordered employees to filter abusive and hateful replies to Obama. Breitbart editor Milo Yiannopoulos was infamously blocked for life from Twitter after getting into a spat with Leslie Jones over a critique he wrote about her film Ghostbusters. Twitter also refused to verify Project Veritas journalist James O'Keefe's account and then banned him following an investigation he led into Clinton. Rapper Azealia Banks was banned after she came out in support of Trump. Then, just a week after Trump's election triumph, Twitter banned a slew of high-profile accounts associated with the alt-right movement, including controversial white nationalist Richard Spencer, according to USA Today. The move triggered outspoken Hollywood conservative James Woods to take a brief leave of absence from the platform, citing that the company is in the "censorship business."
Twitter's strategy hasn't worked. In its attempt to silence conservatives, many voices on the right have not only flourished but profited—and some, like Yiannopoulos, have even skyrocketed into mega celebrity status.
Yiannopoulos wears his lifetime Twitter ban like a badge of honor, and it has catapulted the conservative provocateur's career into superstardom. Last week, Yiannopoulos announced that Simon & Schuster's Threshold Editions signed him to a $250,000 book deal, after Yiannopoulus' former literary agent dropped him. In less than a week since his book deal was announced, preorder sales of Yiannopoulos' Dangerous—due out on March 14—has put his soon-to-be published work at number one on Amazon.
"My literary agent in the UK dropped me after I got banned, saying I was unmarketable," Yiannopoulos told Observer. "What a fucking idiot."
Yiannopoulos insists he never wrote anything racist or wrong on Twitter about Jones, adding that—to this day—Twitter has yet to identify which of his tweets violated their policy. "Twitter will never identify precisely which tweets were supposedly so bad because it would expose them to ridicule," Yiannopoulos said. "I did nothing wrong and certainly didn't say anything racist or incite harassment of anyone. The company keeps its terms vague and its policies obscure precisely so it can apply the rules in unfair and arbitrary ways—usually to punish libertarians and conservatives."
O'Keefe and Woods have also seen their popularity soar as a direct result of Twitter's censorship. According to Project Veritas' former Assistant Communications Director Laura Loomer, following Twitter's temporary ban on O'Keefe's account, he gained 150,000 new followers in four months. Woods left Twitter for little over a month in November with close to 500,000 followers. He returned to Twitter on December 28 with a tweet linking to a blog post he authored, criticizing Twitter's tyrannical methods. In just a few days, Woods surpassed the half-million follower mark. Yiannopoulos believes Twitter has gone on an "aggressive banning spree since the election as revenge," but notes that targeted conservatives should not be troubled. "Nothing bad happens when you tell [Twitter] to go fuck themselves," he said. "Getting banned from Twitter was the best thing that ever happened to me."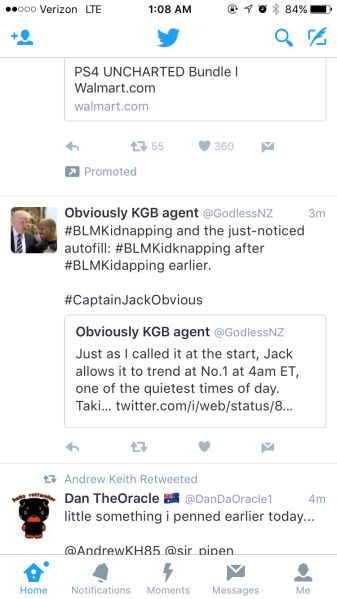 Critics often note that Twitter applies different rules for conservatives than they do for leftist groups such as Black Lives Matter and even radical groups promoting Islamic terrorism and ISIS. When the news broke that three black people in Chicago kidnapped and violently tortured a disabled young white man as they shouted racial slurs and anti-Trump rhetoric and live-streamed it live on Facebook, #BLMKidnapping quickly began to trend. Shortly after the hashtag took off, Twitter's search engine began autofilling incorrect hashtags like #BLMKidapping, presumably to misdirect users and suppress the story. Twitter did this often over the course of the 2016 elections, when pro-Trump hashtags trended. And, when users have tweeted calling for the killing of cops, Twitter has responded by taking no action.
Activist Pamela Geller filed a joint lawsuit with the American Freedom Defense Initiative last year, alleging Twitter and other social media platforms censor speech they deem critical of Islam. "[Twitter] has only shown energy in censoring conservatives," Geller told Observer. "[It's] clearly a far-left platform that only considers right-wing and pro-freedom groups as even capable of violating its 'standards.'"
Despite Twitter's censorship of Trump and others on the right—and despite Twitter CEO Jack Dorsey not receiving an invitation to Trump's tech meeting at Trump Tower following his election victory—there are apparently no hard feelings between the President-elect and the social media platform. Trump's Social Media Director, Dan Scavino, announced on January 3 that Trump will inherit the @POTUS Twitter handle on Inauguration Day, along with its 13 million followers. However, if the matter were up to Yiannopoulos, he has one word of advice for Trump and his ilk: "Leave."
Disclosure: Donald Trump is the father-in-law of Jared Kushner, the publisher of Observer Media.
Liz Crokin is an award-winning author, journalist, political pundit and an advocate for sex crime victims. Her work has appeared in the RedEye Edition of the Chicago Tribune, the Chicago Sun-Times: Splash, Townhall, Elite Daily, Marie Claire and Us Weekly. Follower her on Twitter and Instagram @LizCrokin.