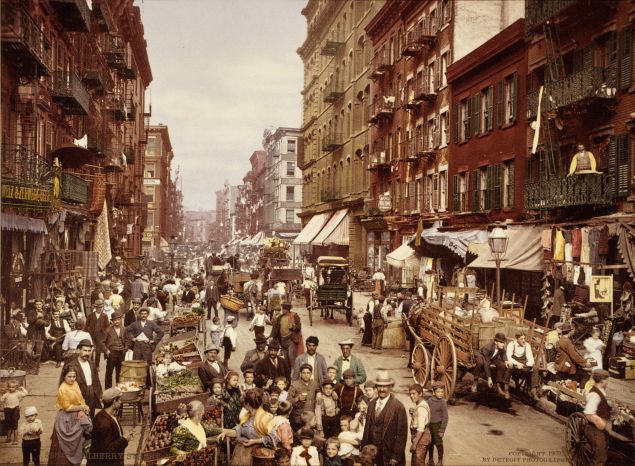 Those who fetishize New York City in all its grit, grime, glitter and self-obsession have reason to celebrate today: The Museum of the City of New York just got a $10 million infusion for its permanent exhibition on the history of our fair metropolis. The gift, from the Thompson Family Foundation, is the largest in the museum's 94-year history.
"New York at its Core," open to the public from now until Trump starts a nuclear war, is "framed around the key themes of money, density, diversity, and creativity," according to the museum's site. The ambitious show, which opened last November, took five years to put together.
The generous gift was "inspired" by the new show, the museum said in a statement, and will fund educational activities in conjunction with it. An estimated 50,000 students will visit the exhibit each year.
"New York at its Core" focuses on the personalities that made New York into "the capital of the world"— from Alexander Hamilton, to Jane Jacobs to Jay-Z—with more than 450 objects, photos, documentary film clips and more. The exhibit also holds a "Future Lab," dedicated to solving New York's incipient issues (like becoming one of the last places we still have a thin vestige of civil rights in America and then having to build a wall to keep out the red state hordes).
Alan Siegel, a director of the Thompson Family Foundation and Museum of the City of New York Trustee, said the museum show would have held special meaning for Wade F. B. Thompson, the Airstream trailer tycoon and arts patron whose largesse backs the eponymous Foundation.
"As young boys, Wade and I had a similar dream – being part of New York, our 'City of Ambition,'" Siegel said in the statement. "Wade's daughter Amanda Riegel, the President of the Foundation, the other members of the Thompson family, and I want our youth to know New York's remarkable history, particularly the diversity of its people, so that they understand that in New York anything is possible. 'New York at Its Core' is a fabulous tool to help achieve that goal."
Thompson's other philanthropic pursuits included spearheading the restoration of the Park Avenue Armory. He died in 2009.