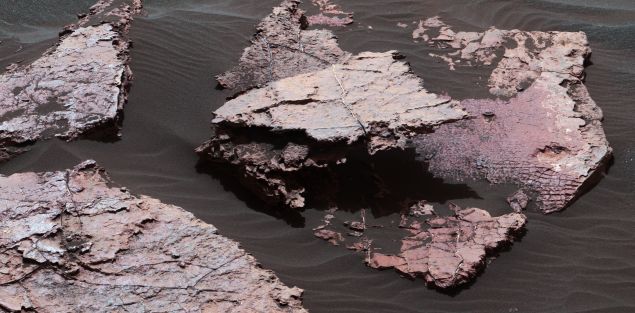 When it comes to Mars, everyone is looking for signs of life. In November, we reported on a discovery that had scientists convinced they found evidence of ancient organisms, and today, NASA announced their scientists believe they've found another.
In recent weeks, scientists used NASA's Curiosity Mars rover to examine slabs of rock cross-hatched with shallow ridges. All signs lead them to believe they're mud cracks, which makes them the first to be confirmed on the Red Planet by the Curiosity mission.
"Even from a distance, we could see a pattern of four- and five-sided polygons that don't look like fractures we've seen previously with Curiosity," said Curiosity science team member Nathan Stein in NASA's announcement. "It looks like what you'd see beside the road where muddy ground has dried and cracked."
If this interpretation holds up, it would be evidence that the ancient era (three billion years ago) when these sediments were deposited included wet conditions, followed by drying. High resolution images have pointed to the existence of deltas, gullies and river valleys on Mars, which is why scientists view it as one of the places in our solar system most likely to be/have been home to alien life. (There are three others, according to NASA director of planetary science James Green).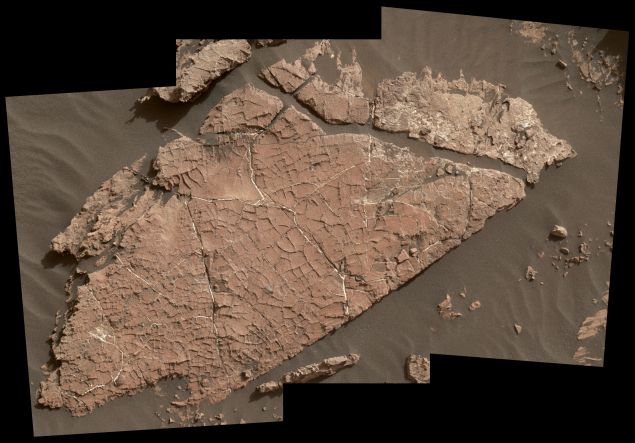 "If these are indeed mud cracks, they fit well with the context of what we're seeing in the section of Mount Sharp (a Martian mountain) Curiosity has been climbing for many months," said Curiosity Project Scientist Ashwin Vasavada of NASA's Jet Propulsion Laboratory in Pasadena. "The ancient lakes varied in depth and extent over time, and sometimes disappeared. We're seeing more evidence of dry intervals between what had been mostly a record of long-lived lakes."
Besides the cracks, scientists have also observed nearby sandstone layers interspersed with the mudstone layers as well as the presence of a layering pattern called cross-bedding. This pattern is typical where water flows vigorously, such as near the shore of a lake.
While scientists are continuing to examine the cracks, the Curiosity Rover has moved uphill toward a future rock drilling location for further exploration.