Natalie Portman deserves some recognition for frequently strolling down the red carpet, dressed to the nines, while being almost nine months pregnant. Seriously, she has been spending hours at a time in heels, smiling and posing for photographers in heavy designer frocks, accessorized with a healthy dose of fine jewelry. The Jackie actress is simply riding the congratulatory wave from her latest starring role, but along the way she has accumulated a notable style, one that has basically become a signature.
So, let's break down her recipe for sartorial success, if you will.
First, let's make it clear that there will be no body-con Kim Kardashian looks here. Portman, instead, prefers a much looser silhouette. In fact, the looser the dress, the better. Take, for example, the voluminous white Dior gown she wore to the SAG Awards this weekend. This was perhaps the chicest take on a muumuu the world has ever seen. Although the volume of the dress' skirt was in direct competition with that of the white pouf sleeves, Portman still appeared polished for the event.
This isn't the first time Portman has hit the award show circuit with a baby bump; she was pregnant with son Aleph in 2011, when she collected an Oscar for Black Swan.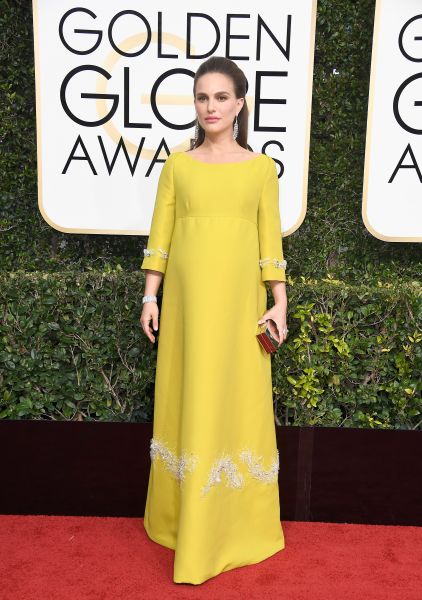 The starlet also stunned earlier this month in a chartreuse Prada number at the Golden Globes. And this is where you'll start to see a trend emerging in her sartorial picks, as this empire waist dress was also flowing and featured three-quarter sleeves. Portman kept her hair pulled back and opted for some vintage Tiffany & Co chandelier earrings that offered some serious sparkle; the whole look paid homage to Jackie O.
She went for the same exact style recipe at the Palm Springs Film Festival: three-quarter sleeves, flowing Dior frock in a deep navy hue, plus pulled-back hair and major sapphire earrings.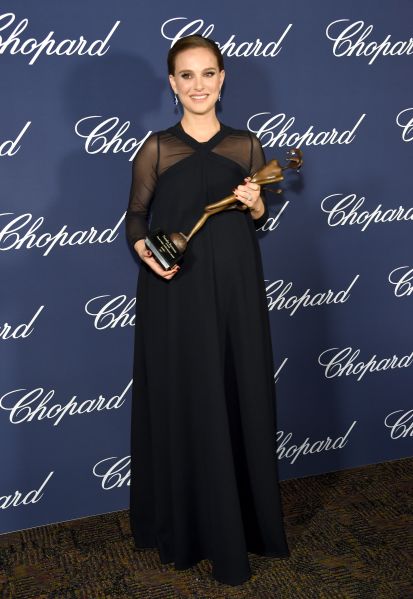 For the Critics' Choice Awards, Portman simply hid her arms all together in a black and red floral Alexander McQueen dress. Technically the cape dress hid her arms, but this shorter style was still as flowy as the rest. In addition to deviating from her usual dress length, Portman skipped the slicked back 'do, and went with a tousled, curled look instead.
Portman was back at it though, for the Los Angeles Dance Project Gala. The hair, sleeves and earrings were all present at this December 10 event. The dress was a refined all-black design from The Row.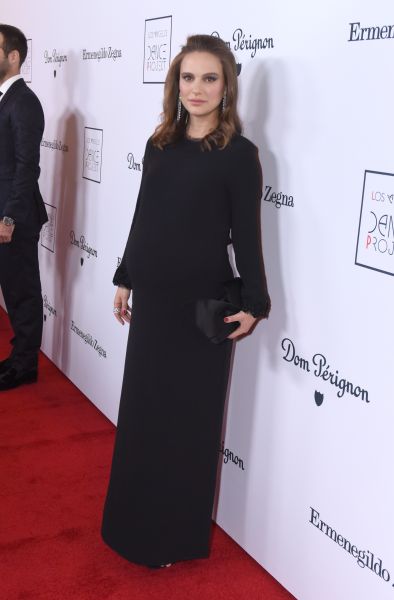 Ah, yes, back to short in Rodarte at the 2016 Gotham Awards. We will let this long-sleeve number slide, as it was really a pretty floral frock and Portman looked comfortable in it.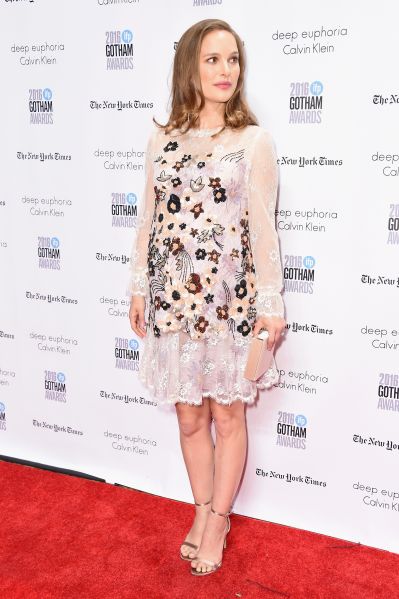 At the AFI Fest, the actress switched up the look just a bit, by throwing a white blazer over a heavily embellished Dior gown. By doing so, she remains true to her signature pregnancy style.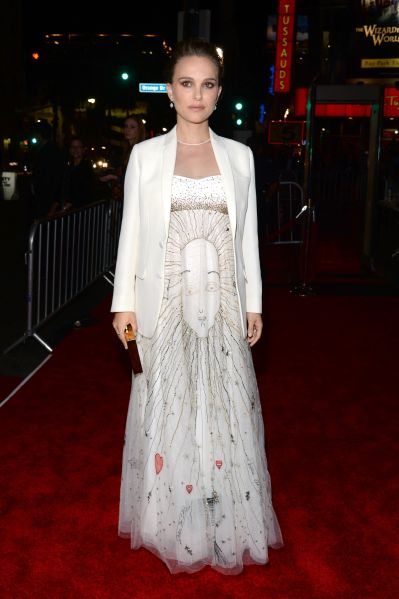 For good measure, here's just one more picture of the starlet rocking her red carpet uniform. This time it's a black and white striped number, also from The Row. It just goes to prove that Portman is not only dedicated, but she's also creative in her approach to wearing basically the same look over and over again.