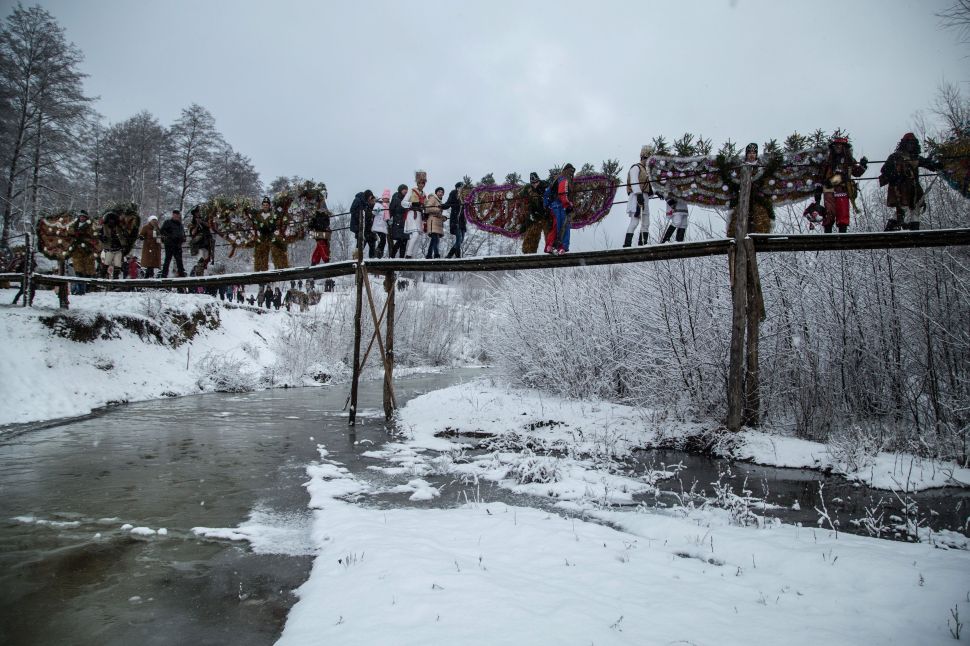 During the heady days of the Soviet economy, Ukraine consumed 120 billion cubic meters of natural gas yearly. Back then, the Ukrainian economy, although clumsy and energy ineffective, was in some industries on par with Germany's.
A quarter-century later, Ukraine needs a quarter as much natural gas—about 30 billion cubic meters a year—and not because her economy stopped being energy inefficient, but because its industrial potential is all but destroyed.
The bitter reality is that Ukraine can produce only around 18 billion cubic meters of natural gas on its territory—the rest is imported.
On November 26, 2015, after having decided not to return to Russia $3 billion loan that Russia had provided to the previous 'corrupt' regime, Ukraine stopped buying natural gas from her neighbor, declared "energy independence from Russia," and even symbolically sold the last cubic meter of the Russian natural gas—nicely packaged into a shiny steel tube—on auction. In the summer of 2016, the US Ambassador to Ukraine, Geoffrey Pyett, said that "Ukraine was able to destroy Moscow's energy weapon" for good. "Ukrainian authorities, during last few years, in fact destroyed Moscow's energy weapon, that used natural gas in this capacity," he said. "The last winter became the first one in history when Ukraine got rid of this dependency."
Mr. Pyett left his post in Kiev soon after.
Two of the previous winters in Ukraine were unusually warm. This one, on the contrary, has been bitterly cold. This January, the EU's Commissioner for Energy Union Maros Sefcovic made it known to the world that Ukraine was ready to start buying Russian natural gas again.
Ukraine started this heating season with unusually low reserves of the natural gas in her hubs—with 14.7 billion cubic meters or with about 2 billion cubic meters less than during two previous years.
On January 19, CEO of the Russian gas monopoly Gazprom Alexei Miller made an assumption that Ukraine had no more than 10.8 billion cubic meters of natural gas in her hubs. "There are still two and a half months of heating season ahead, and the demands on natural gas by Ukraine during this cold period causes our serious concern," Mr. Miller said.
The real figure, made known by Ukrainian national gas company Naftogaz, might be even smaller. Having already consumed 1.8 billion cubic meters of precious fuel in January, on the morning of January 26 Ukraine had in her hubs 10.3 billion cubic meters of natural gas.
At one point this month, when the temperatures in the country dropped to -4 F, Ukraine was burning 86 million cubic meters of natural gas a day.
In November, Ukraine used 0.91 billion cubic meters of natural gas, in December, 1.57 billion.
One does not have to be a specialist in the energy market to understand that by the beginning of February Ukraine will have no more than 10 billion cubic meters of natural gas left in her reserves, 8 billion of which are considered to be untouchable technical natural gas in the Ukrainian pipelines via which gas from Russia flows into Europe. This natural gas is needed to keep the necessary pressure in the pipes.
This means that Ukraine actually has around 2.5 billion cubic meters of natural gas at her disposal today which she will have run out of by the end of February or mid-March by the most optimistic scenario.
If February and March will be traditionally cold months—and all signs indicate to this—Ukraine is not going to make it through the winter without additional natural gas.
Until recently, the needed amount of natural gas was going into Ukraine from EU countries and she paid for it with the money she received from the IMF. Last year, Ukraine spent $1.6 billion of IMF money importing natural gas from Europe. But the country is up to her eyeballs in foreign debt and just to service the debt in 2017-2020, Ukraine will have to find about $15 billion, The Economist reported. This is how much money Ukraine has today in its treasury—after all the World Bank's and IMF's cash infusions.
But during the peak of the heating season, it is doubtful that EU countries will have the technical capacity to share their treasured resources with Ukraine.
Ukraine might consider delving into the technical natural gas, of course, but Russia made it clear that in this case she would immediately decrease the pressure in the pipelines on her side of the border, putting Ukraine in the position of a disrupter of the flow of Russian natural gas into EU. Also, Ukraine does not want to give additional arguments in favor of Russia's insistence on building Nord-Stream-2 natural gas pipeline to Germany from Russia via Baltic Sea—this project, together with Turkish Stream one, will end Ukraine's importance as a regional political player. Mr. Andrey Kobelev, head of Ukrainian Naftogaz company, called the Ukraine's position as natural gas transit country one of the few reasons why European countries pay attention to Ukraine today.
The $2 billion a year that Ukraine receives from Russia for the transit of her natural gas to EU also "cannot be found laying there on the road," as Mr. Kobelev put it.
Today all sides—EU, Ukraine and Russia—agree that it is only a matter of time when Ukraine will put aside her pride and ask Russia to start sending her natural gas flow into Ukraine. Mr. Maros Sefcovic, EU's Commissioner for Energy Union, said that Ukraine had necessary financial resources—i.e. the IMF loans—for doing just that.
There was only one little catch—"one small but very sensitive legal issue"—unresolved, he said.
Russia's Gazprom, citing the pending arbitration with Naftogaz in Stockholm court, declined to commit on paper that it will not pocket Ukrainian advance payment as a small first compensational installment for the colossal financial debt Russia and Russia's Gazprom believe Ukraine owes.
First, Russia wants to get back the $3 billion loan she gave to the previous Ukrainian government on which the new government of Ukraine chose to default.
Second, Russia's Gazprom sues Ukraine at Stockholm arbitration for more than $32 billion for the breach of the natural gas contract.
Third, Gazprom wants from Ukraine $5.3 billion that it believes Ukraine owes for the natural gas that was not even delivered in accordance with the contract's 'take or pay' clause.
According to the contract, Naftogaz must pay for at least 3 billion cubic meters of natural gas before Gazprom begins any delivery of its product—whether Ukraine needs that much natural gas or not. "It means that within the frameworks of the contract Naftogaz has to pay to Gazprom $600 million having nothing but hopes that they [Russian company] will fulfill their side of the contract," Mr. Kobelev, head of Ukrainian Naftogaz, said in the interview to lb.ua portal.
"But they can consider this money as payment for part of some kind of debt or something else. They have a lot of options," he added.
The "option" Ukraine is afraid of most of all is that Russia would consider the advanced payment from Ukraine to be the payment for the natural gas she has been supplying to the separatist regions of Luhansk and Donetsk. (Ukraine shut the natural gas supply to these territories right after the war broke out. Since there is natural gas there still, one can assume that it came from Russia). "Gazprom insists that it supplies natural gas to these territories and tries to give to us a huge bills for that [delivered] natural gas", Mr. Kobelev said.
These are well-grounded concerns. Just some days ago Moscow made Moldova (another ex-Soviet republic) agree to pay $6 billion for the natural gas that Russia had supplied to Moldova's separatist Transnistria region.
Ukraine is running out of time and for now is seeing no way out of the cold trap. Money she is ready to transfer to Russia as an advanced payment for coveted natural gas supplies may effectively disappear in Russia's coffers while no other natural gas is currently available on the market.
In this natural gas war, like in every war, General Frost is on Russia's side. This week, the weather forecast reports, the temperatures in some parts of Ukraine will go as low as -11.2 F.