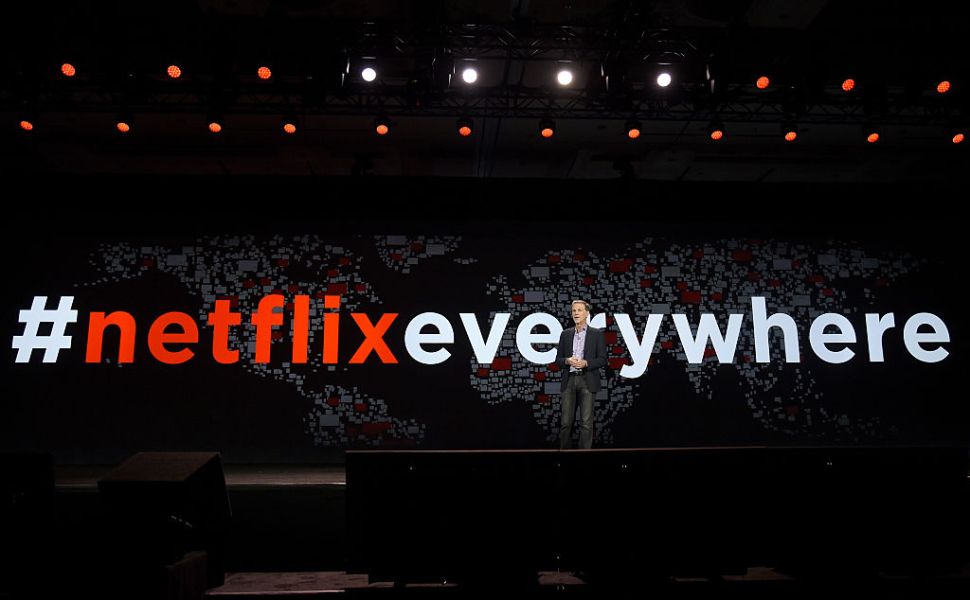 Netflix (NFLX) is winning, but what will it do once it's won?
Yesterday, the company released its quarterly earnings letter. TL;DR: things are going well.
At 93.8 million subscribers, up 19 million for the year, the company has proven that television via the internet is here to stay, but major companies and upstarts have gotten into sending high quality programming over fiber optics. In a quarterly earning interview following the letter, UBS's Doug Mitchelson asks Netflix CEO Reed Hastings what his endgame is.
Hastings dodged the question, only saying, "Think of us continuing to iterate on the basic cycle of more content, great product that combines into a great service at a great price."
Michelson asked a good question, though. As a public company, Netflix needs to deliver more than profit; it has to grow. Forever. For such a successful venture, it's left itself surprisingly few paths forward.
Netflix really only has one revenue stream to grow: subscribers. Once someone is in, it doesn't matter if a subscriber watches one hour per month or thirty, the company earns $7.99 (slightly more if you pay for one of the two HD tiers). Maybe it sells some copies of its films or licenses some content and maybe it has some weird, non-obvious lines of revenue, but those must be negligible, because they don't even show up in the earnings letter.
Hastings made it very clear that subscriber growth where the company has focused right now, and now a few seasons in to its original programming offerings, the company has hit its stride. "Very few people will join Netflix just because of a single title," Hastings said, "but it's a cumulative effect."
In other words, as the company takes up more of the public's conversation, people will be moved to join as they find themselves interested in watching a few shows they heard about. House of Cards might have sounded good, but so did The Crown. Eventually, a non-subscriber will hit a tipping point of interest.
And the company has to keep growing subscribers in order to deliver for investors. It went global in order to continue that growth. It seems to have been pleasantly surprised by the knock-on effects from providing new original programming for non-English speakers. "It's an elevated form of television relative to to what else is available in the market," Ted Sarandos, the chief content officer says. So Netflix disproportionate buzz in new markets when it adds locally produced programming.
But everything it makes is available everywhere. The surprise came as content has proved successful well beyond its target market in Netflix's nascent global era. For example, its Brazilian sci-fi show, 3% got millions of views here. Gilmore Girls proved popular well beyond the U.S.
It has to keep swinging and making hits, though, and it plans to take a lot of swings in 2017. The company has some 1,000 hours of original programming planned for this year, predicting especially strong growth from its content slate in the second half of 2017.
The company has a long, long way to go before it is in any danger of maxing out on the world's potential subscribers. Even domestically, it has just shy of 50 million in a country with a population of 320 million people. Meanwhile, cable subscriptions are on the decline while broadband internet subscriptions have increased. Both those trends work in Netflix's favor.
"The basis line demand is the transition to internet TV," David Wells, Netflix's chief financial officer said.
Effectively, though, its content is its only real competitive advantage going forward, and that advantage will become weaker as its competitors get better. It has to stay enough ahead that it continues to be the first service people join when they decide to make a monthly commitment to internet TV. At current prices, lots of people in the developed world can afford to have more than one, but with its single revenue stream model, Netflix has to remain the main one.
To that end, it was smart for it to add offline viewing, for example. That helps give it an early foothold in areas with less developed internet infrastructure, but Hulu can copy that nearly as easily as Instagram copied Snapchat Stories.
It's hard to imagine that the company doesn't have a bet about the next transition it needs to make. Netflix has done this before.
The company didn't start as a streaming company. In fact, it was a household name in the U.S. before it put a single data packet of video online. The 20 year-old company started with DVD-by-mail. In fact, it went public in that era, as the market was still bottoming out from the irrational exuberance of the first internet bubble.
In the immediate term, Netflix's strategy of growing revenue with subscriber growth and subscriber growth only is either incredibly confident or mad. Looking at its top competitors, they each have other ways to nudge additional money out of users. Hulu can sell ads against its free content to cheapskates. Amazon can hook people into Prime and expertly guide a viewer from binge watching to impulse buying.
And one day, the internet's dominant video service, YouTube, might even succeed in convincing people to pay for its original content package, YouTube Red.
So what's Netflix's next move?
It could be helpful to look at Amazon. Amazon rules online retail, but—from a profit perspective—it's a cloud services company. As the company grew, it got very good at managing its own cloud. It became so good, in fact, that it realized it could scale its expertise as a service to other companies.
Similarly, not many companies are shoving as much data out onto the internet as Netflix. The company's streaming service precipitated the fight over net neutrality, as overwhelmed ISPs gouged the company for "priority access" to their users. Maybe it has developed some kind of expertise in managing high volume data flows that it could roll out into a new B2B vertical?
Or maybe Netflix will be the one that drives a future in virtual reality?
Throughout the earnings interview, Hastings conducts himself like someone who knows more than he's letting on. Netflix engineered one major shift in the way people acquire home entertainment using the internet when it all but eliminated storefront video rental.
Since then, it has masterfully executed new strategies that took advantage of a changing internet. Here's one place to look: before we know it, the internet will transcend physical infrastructure. Wireless internet will provide ubiquitous access faster than premium home internet subscriptions today. It's a fair bet that the company has a plan in mind to win that shift, too.