"We can't walk barefoot, ever," explained Sara Mearns, a principal dancer at the New York City Ballet.
Megan Fairchild, a principal dancer at the same company, echoed that sentiment: "We get up out of bed in the morning and put shoes on. We don't go anywhere without something that's shock absorbing."
There is perhaps no one in the world who puts so much consideration into their off-duty footwear quite like a ballerina. As Mearns puts it, their feet are their "temple" and must be treated accordingly. This isn't an overstatement, by any means, when you consider that dancers spend 10-12 hours per day practicing their twirls, leaps and jetés—and that's on days when they're not performing in front of a live audience.
It might also explain why these athletes, who are so in touch with their bodies' needs, would be ideal collaborators on a really comfortable shoe. Cole Haan tapped into this resource long ago and is now in their third year of a partnership with three members of the NYCB: Mearns, Fairchild and Gretchen Smith, a Corps de Ballet. For spring 2017, the dancers worked with the Cole Haan design team to perfect the fit and the look of the shoes in the StudiøGand collection. The range was designed with a busy, active woman in mind, offering her a melange of chic shoes, plus extras like a waterproof tote and a chunky knit sweater, that will allow her to run from work to the gym to dinner in style. (Or, in the case of a ballerina, from studio to studio and then back home.)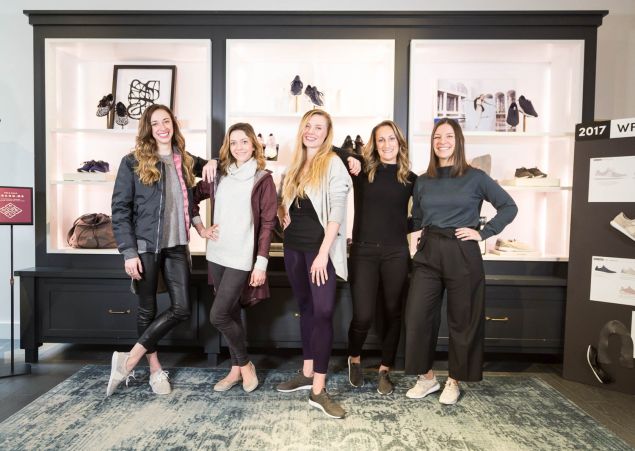 StudiøGrand features three sneakers styles, including one with a toggle in place of laces, and one Packable Ballet Flat, all of which are lightweight, flexible and cushioned in just the right places. "It's been so great to hear what they need with arch support [and] lightweight features. They're very communicative in collaborating on the comfort features they need in the shoes," Leanne Hanan, a merchandising director at Cole Haan, told Observer.
"To not have to sacrifice your feet for an outfit is an amazing thing," Fairchild said, explaining that she will wear her StudiøGrand's to almost any event. "The next day we don't have to go into practice with tired feet and bones out of place, because we were in a heel for the whole night."
Yes, style was taken into consideration, too. "In all honesty, I never thought about function when it came to style, [but] I still like to have a little bit of self expression in everything that I'm wearing," said Smith, who is admittedly the fashionable one of the dancing trio. Seeing as the Pack & Go Trainer features a breathable, perforated take on ocelot (a leopard print) and the Knit Sneaker features a flash of supportive leather, you don't have to be part of the NYCB to appreciate these nuanced details.
While a pair of these StudiøGrand kicks won't turn you into an elegant dancer overnight, they will bring you one step closer to obtaining the off-duty style of a professional ballerina.