Guests at FX's Legion Where?House at Villian take in Michael Murphy's installation Suspension of Disbelief (2017).
Bryan Bedder/Getty Images for FX Networks
An assortment of household objects suspended from the ceiling comprised Murphy's work.
Bryan Bedder/Getty Images for FX Networks
When viewed from one angle, the jumble of hanging objects spelled the name of the show, Legion.
Bryan Bedder/Getty Images for FX Networks
Hanging swings and screens embedded on a grassy hill transported guests to the sanctum of character David Haller's mind.
Bryan Bedder/Getty Images for FX Networks
Artists Michael Murphy, Kumi Yamashita and Clemens Behr.
Bryan Bedder/Getty Images for FX Networks
Artist Clemens Behr with his installation Doors, (2017).
Bryan Bedder/Getty Images for FX Networks
Guests at the VIP opening of FX's Legion Where?House.
Bryan Bedder/Getty Images for FX Networks
The Grassy Knoll.
Bryan Bedder/Getty Images for FX Networks
Kumi Yamashit's Lovers (2010).
Bryan Bedder/Getty Images for FX Networks
An interactive mural by David Flores can be activated with VR technology through an app called Blippar.
Bryan Bedder/Getty Images for FX Networks
It wasn't too long ago that 90-minute specials and epic mid-season finales were novel in the world of television, but already a new trend in entertainment has arrived. Enter the world of immersive visual marketing, where virtual reality, large-scale art installations and atmospheric environments reign supreme. While viral marketing through social media and clever street campaigns have helped propel series such as USA's Mr. Robot and AMC's The Walking Dead to become sensations well before they ever air on the small screen, more networks are turning to an old school method of audience engagement to drum up buzz among fans: art exhibitions.
Shows like HBO's Game of Thrones, Syfy's The Magicians and now FX's Legion are all jumping on the bandwagon. This week, FX launched a museum-style show featuring the work of four fine artists inside a Brooklyn warehouse, dubbed the Legion Where?House. A special website built for the series (which premieres February 8) promises fans the chance to "Enter the headspace of one of the world's most powerful mutants and embrace the fractured reality of FX and Marvel's new original series." And, like all the best things in life, the Where?House is a pop-up event so it won't be around for long; the exhibit is free and open to the public through January 29. It's a seductive offer, and one with broad appeal to both die hard X-Men fans as well as those new to the franchise.
Inside the exhibit, artists Michael Murphy, Clemens Behr, Kumi Yamashita, and David Flores fill the space with ambitious, interactive artworks inspired by scenes from the series premiere and its central character David Haller, played by Dan Stevens. In the Marvel comics, David is the son of Charles Xavier, a.k.a. Professor X, but according to show creator Noah Hawley the powerful mutant's X-Men connections have served as inspiration for something new and maybe very different. The TV-version of David has been institutionalized with diagnosed schizophrenia for years, and his shaky mental state is among the show's central themes.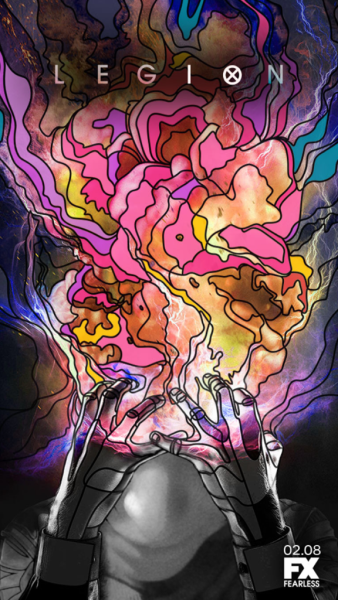 Behr's installation Doors allows viewers to walk through the corridor of a hospital that's been blown apart, and step between fragments of rooms and doorways strewn with mirror fragments. David Flores' mural Legion, which is also being used as the key art for the show, depicts a fiery explosion emanating from David's mind. A mural version of the artwork can be activated using a smartphone app to allow users to take photos of themselves as David, mid-breakdown (or breakthrough, we have yet to find out!) as well as access the show's interactive website.
But not all the art inside is meant to rattle viewers heads. Yamashita's installation Lovers greets visitors at the show's entrance with the delicate silhouettes of David and another of the show's troubled characters, Syd. On screen, David and Syd can't touch, and Yamashita's shadows are separated by thin pieces of board, preventing the figures from clasping hands.
While FX goes to great lengths to keep the show grounded in real art by giving the artists a broad theme with which to create, and even including museum-style wall plaques complete with artist statements and bios near each piece, the Where?House is still, ultimately, a promotional platform for the show. The hanging swing set where visitors can relax with a drink next to the DJ booth and watch clips from the show on monitors embedded in a shrubby hill is the only work not credited to an artist in the exhibit, and riffs on the pastoral refuges that David creates in his mind. It's also just a great spot to socialize and takes selfies, which plenty of viewers did at the opening—myself included.
Of all the works on view, Murphy's hanging sculpture, Suspension of Disbelief, perhaps best exemplifies the strategic marriage of art and marketing that's making TV-inspired art shows a growing trend. Murphy has painstakingly hung hundreds of colorful utilitarian objects from the ceiling that, when viewed from most angles, appear simply to be a dangling mess of tupperware, toys and trash. However, when viewed head on, from a designated spot on the floor, the objects converge to spell the name of the show: Legion. The work is an impressive feat of engineering, skillfully executed, and it's exactly the reason why the Where?House, and other similar exhibits, have such versatile appeal for fans and art lovers alike.
And so, my advice: get lost in the mind of David Haller. In a world where art museum visitors are already too inclined to experience art via their smartphones, it's a beautiful thing to see people experiencing TV through art.