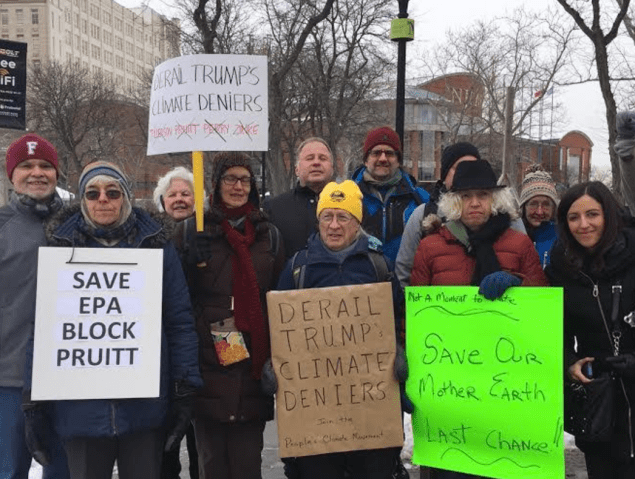 The New Jersey chapter of environmental advocacy group the Sierra Club rallied against president-elect Donald Trump's choices for key cabinet positions at a Newark rally on Monday. Trump's choices of hard-right lawmakers and one oil executive have drawn harsh criticism from the left and center, with the group's N.J. director Jeff Tittel calling on Democratic U.S. Senators Bob Menendez and Cory Booker to voice their opposition to Trump's picks as the Republican-controlled congress prepares for confirmation hearings.
"The nominations of Scott Pruitt, to lead the Environmental Protection Agency, Rep. Ryan Zinke as the next Secretary of Interior, Trump's nominee for Secretary of State, ExxonMobil CEO, Rex Tillerson, and Rick Perry, the nominee to lead the Department of Energy are all pro-mining, pro-fracking, and pro-destruction of public lands," Tittel said. "These nominations are clearly prepared to repeal and roll back 45 years of environmental protections.
"As Oklahoma Attorney General, Pruitt has sued against regulations on carbon dioxide, ozone and mercury, the Clean Water Rule as well as the Clean Power Plan. He has commented on wanting to repeal the Waters of the United States Rule, which protects wetlands and prevents flooding. He also wants to eliminate the Clean Power Plan which was designed to reduce greenhouse gasses.
"Scott Pruitt, is against some of the most important environmental laws of the last decade including regulations to safeguard clean air and clean water.
"Rep. Zinke is a Montana Congressman who has made it loud and clear that he supports increasing of coal mining and oil and gas exploration on public lands. In Montana Glacier National Park is melting away and has lost 125 glaciers between the mid-1800s to today, but Rep. Zinke denies climate change and the urgent need to address it.
"Not only will ExxonMobil CEO Rex Tillerson represent the interests of Big Oil over the people of the United States, he has been a climate-change denier, involved in the cover-up on climate change science."
Tittel also pointed to potential conflicts of interest for former Texas governor Rick Perry, who Trumpp chose to head the Department of Energy. A ProPublica investigation found that Perry gave billions in grants and tax incentives to corporations during his tenure as governor, including $30 million to an energy group that turned out to be a shell.
"The latest pick for the Department of Energy Secretary is Rick Perry who is a Big Oil and fracking supporter who originally wanted to get rid of the Department. His financial interests will create a huge conflict with this role. Many of his campaign donors were big polluters. Perry opposes renewable energy and won't admit that CO2 is a pollutant," Tittel said.
Environmental groups joining the Sierra Club Monday included 350NJ, Greenpeace, CREDO, Interfaith Power and Light, Beyond Extreme Energy and The Green Party of Essex County.
Disclosure: Donald Trump is the father-in-law of Jared Kushner, the publisher of Observer Media.