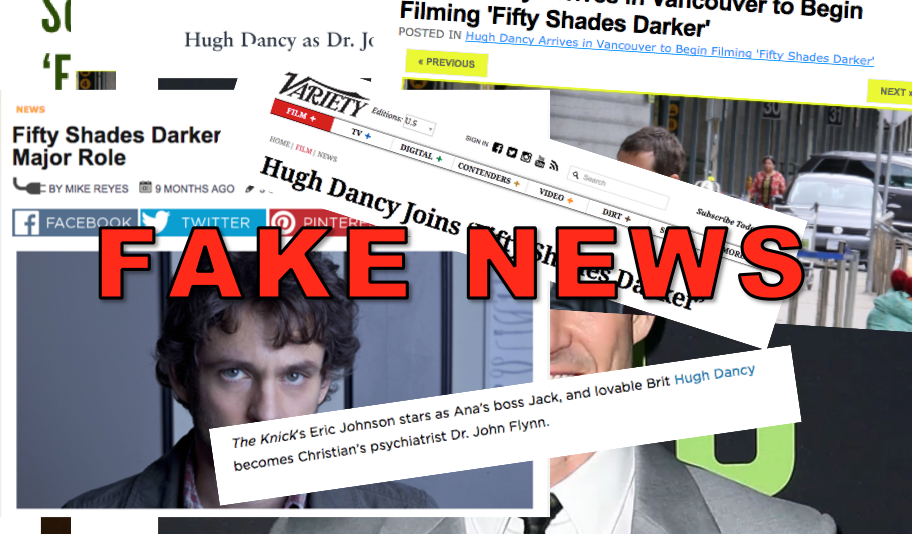 Last April, it was widely reported that Hugh Dancy would be appearing in Fifty Shades Darker, the second film in the "Fifty Shades" series as Dr. John Flynn, Christian Grey's psychologist and fellow porn-actor-sounding-name haver. The casting was confirmed by Variety among others, and Just Jared even published photos of Dancy arriving in Vancouver for shooting.
However, in a recent interview with the Observer, Dancy made clear that he would not be appearing in the film (the role has been quietly removed from his IMDB, and from the Fifty Shades Darker Wikipedia page, where his name had appeared as recently as last week.)
Here is the exact transcript of how our conversation took place:
OBSERVER: So you're not going to be in the next "Fifty Shades" movie
HUGH DANCY: No
OBSERVER: Even though the Wikipedia page and the whole Internet says you are?
HUGH DANCY: I know, I guess I'm a living contradiction of the internet.
OBSERVER: I guess… I'll have to go on your word.
HUGH DANCY: [Laughs] No, I'm not lying.
After I published the article, some eagle-eyed Fifty Shades fans pointed out that Dancy appears briefly in a crowd scene in one of the trailers for the film.
Whether that scene will be included in the movie's final edit is yet to be seen, as is whether Dr. Flynn will be removed from the story completely, or recast. But what's certain is unless that beautiful man made a liar out of us both, you won't be seeing Hugh Dancy psychoanalyzing Christian Grey come February 14.
Sorry to all of the "Fifty Shades" fans, and congrats to all of the Hugh Dancy fans who hate "Fifty Shades."