"It's not about the photography," Ann Hamilton said, curiously, of her latest, photo-based project. "It's the exchange." Indeed, exchange—along with vulnerability, empathy, and trust—would loom large in a word cloud of how the artist, during a week's worth of public talks, described her latest endeavor, at the Dell Seton Medical Center in Austin, Texas.
It's a portrait series dubbed "ONEEVERYONE," which has generated a pair of public installations, a website with high-res image downloads, a phonebook-sized free-to-takeaway book, and a newspaper packed with commissioned essays ranging from the academic to the autobiographical.
Hamilton is best known to New Yorkers via her stunning 2013 outing at the Park Avenue Armory, "the event of a thread." The work in Texas is considerably more understated—there are no swings, kinetic draperies, or cooing pigeons here—but "ONEEVERYONE" does share that earlier piece's humanist approach. It's an experiment in interpersonal connections, which might seem a little ironic considering that each photographic portrait here has been shot with its subject standing semi-obscured behind a scrim of patented thermoplastic polyurethane film known as Duraflex. That material—which Hamilton describes as having an opaque milkiness, and which she dubs a kind of veil or membrane—is what gives the photos in "ONEEVERYONE" their ethereal edge, with each participant appearing subsumed by an odd fog.
Hamilton stumbled upon Duraflex via a previous 2012 project in Pittsburgh, where she worked alongside technicians from Bayer MaterialScience LLC. The plastic has accidental visual qualities completely removed from its industrial or medical applications: A subject standing behind a Duraflex screen only appears in focus when part of their body physically touches the surface. Converted to its uncanny potentials, Hamilton went on a Duraflex bender, staging photo shoots with staffers at Pittsburgh's Post Gazette newspaper, and later hosting a pop-up studio at the ADAA fair in New York.
The process is fairly simple. A person stands behind the thin, rubbery sheath while Hamilton, invisible to him or her, offers verbal directions: Smoosh an eyebrow here, press a hipbone there. The resulting pictures privilege certain discrete elements (noses, curly braids, the bright pattern on a shirt's sleeve), bringing them into extreme focus. Hamilton has few hard-and-fast rules, although there is one overarching commandment: NO SMILING. Hands, when pressed to the Duraflex, achieve an eerie aura, not dissimilar to Rachel Harrison's photographs of faithful palms mashed against the glass of a window in Perth Amboy, New Jersey, that supposedly bore a miraculous image of the Virgin Mary.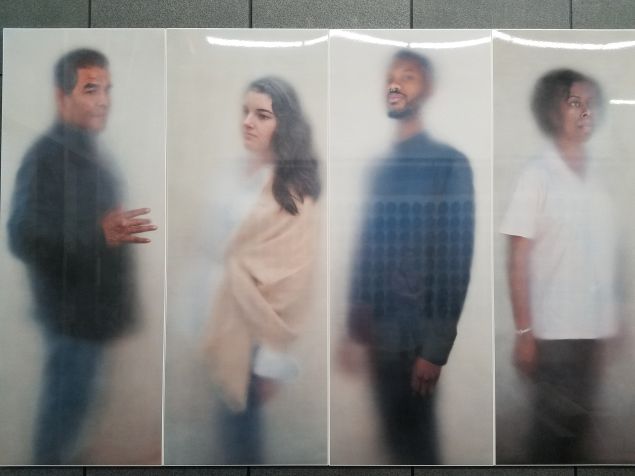 For this iteration of "ONEEVERYONE," Hamilton was approached by Landmarks, the public art arm of the University of Texas at Austin. The organization has been responsible for adding a bounty of big names to the campus; starting with a major trove of long-term loans from the Met, Landmarks has since added a Mark di Suvero, a three-part Sol Lewitt wall drawing, a hulking Nancy Rubins sculpture of repurposed metal boats, and a James Turrell Skyspace, among other prominent works. A gigantic bronze shell by Marc Quinn is another recent purchase; it sits nobly outside one of the two Dell buildings hosting Hamilton's work.
Over the course of three residency-style visits, Hamilton shot portraits at a dozen locations, ranging from hospitals and health clinics to the Senate Chamber and the Contemporary Austin. The final tally: 530 Austinites, and around 21,000 distinct digital images to cull from. Around seventy of these pieces take the form of sleek, quasi-reflective enamel panels, mounted in public areas of Dell Medical; since one of the relevant buildings is still under construction, a number of the panels are on view in a standalone exhibition at the university's Visual Arts Center, through February 24.
Since each new staging of "ONEEVERYONE" is dependent on its local context, the work in Austin does gently revolve around its home in a medical institution. While individual subjects are not readily identified by name, age, or occupation, some are clearly medical professionals or patients. (The artist might be something of an armchair doctor herself—she cites the "Diagnosis" column as her favorite part of the New York Times.) And like a doctor who must physically examine a patient, Hamilton's conception of this project returns incessantly to the idea of touch. The enamel panels, she says, almost invite you to reach out and touch them, which Hamilton herself seems okay with, even if cautionary wall labels suggest otherwise. Her description of the actual portrait-taking process hues closer to therapy than photography. The subjects needed to have "an active trust," she said, during one of several public talks. "Because they can't see [me], they're allowing themselves to be seen."
That precarious trust and a certain element of risk-taking lead to what the artist calls "a vulnerability." It's a resonant word choice for early 2017. "ONEEVERYONE" is far from a political statement, though Hamilton is not ignorant of the ways in which a project about empathy and healthcare might obviously read, opening as it does during a month when Emperor Trump seeks to obliterate the Affordable Care Act. In this context, Hamilton's portrait subjects—men, women, children—can start to look unnervingly disembodied, liable to evaporate entirely into an uncertain future.