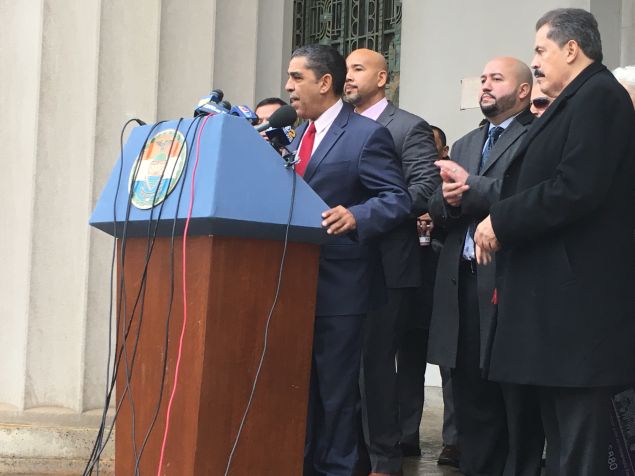 Bronx Congressman Jose Serrano and Upper Manhattan Congressman Adriano Espaillat pledged today to sign onto any forthcoming city legal action against President Donald Trump's new executive order cutting so-called "sanctuary cities" off from federal funding—and said that he is even willing to resort to marching to get his point across.
Serrano and Espaillat—who, along with Brooklyn Congresswoman Nydia Velazquez, are New York's only Hispanic House members—made the announcement at a press event Bronx Borough President Ruben Diaz Jr.  convened on the steps of the Bronx County Building this morning. Mayor Bill de Blasio has vowed immediate legal action if Trump looks block any of the $7 billion the city gets annually from Washington, particularly the $150 million-plus it receives in counter-terrorism funding for the NYPD.
"We will join him, I will join him in that endeavor," said Espaillat, the city's newest member of Congress, himself once an undocumented immigrant. "We will go to court, we will march, we will do anything that we have to do to prevent this. This is un-American. This is un-American and we will do anything to preserve our nation."
Espaillat asserted that many of the funding pipelines Trump hopes to sever will need Congressional ratification. It is unclear, however, if Democrats prevent the cuts given Republican dominance on the Hill.
The congressman, who recently replaced the retired Charles Rangel, noted that the vaguely worded order could hit everything from school lunches, to senior citizen services, to domestic violence prevention, as well as the counter-terrorism dollars de Blasio highlighted
"In fact, many of these actions, these budget cuts have to go through a budget process in Congress. He cannot unilaterally impose the cuts." he said. "We say that because we feel that his administration is peddling fear and hate that in fact these executive orders translate into real hurt into streets of the Bronx and throughout the United States."
"We tell President Trump today don't build that wall," Espaillat continued.
Serrano accused Trump of anti-Hispanic bias.
"I stand with Mayor de Blasio, I stand with Adriano and our borough president and say we will continue to be a sanctuary city. We will continue to be who we are," said Serrano, citing the epigraph inscribed on the Statue of Liberty. "Shame on President Trump, a man who represents, a man who comes from a city that has a statue that says 'give me your poor,' 'send me your huddled masses,' send me those who are hurting and then he's saying 'not if they're Mexican, not if they're coming from the southern border.'"
Diaz Jr., a de Blasio rival, urged a broad-based activism against Trump's fiats.
"That's the reason why we speak to Bronxites and New Yorkers," Diaz Jr. said. "If you're Muslim, if you're Latino, if you're a woman, don't just wait for your community or for your interest to be attacked. Let's get out of our own little silos and come together. If nothing else, let the words of this president instead of divide us."