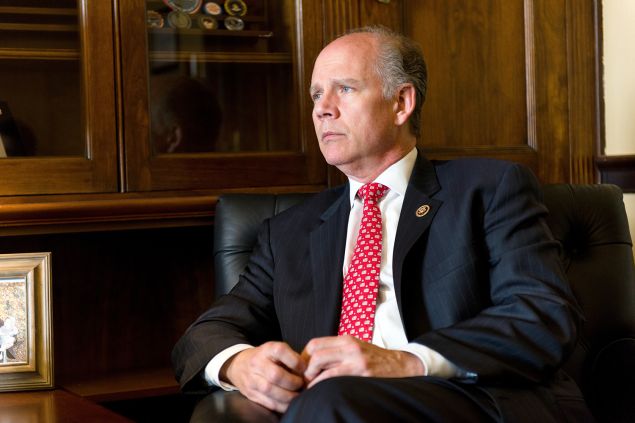 Mayor Bill de Blasio proclaimed tonight that New York City's lone Republican congressman and President-elect Donald Trump's congressional liaison are crucial to his ongoing uphill battle to get reimbursed for the extra protections around Trump Tower since Election Day.
Last month, the House passed a year-end continuing resolution that indemnified the city just $7 million—a fifth of its requested $35 million—in costs associated with safeguarding the residence and transition headquarters on Fifth Avenue. De Blasio said Trump-backing Staten Island Republican Congressman Daniel Donovan and Western New York GOP Congressman Chris Collins, the House liaison for Trump's transition team, have proved key to the city's effort to get a full refund.
"[Donovan]'s already been very supportive, so I think he'll play an important role," de Blasio told NY1's Errol Louis tonight in his weekly "Mondays with the Mayor" segment. "I've been working as well with Congressman Collins from upstate New York who was an early Trump supporter, has been very, very helpful on the effort to get reimbursement."
He noted that Donovan has "certainly been very, very helpful to New York City," particularly when President Barack Obama's administration proposed to cut urban anti-terrorism funding in half back in March.
"When the Obama administration put forward a proposal that would've cut some of our antiterror funding, Congressman Donovan stood up and was a very effective advocate," he said. "We worked closely together on that."
Congresswoman Carolyn Maloney, whose district includes Trump Tower, announced last month that Collins signed on to her latest letter beseeching GOP-occupied Washington to completely compensate the city. Long Island Congressman Peter King had previously been the only Republican to join New York Democrats in demanding the federal government pay for local efforts to shield the president-elect and his properties.
The mayor said that beyond Donovan and Collins, he's ready to work with anyone who is willing to help the city achieve its goal.
"There'll be a number of people that we'll be working with in a different fashion but look, I'm ready to work with anyone who will help New York City whether again it's on those day-to-day issues, the smaller things or whether it's on the big picture issues like saving Obamacare and making sure that the tax code is fair to New Yorkers," de Blasio added.
Police Commissioner James O'Neill noted last month that the 24-hour effort to guard Trump Tower has siphoned money and personnel from combating crime in the rest of the city. And he told the Observer that if the city does not receive the full repayment for protecting Trump Tower, the NYPD will have to continue drawing resources from precincts in the rest of the five boroughs—but he expressed optimism that Trump would side with his hometown, a sentiment Maloney and de Blasio have also expressed
Indeed, targeting Republican lawmakers has become a key part of the mayor's strategy to ensure protections for vulnerable groups under the incoming Trump administration.  De Blasio said on NY1 that the big cities are currently building a plan of attack that is particularly rooted in targeting politicians across the political aisle.
He asserted that Republican senators and congressmen will find themselves at odds with their constituents if they repeal the Affordable Care Act, cut taxes for wealthy interests or slash outlays affordable housing, mass transit or education.
"We have a real opportunity to organize mayors around the country often on a bipartisan basis to reach those Republican members of the House and Senate and have an impact on their thinking," de Blasio said.
Disclosure: Donald Trump is the father-in-law of Jared Kushner, the publisher of Observer Media.