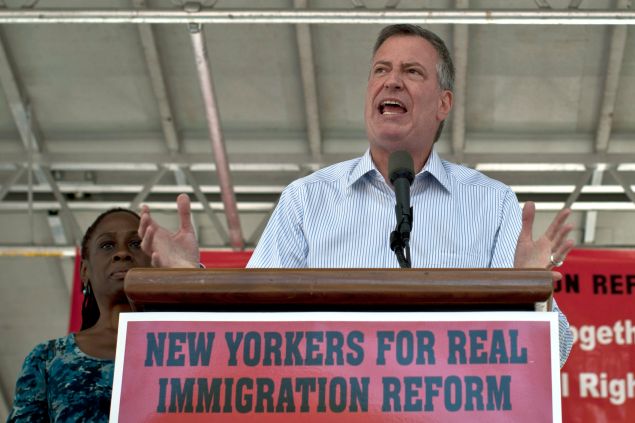 Mayor Bill de Blasio repeated his promises to preserve New York City's status as a haven for undocumented immigrants in the face of an imminent executive order from President Donald Trump aimed at punishing so-called "sanctuary cities" that refuse to cooperate with federal deportation efforts.
Reports arose last night that Trump would sign off today on unilateral actions that would begin enacting several of his signature campaign promises: construction of a wall along the Mexican border, limiting immigration from Muslim nations and penalizing municipalities that shield the undocumented. De Blasio, who just yesterday refused to adjust his spending plans to allow for hostile action from Washington, noted that the precise language of the coming executive orders is still unknown—but vowed to fight any efforts to uproot the city's five million residents lacking legal status.
"We've said time and again: if you start tearing families apart, you start leaving children here, taking their parents away, taking breadwinners of families away, this is going to be very destructive to this city, and it's also immoral," the liberal Democrat said. "The message to New Yorkers who are worried about the policies of the Trump administration, the folks who are fearful that they are not going to be able to stay with their family members here, is that we are going to do all in our power to protect them. We're going to do all that we can with the powers of New York City to protect them, and to get them support
Under de Blasio, the city forced Immigration and Customs Enforcement officials off of Rikers Island and has only over foreign nationals lacking proper paperwork to authorities if they have committed violent offenses. He has also established IDNYC, a municipal identification system designed to cater to people lacking other government-verified credentials, and pledged to keep its databases from the hands of the federal government.
The city intended to expunge the IDNYC files at the end of last year—but Republican lawmakers from Staten Island obtained an injunction to stop them. The case is ongoing.
Today, the mayor praised undocumented immigrants as "part of the fabric of this city," and insisted upon the financial and ethical wisdom of his course of action.
"We are doing the right thing. We have a city that is working economically, that is more harmonious, that is safer. It is working, we are not going to deviate from that. When we see what President Trump is putting forward, we're going to tell you how we're going to address it," he said. "I'm sure it'll be a lot we have to follow up on legally and otherwise."
De Blasio also warned that Trump's actions could sunder what delicate links exist between undocumented immigrants and the NYPD, making victims of crime and those who could provide valuable evidence hesitant to contact police.
"And on top of that it's going to undermine law enforcement's ability to protect this city," he said. "It will hurt the trust between police and community."
City Comptroller Scott Stringer has identified $7 billion in annual federal funding that Trump and the Republican order in Washington could jeopardize.