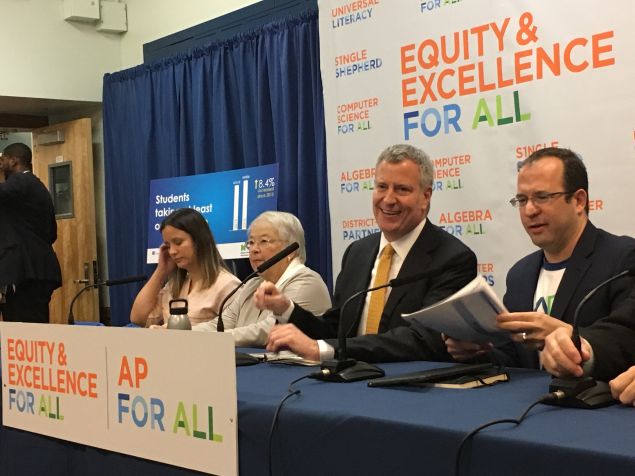 Mayor Bill de Blasio said today he won't downplay the potential impact of the pro-school voucher stances of President-elect Donald Trump's Education Secretary-designate Betsy DeVos, but he predicted that the city's education initiatives won't be affected and that it won't be "easy" for her to push her agenda.
DeVos, a Michigan billionaire and conservative philanthropist, goes before the U.S. Senate Committee on Health, Education, Labor and Pensions today. She has long supported granting families tax-funded vouchers to help cover private school tuition, as well as initiatives expanding publicly-funded, privately-operated charter schools.
De Blasio, a liberal Democrat, said that he is concerned about DeVos's views and about city public schools losing federal funding—but argued they couldn't take effect immediately, and that the city is already allocating heavy resources to its education system.
"I think we're reaching a critical mass point on this," de Blasio said at an unrelated press conference where he announced new statistics for students taking AP courses. "So even if there were a threat down the line on the federal front, I think we know just the way budgets go one thing or another, legislation goes. That's a year or two down the line before it would have any impact."
The mayor also warned against overstating the threat of DeVo's pro-voucher agenda. He remarked that there is "tremendous hesitation" about vouchers among both Democrats and Republicans, the latter because of their own beliefs or those of their constituents.
De Blasio said there's a "tremendous feeling for public education" in the United States, including in rural districts and red states, and opposition to any ideas or proposals that might undercut resources for public schools. The mayor has long criticized using standardized testing as a metric for school performance, even as he has cited rising results in his appeals to Albany for a continuation of mayoral control of the system.
"Just look at the whole movement nationally on some of the high-stakes testing issues and it tells you a lot," he said. "So I think it's a real concern but I don't think it'll be easy. If she is confirmed, I don't think it'll be easy for her to move that part of her agenda."
At the press conference, de Blasio announced that the number of students taking at least one AP exam in 2016 increased by 8.4 percent, from 41,419 students to 44,906 students the previous year. He also said that the number of students passing at least one AP exam rose 8.2 percent. Through AP for All, the city is aiming for 75 percent of high school students to have access to at least five AP classes by fall 2018 and all high school students access by fall 2021.
He also said that 14.1 percent more black students and 9.9 percent more Hispanic students took at least one AP exam in 2016 than in the previous year. And 18 percent more black students and 10.8 percent more Hispanic students passed at least one AP exam in 2016 compared to the year prior.
In his "100-day action plan to Make America Great Again," Trump announced the School Choice and Education Opportunity Act, which, among other proposals, would redirect education dollars to give parents the right to send their child to the public, private, charter, magnet, religious or home school of their choice.
Eva Moskowitz, founder of the Success Academy charter school chain, announced today that she's endorsing DeVos on the grounds that the public school system needs to be drastically revamped:
She previously said that she would "not be entertaining" a rumored position as education secretary in the Trump administration, though she praised Trump for supporting charter schools. Moskowitz is a former Democratic City Councilwoman from Manhattan, and a longtime de Blasio foe.
Fariña, for her part, did not speak directly about her thoughts on DeVos' education theories, but she said that the city has remained focused on achieving success with all of its initiatives. She noted that the city hosted 14 foreign education ministers to New York City, who came to see how the city is doing on Career and Technical Education programs, universal prekindergarten and its social studies curriculum.
She also said that the city's social studies curriculum, which went out this year, has just been adopted by the U.S. Department of Defense as the curriculum to be used internationally.
"Our job is to keep our eye on the ball, to keep focused on what we're doing and then I always love the fact that there are bureaucracies and bureaucracies have a lot of stop gaps along the way," Fariña said, referring to the federal bureaucracy. "So I thank god for bureaucracy when it comes to New York City right now."
United Federation of Teachers President Michael Mulgrew, however, bluntly blasted DeVos as having a strictly business philosophy rather than an educational one, noting that her whole career has been about removing funding from public schools.
"She does not believe in neighborhood public schools," Mulgrew said. "She believes that education should have no accountability and anyone who wants to open a school and run it can run it and they can make as much profit as they possibly can and if they can get away with it, God bless them. That is her belief."
De Blasio has a close relationship with Mulgrew's union.