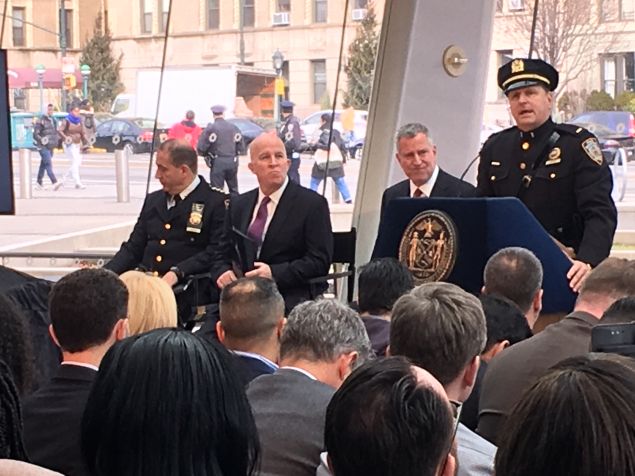 The NYPD defended officers' decision to shoot a 63-year-old emotionally disturbed man wielding a knife at a Canarsie apartment, arguing that it was the only option given that the taser did not make full contact with the man.
At about 9:30 p.m. on Tuesday night, officers responded to a 911 call regarding an emotionally disturbed individual identified as James Owens at a Canarsie, Brooklyn apartment, according to the NYPD. After a woman let them inside, Owens emerged from a back room and retrieved a 13-inch knife from the kitchen and advanced toward the officers.
After one of the officers deployed a taser at Owens that had no effect, Owens continued to advance toward the officers with the knife and a second officer discharged his firearm and requested an ambulance, police said. Owens was pronounced dead at Brookdale Hospital and the investigation was ongoing.
"It looks like from what we're looking at, the taser didn't make contact with the skin and that's why it wasn't effective," NYPD Chief of Patrol Terence Monahan told reporters during a press conference this morning at the Brooklyn Museum providing an update on 2016 crime statistics and progress.
A NY1 reporter said the station had spoken to the family and that they said they were under the impression that the officer shot Owens before applying the taser. But Monahan said the NYPD did not believe that was the case.
"We've investigated, we're interviewing Bob's detectives are interviewing all of them and we have not heard that," he said.
O'Neill did not have any further updates to provide on the matter, other than to say that the probe is continuing.
"Our Force Investigation Division in conjunction with the Brooklyn DA's office, this is all under investigation now so I don't have, can't go into too many details," O'Neill said.
Early this morning, two police officers fatally shot a man after he turned on them with his gun when they chased after him, following a report that he was unloading bullets into a lounge in the vicinity of Atlantic and Grand avenues in Brooklyn. Monahan, who responded that incident and the shooting of Owens and subsequently held briefings on them, said that officers in both cases acted appropriately.
"Again, really, the investigations are still ongoing," he said. "It's really, not much to say since I briefed you just a few hours ago. So it's really same. Both incidences, the cops were confronted with deadly weapons and they took action."
This comes after last fall's fatal shooting in October of Deborah Danner, a 66-year-old mentally-ill Bronx woman, which the mayor described as a preventable tragedy, noting that the officer involved had acted inappropriately. At the time, O'Neill said that the sergeant involved "failed" to follow department protocol for handling disturbed individuals.
At the press conference this morning, O'Neill and Mayor Bill de Blasio noted that annual shooting incidents in 2016 fell below 1,000, at 998—the fewest annual shooting incidents ever reported in the modern Compstat-era. They also noted that the use of the stop-and-frisk policing method deemed to disproportionately target minority neighborhoods has gone down 93 percent.
The number of murders also dropped to 335, compared to 352 in 2015 and there were 101,60 crimes reported in New York City, a 4.1 percent decrease from 2015, which saw 105,921 crimes reported.
Even Howard Wolfson, a former deputy mayor under former Mayor Michael Bloomberg and the Education program lead of the Bloomberg Foundation, admitted that he was wrong in his assertion that crime would increase under de Blasio—something the mayor pointed out during the press conference.