Tao Porchon-Lynch has been called the real-life Forrest Gump. Listening to her stories at a recent yoga class, it's obvious how she earned the well-deserved title. The 98-year-old yogi and ballroom dancer tells stories about her friendship with Marilyn Monroe and her childhood spent with Gandhi. Now, the former actress is continuing her career as a model for Athleta's latest campaign, an un-retouched look at "The Power of She."
Porchon-Lynch might not be a social media star, but she is a famous yogi who has trained with iconic figures. Her schedule is so exhausting, a 20-something would want a break. Soon, she's going to Sedona, before returning to Dubai, one of her favorite places to visit. She's a constant on the yoga festival circuit. "They asked me to come back and be at a festival. Last year I had fallen and was having trouble with my back, but the prince there sent a doctor to me and they were so sweet," Porchon-Lynch told the Observer after she taught a yoga class.
During class, she focused on form and flexibility, although she couldn't do all of the poses after three hip replacements. An assistant demonstrated. The yoga master told the class they shouldn't be afraid to ask questions, since she had learned more from her students than her teachers. 
For those who don't have much motivation to workout, seeing Porchon-Lynch's endless enthusiasm for practicing yoga is reason enough to book a class or invest in your own mat. "Yoga is the energy coming from within. You're learning to breathe," Porchon-Lynch explained. "Ask somebody to take a breath, this is what you will see," she said, gasping for air to demonstrate. "That's choking you, that's not opening your heart at all."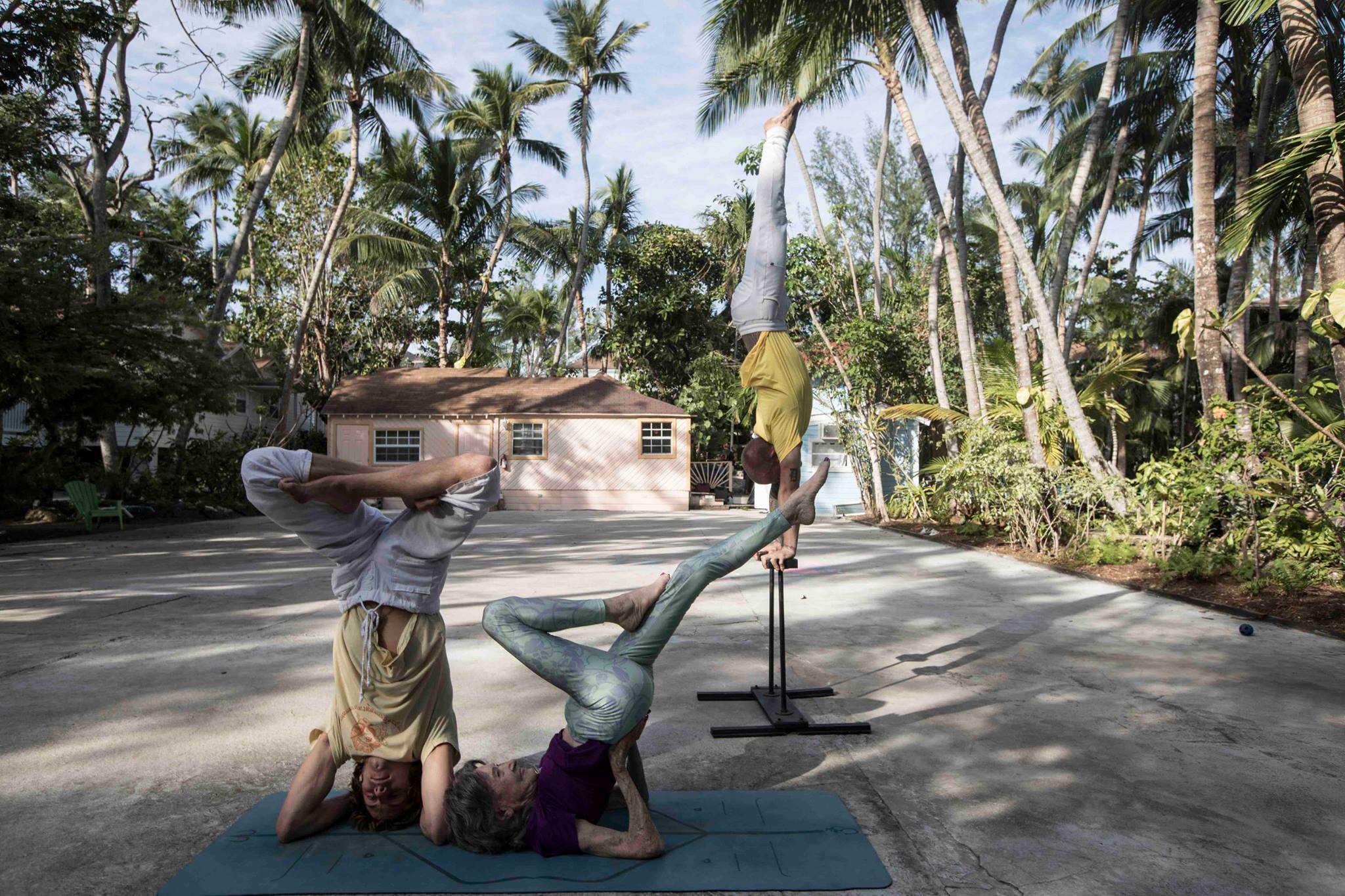 Porchon-Lynch launched into a synopsis of her life story, which included marching with Gandhi, taking part in yoga for peace in Israel and acting under contract for MGM. She saw boys practicing yoga while growing up in India and wanted to join in, but it wasn't considered ladylike at the time, which only made her more enthusiastic about learning. Celebrity instructor Indra Devi, who taught movie stars, once asked Porchon-Lynch why she wasn't teaching yoga while she was acting. Porchon-Lynch responded that she didn't think she was good enough. "That was 1950. I've been teaching yoga since," Porchon-Lynch exclaimed.
The yogi now shares her personal mantra with anyone who will listen, including her devoted class-goers and readers of her autobiography. She still teaches weekly at Fred Astaire studio in Hartsdale and at the JCC in Westchester. And her ballroom dancing days aren't over yet, either. She was most recently on America's Got Talent in 2015, where her partner was 26 (she was 96 at the time).
"Don't put anything off until tomorrow, because tomorrow never comes."
"Nothing's impossible," she tells all of her classes. "That's not just a mantra, I try to do it. Don't put anything off until tomorrow, because tomorrow never comes. Don't procrastinate. Whatever you believe in, go and do it. Don't talk if you can't do what you're going to talk about," she said. This year, she's working with the U.N. to "bring more yoga into the world." Instead of competitive games, she wants people to practice poses. "If you do yoga, everyone wins because it's right inside of you. I think if we can bring that out, we can do some good in the world. Does that sound silly?" she asked. Coming from someone who has literally seen it all and devoted her life to yoga, it didn't sound silly at all.
"I've never been afraid of anything. I found that if I believed in something I went and did it. Nothing's impossible," Porchon-Lynch said enthusiastically. Her endless optimism is contagious, no matter how old (or unflexible) you are. If your New Year's resolution is fitness-related and you have yet to make it to a class, why not drive out to the 'burbs and try one of Tao's? After all, if she can practice yoga daily, you can certainly make your way into child's pose.