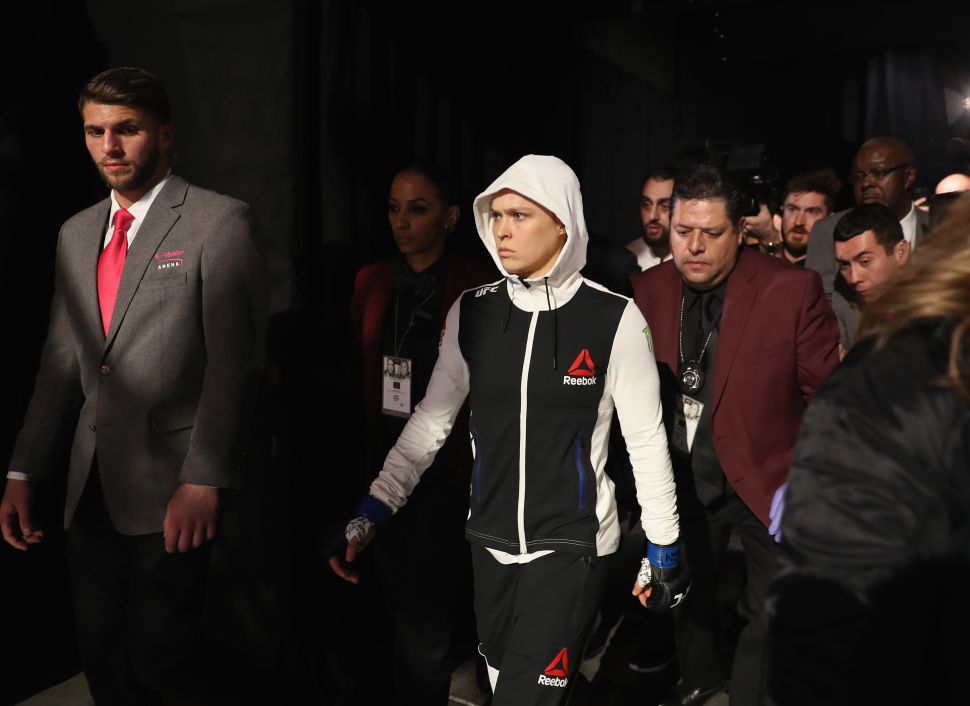 UFC 207 is over and many predicted the outcome: Ronda Rousey has been knocked out again. I discussed the possible outcomes the week before the fight with a friend and fellow fighter: we both agreed that Rousey's words on her recent Ellen appearance—and the fact that she stayed with trainer Edmund Tarverdyan—were almost certain signs that this fight would not be a blockbuster comeback.
Rousey's MMA career has been interesting. Never before has a fighter so effectively polarized the public with their behavior. Viewers flocked to her matches in hopes of seeing her win or seeing her knocked out. Every fight presented a challenger who would finally show all of Rousey's "glaring weaknesses" according to critics, and yet every fight ended with another display of Rousey's absolute dominance. Even in her second match with Miesha Tate, which at three rounds was the longest she had faced, the narrative from the critics was that Tate "took her to three rounds." The reality was that Rousey put on a judo clinic for the world with Tate as her dummy, building hype to the point that her admirers thought she was invincible and her critics couldn't possibly hate her any more than they already did.
Then it all crashed down. A couple minor movie roles, too many media commitments, an unfounded belief in her striking ability brought on by a terrible coach, and an opponent with a skill set and strategy to expose her weakness showed the world that God could indeed bleed. Rousey stayed off the radar for 13 months before making her comeback, where we saw the same thing happen again—only worse. To say that her trainer, Edmund Tarverdyan, hampered her is the understatement of the millennium. After seeing no apparent improvement or change in game plan, effectively ending Rousey's career, no one would seek out his services as an MMA trainer. Everyone, including those closest to Rousey, advised her to change camps. She stubbornly refused.
This is the best case scenario for Rousey—if she can cool down and salvage her image.
The real issue, however, isn't Rousey's skill as a fighter, her match ups, or what she needs to fix in her game. It's the issue of determining her legacy. One of the biggest problems for her is that, while she did a great job of stirring up strong feelings in the public, she never really let it go. Connor McGregor's time at the top has been similar to Rousey's but deviated in a crucial way: he clearly understands the game, his role in it, and is having a hell of a lot of fun. I haven't seen that same level of fun with Rousey. It's always deadly serious to her, which gives her the air of someone with a chip on their shoulder, rather than someone working the audience.
One would have expected that the chip to disappear after her rise in the UFC and having an entire division created around her, not to mention the fame and money. But Ronda only got angrier, and the longer it went on, the less it felt like an act. It was almost as though she didn't know how to be happy, when to cool it, or that it was unnecessary to continue provoking her opponents. She manufactured bad blood and ill feeling toward any potential match-up. We all know of the rivalry between her and Miesha Tate, but the anger and behavior she directed at Holly Holm was unreasonably overblown. What followed was a 13 month hiatus and comeback against Amanda Nunes, featuring an extremely out of character media blackout, with her rushing out of the ring following the defeat, and, again, failing to attend the post-fight press conference.
This is the legacy Rousey leaves behind. However sour and disappointing her loss may have been, she could have salvaged her image considerably by sticking around, congratulating the champion, and showing a little of the vulnerability she saved for her appearance on Ellen. Getting beaten is part of the game and precious few ever escape it once they hit the professional level. Rousey knows this, having spent 20 years in the judo world already.
But perhaps she doesn't care. Before Nunes, Rousey was the only one to have won and defended the women's bantamweight belt in the octagon. It's possible, although doubtful, that no one following her for the next decade will manage to defend it as many times as she did, so any talk that she wasn't a "true champion" is worthy of an eye roll. Given time, Rousey will be thought of in a similar light as Royce Gracie is now: the trailblazer who dominated everyone, until she suddenly didn't. She's already been compared to Mike Tyson for her ability to destroy opponents, but sadly her last two outings have also mirrored the manner in which Tyson flamed out once he was beaten by Buster Douglas. This is the best case scenario for Rousey—if she can cool down and salvage her image. It would be disappointing if she were remembered only for her anger and undignified exit following the loss to Nunes.
Rousey must ask: how does she wish to be remembered? Miesha Tate retired immediately after losing to Nunes, because she had nothing left to prove. She was dignified, and fans remember her as the chick who just wouldn't stay down. I would be very disappointed to see Ronda's legacy as that of someone who rushed out of the ring and hid for months before popping her head up on Twitter to announce that she was done. Rather than disappear for a long period of time, I hope she comes out in the next few days and retires with class and dignity. After all, she has nothing to be ashamed of and such a gesture would allow a clean break. The tributes and highlight reels will flow, and she'll get the send off she deserves.
Whatever happens, Ronda Rousey has had a long and distinguished career in the fight game. Winning an Olympic medal in judo, especially when not from Japan, Korea or Europe is about as difficult and impressive as it gets. That alone is a career accomplishment, but to add her UFC career to that, she has nothing left to prove to anyone, herself included. I sincerely hope that Ronda finds some measure of inner peace and happiness. After all, she is not yet 30 and has accomplished more than most people can ever hope to achieve.
Pete Ross deconstructs the psychology and philosophy of everyday life. You can follow him on Twitter @prometheandrive.