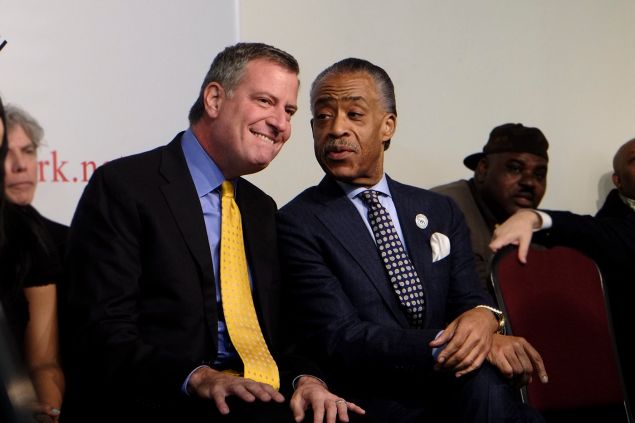 Mayor Bill de Blasio headed to Rev. Al Sharpton's National Action Network headquarters in Harlem for Dr. Martin Luther King Jr. Day—and to warn those in attendance about trying times to come under President-elect Donald Trump.
Both Sharpton and de Blasio blasted Trump for insulting Georgia Congressman John Lewis on Twitter after the famed 1960s civil rights activist called Queens-born businessman's election not "legitimate" because of Russian interference. The liberal Democratic mayor praised Lewis—whom the president-elect called "all talk," "no action"—as "one of our greatest Americans."
"He was set back and assaulted and viciously attacked time and time again, and kept coming back. And is in the struggle to this day. Isn't that a reminder to us of the strength we need to summon," said de Blasio.
Sharpton demanded that Trump show contrition to Lewis and to sit down with the Congressional Black Caucus. The president-elect did meet with King's namesake son today.
"I hope he calls John Lewis and apologizes, and sits down and talks agenda, rather than tweeting insults. And he needs to talk with the Congressional Black Caucus. He needs to talk with civil rights leaders," said Sharpton. "He needs to on King Day to get King right. What made Martin Luther King was not how small he could be, but how big he was. And some of us are too small to be big. You can't be a big president, Mr. Trump, if you deal from a small spectrum of going tit for tat. This world and this nation expects bigger things."
In honor of President Barack Obama's final night in office on Thursday, Sharpton and de Blasio will rally in Columbus Circle outside Trump International Hotel with filmmaker Michael Moore and actor Mark Ruffalo at 6 pm. The NAN founder insisted that those who attend focus specifically on pushing to preserve the Affordable Care Act, to close the wealth gap and to maintain strong federal oversight of police departments that violate citizens' civil rights.
"We're not gathering on what we're against. We're gathering on the eve of the end of the age of Obama to state in the center of New York what we are for, and what we are not going to back up from," said Sharpton. "I want our community to be there as we, on the eve of the last day of Barack Obama, stand up and say that we: one, celebrate the age of Obama, and that we are not going to drop and compromise on those things that were achieved."
Sharpton lauded de Blasio as a "a pragmatic but passionate, deliberate progressive," more interested in results than in "drama." The mayor, who is likely to again receive Sharpton's endorsement for election, in turn praised the activist as "audacious."
"King Day is always poignant, it's always moving, it always makes us think deeply. But this week, with what is to come this week, it takes on such added meaning," the mayor said. "Whenever there's a time to be audacious, it is this time in our history. Let's thank Al Sharpton for showing us how it's done."
He also called NAN, of which he is a member, "embodiment of so much of what Dr. King worked to build." The mayor reminded the audience that King would now be 88 years old were it not for his assassination in 1968, and speculated about the kind of advice the African-American leader would impart.
"He could still be here with us, and he would be telling us not to cower, not to be fearful, not to feel disempowered. He would be telling us to fight—nobly, strongly," de Blasio said. "It is important we are together. It is important we gird ourselves for battle. It's important that we support and nurture each other as we prepare for the years ahead."
De Blasio also reiterated earlier vows not to cooperate with Trump's plans to deport millions of undocumented immigrants, to fight his proposed registry of Muslim citizens and to reject his calls to make aggressive stop-and-frisk policing a national policy. For inspiration, the mayor said activists could look to the models of King and Obama.
"I tell you one thing: we won't go back. We won't go back. We are not going to turn our police into immigration enforcement agents. That won't happen in New York City. We are not going to create a religious registry for our Muslim brothers and sisters," he said. "And no matter what happens in D.C., we will never go back to the era of stop-and-frisk. We have left it behind us. So let us prepare with the greatest example we ever could have had, Dr. Martin Luther King Jr., with the greatest achievement we ever could have imagined, President Barack Obama."
"We have been given the tools my friends. It is now our time," he concluded.
The mayor has staked much of his bid for re-election, which occurs in the shadow of parallel grand jury investigations into his fundraising, on attacking Trump. Nonetheless, de Blasio has reported that the president-elect has promised to work with him in convincing Congress to fully reimburse the NYPD for its security efforts around Trump properties.