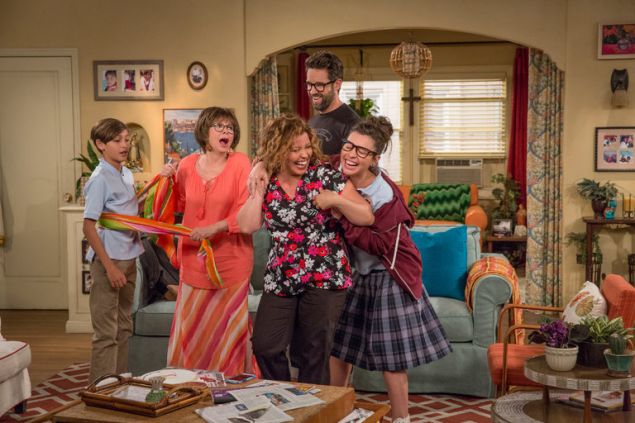 It was controversial, groundbreaking, and a big hit when it first aired in the 1970s, now a new version of One Day at a Time is set to debut and it just may be all of these things once again.
When the original One Day at a Time hit the airwaves, at its core it was about a divorced woman, working to find her true self as she struggled to raise two headstrong daughters on her own.
It was controversial because it tackled divorce, a still somewhat taboo topic in that era. It was groundbreaking because it told the story of a newly single woman juggling parental duties and dating, and it was a hit because it was everything a television show should be – smart, funny and authentic.
It's a classic that still holds up well, mostly because it has characters that viewers care about. Now, a revamped version has come along, one that's loosely based on the original, lifting the premise, the title, and a bit more.
So the controversy arises as viewers pose the question – "why remake something that was so good, and is still so relevant?"
The answer is simply because there many ways to tell the same story, with a remarkably different, and yet still very pleasing, outcome. With that in mind, the 2017 version of One Day at a Time looks radically different from the iconic series, but it's a welcome update.
Reflecting the nation's current cultural make-up, this new incarnation of the series follows three generations of a Cuban-American family, led by single mom/military vet Penelope (Queen of the South's Justina Machado), with EGOT winner Rita Moreno as Penelope's vivacious, old-school mother Lydia.
In one of the many modifications to the 1975 version, instead of two daughters, Penelope and Lydia are partnering to raise a teen daughter, Elena, and a pre-teen son, Alex.
In another change, the character of Schneider (Todd Grinnell), the mustached tool-belt wearing handyman, who was quite blue collar in the old version, is now a glasses-wearing trust fund hipster who has eyes for all the ladies, except Penelope. He is, however, interested in the well-being of his 'neighbor-family' and continues to play a big part in their lives in this adaptation of the material.
Behind the scenes, Norman Lear, who created the original series, has given his blessing for this version, and worked closely with showrunners Gloria Calderón Kellett (iZombie, Devious Maids) and Mike Royce (Enlisted, Men of a Certain Age) in crafting the narrative.
Calderón Kellett says that she's ecstatic to be working on the series, for many reasons. "Growing up I didn't see a Latino family on TV, so to finally be represented in this way is amazing. And, we're using this as a platform to talk about real issues. Because of Penelope's background in the military, we're talking about mental health and PTSD, and things like that."
She admits that while the series tackles tough topics that's not the entire focus of the show. "There are people who go to entertainment to escape and disengage. I love that we're offering something heftier, but maybe you don't want that all the time so It's not like every [episode] we're going to give you an issue. It just that there are so many things that people have in common that we want to try to discuss things that are meaningful to our audience, and do it with a funny spin on it."
Calderón Kellett reveals that she and her staff are very mindful of falling into a pattern of only portraying stereotypical women and men on screen. She insists that there isn't much chance of that given her upbringing. "I grew up with strong women, and with men who were strong enough to be with strong women. My grandmothers on both sides were badass women. My mother is a five-foot 'boob popsicle powerhouse.' I just wrote what I knew and what I know is those women. Obviously, I hope that it resonates, but I was just writing what I was lucky enough to see in my world."
Recalling past influential experiences that have informed her thought process, Calderón Kellett says, "People meet me and are like, 'oh I had a Latino maid,' and that's the only Latino they knew. I want to change that."
It's exchanges like this that led Calderón Kellett to create a series that she believes is extremely important right now, especially given the current tenor of society, she says. "Seeing faces other than those you already see every single day tell stories and having all of you come into my living room and have a conversation will my family definitely will make you see Latino people differently."
Diversity in the writer's room is essential in crafting the show, says Calderón Kellett. "Our staff is half Latino, half female, and we have two LGBT writers as well. The conversations that come from that room, the things that we have in common, that we care about, it's really staggering. So we have debates in the room and then we apply everything that we talk about to the scripts. It's been an incredible process to bring these stories to life."
Using the medium for change is important to Calderón Kellett as she says, "TV is the one place were you're able to hear a different voice and start a new conversation. That's why I'm proud to be part of this medium. We're quick to pass things along as fact when they might be otherwise. Getting people to disagree in discussions on TV in front of us when nowhere else in our life is this happening, I think could make a better world."
Calderón Kellett admits that expecting a sit-com to change the world is a bit of a lofty goal, but says that the true center of One Day at a Time is the exploration of all of the ups and downs that come with being a part of a family, no matter what the background or nationality of the group. "This is very layered and I think there's really something for everyone in this show. It gets really real at times, but it's also very funny."
Get past the 'remake controversy,' and Calderón Kellett says, with confidence, that you'll see, "that while a Latino family fronted sitcom is still considered groundbreaking, which hopefully it won't be considered that in the future, what makes this so universal is that it's about people, who are just people like all of us, dealing with stuff. Will it be a big hit? I don't know, but I certainly hope so. We've changed a lot but we've stayed true to some important ideals from the original – this is witty, it's funny and it's very true to real life. With all of that going for it, how can it not be a hit? Just check it out. Let this family into your living room. I know that you'll be glad you did."
All 13 episodes of 'One Day at a Time' are available for streaming on Netflix on Friday, January 6th.