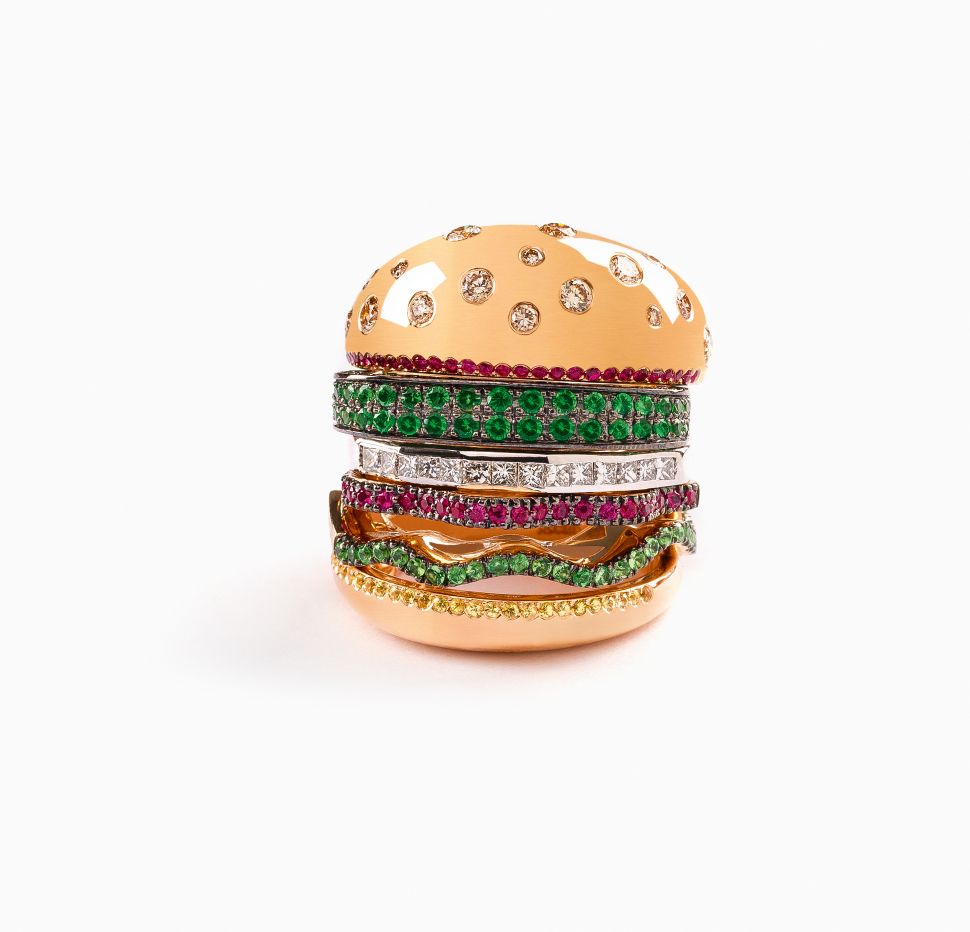 This savory confection comes from the irreverent mind of Nadine Ghosn. While the Manhattan-based jewelry designer might be known for her range of luxe necklaces resembling Apple headphones that top out at $16,800 and a pair of "Shut Up" earrings sported by Beyoncé several times including a chance meeting with former President Bill Clinton, the hamburger ring is the latest limited edition bauble coveted by the fashion masses.
Ms. Ghosn, the founder of the eponymous line, also counts herself the daughter of Renault-Nissan scion Carlos Ghosn, though she hasn't entered into the realm of jewelry design without the proper expertise. The 27-year-old is a 2011 graduate of Stanford University, as well as New York's Gemological Institute of America where she learned the ins and outs of fine jewelry. 
The hamburger ring has already caught the eyes of consumers and retailers around the world, from storied mainstays like Bergdorf Goodman to trailblazing boutiques like Sarah Andelman's Colette in Paris, thanks to its surprising versatility. The particularly kitschy accessory is not just one ring, but rather a combination of seven, with the option of each being worn separately. When assembled correctly, the combination of tsavorite, sapphire, champagne diamond, and ruby "ketchup" stone detailing come together to resemble the juicy late night snack you're always craving. 
Nadine Ghosn-Hamburger Rings, $7,500, NadineGhosn.com