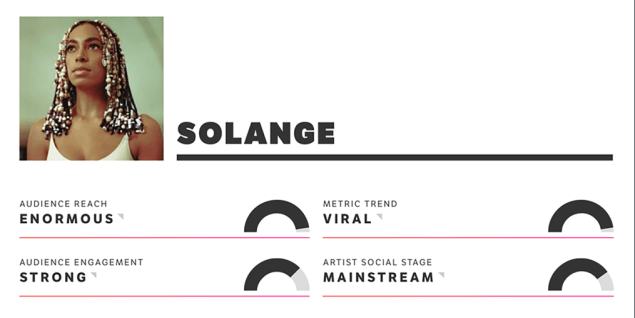 Alex White grew up surrounded by music—his father is a professional cellist and he's played in several rock bands.
But while interning at Universal Music Group, he recognized that using CD sales to sign bands and influence sales decisions was an outdated strategy in the age of streaming.
So he and three Northwestern University classmates launched Next Big Sound, a Moneyball-style big data tool for the music industry. The company's free software analyzes metrics like social media traffic, streaming statistics and listener demographic information to determine artists' influence and popularity.
"I listened to more music than ever online, and realized artists needed to make smarter sales decisions," White told the Observer.  The startup counts John Legend, Alicia Keys and indie bands like Brooklyn electro-house group Savoy as clients. Record labels including Sony and Universal also subscribe to the service, which Pandora bought in 2015. The streaming service offers Next Big Sound's data as a perk for its clients.
The collaboration came about when Next Big Sound tried to license Pandora data for its platform—in the end the two entities decided to join forces instead.
"We share Pandora's belief in the infinite power of music, and now we're turbocharged with data," White said.
While sites like Music X-Ray and The Echo Nest use predictive analytics to determine whether a particular song or album will be a hit, Next Big Sound goes further, tracking the effects that radio plays, talk show appearances and other events have on an artist's sales and video views.
The site also differentiates itself from competitors by helping musicians connect with fans—Next Big Sound's software analyzes metrics across sites like Facebook (META), Twitter and YouTube to gather statistics about Pandora artists, and suggests ways in which talent can use these tools to increase airplay.
Next Big Sound data is particularly useful when artists select singles—they can examine statistics from previous albums to learn what kinds of songs performed best over time.
By analyzing these figures, the service claims it is able to predict sales within an impressive 20 percent margin of error for 85 percent of artists.
"Attention precedes monetization," White explained. "The more time and attention people spend on something, the more likely they are to spend money."
Next Big Sound also contributes to Pandora's industry forecasts, such as its annual "Artists to Watch" report. In late 2015, Pandora used Next Big Sound data to predict which performers who had not yet been on the Billboard charts would be within 12 months. Eleven of the 25 singers listed, including Bryson Tiller, Gaya and Alessia Cara, ended up charting on Billboard and appearing on Pandora's top 100 thumbed-up tracks of 2016.
These data points show Next Big Sound's value, believes Joel Beckerman, a composer who specializes in "sonic branding," or using sound to reinforce brand identity.
"It's a brilliant move, because artists want fans who share the music," Beckerman told the Observer. "A lot of digital distribution companies give short shrift to insights, but this is serving audiences who are exploring and experimenting with new music. This is just going to give them better information and make the service that much more sticky."
Next Big Sound has several new projects in the pipeline for 2017. The first is a (so far unnamed) automated insights project, which recommends actions (such as releasing a video) that musicians can take to increase name recognition, based on data from others in the same genre.
"You're not the first indie rock band from Brooklyn, so what have artists like you done to be successful?" White asked.
The first phase of this program, which alerts artists when their Pandora page's popularity spikes, is live now, though the full project remains a work in progress.
Next Big Sound is also involved in the forthcoming Pandora Premium service, a personalized, on-demand streaming service that uses data to tailor music to users' personal tastes.
"We're using forecasting and mathematical modeling," White said, "to make the connections that have always driven the music industry."
READ MORE ABOUT THE COMING YEAR…
The Next Big Anthony Bourdain: Michael Twitty
The Next Big Protest: The New Sanctuary Movement
The Next Big Consumer Trend: Imperfection
The Next Big Career Hack: Equine Therapy
The Next Big Change to Office Culture: Virtual Reality Meetings
The Next Big Workout: VR in the Gym
The Next Big Cologne: Hawthorne for Men
The Next Big Cocktail Ingredient: Activated Charcoal
The Next Big Democratic Governor: Phil Murphy
The Next Big Marijuana Marketing Ploy: Appellations
The Next Big Guru: Light Watkins
The Next Big Zika Fighter: BugBling