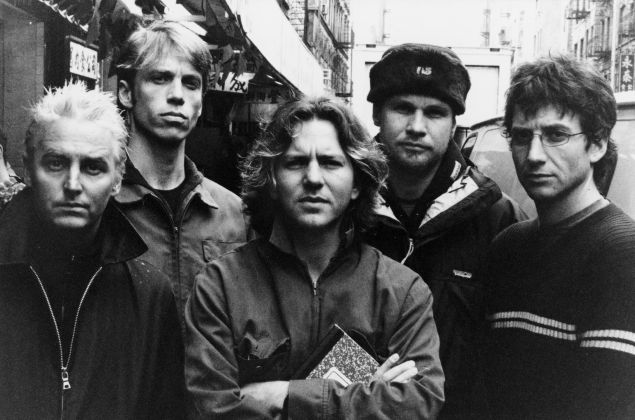 Ever since the Rock and Roll Hall of Fame announced its 2017 inductees, there's been plenty of grumbling about Pearl Jam's induction in the group's very first year of eligibility.
The Hall of Fame and just who's worthy of being inducted will always be a source of argument. However, there has never been a modern band more qualified for inclusion right out of the gate than Pearl Jam, who at the height of the alternative rock boom of the early to mid-'90s used their popularity to push an agenda championing the very icons for whom the hall was designed.
No other band in the world possesses the true heart of rock 'n' roll, Huey Lewis and The News notwithstanding. Questioning their worthiness for the Hall in their first year eligibility is one of the most wrong-headed arguments I've suffered through on the internet. These following songs firmly attest to Pearl Jam's impeccable taste and their ability to inspire their fans to dig deeper into rock's back pages.
[youtube https://www.youtube.com/watch?v=dFbPzru1ugE&w=560&h=315]
"Masters of War" by Bob Dylan
In a room full of legends it was Eddie Vedder and Mike McCready who stopped the show at Bob Dylan's 30th anniversary concert in 1992 with a powerful and stark reading of "Masters of War."
The combination of McCready's spare fretwork and Vedder's earnest growl helped elevate this Freewheelin' Bob Dylan highlight to a haunting new level of resonance.
[youtube https://www.youtube.com/watch?v=WY1Q01K7qac&w=560&h=315]
"Roadhouse Blues" by The Doors
Before Ian Astbury got the gig as the new Doors singer, the surviving members tried on Eddie Vedder when they reunited for their induction into the Hall in 1993. Vedder proved himself a worthy successor to Jim Morrison in his own right with the performance; his earnest growl was a formidable substitute for the Lizard King on fiery versions of "Break On Through" and "Light My Fire."
Once this new version of The Doors began tearing into "Roadhouse Blues" this ad hoc dream team truly took flight. It's too bad a tour didn't immediately follow.
[youtube https://www.youtube.com/watch?v=RFuYHkLeUQM&w=560&h=315]
"Baba O'Reily" by The Who
Only a foolhardy band would dare tackle a song as perfectly emblematic of the group who created it as The Who's resounding anthem for a post-mod teenage wasteland. But Pearl Jam not only covered the song during their 1992 tour; they delivered something closer to the electrifying version from The Kids Are Alright then its tamer studio take found on Who's Next.
[youtube https://www.youtube.com/watch?v=94iyMXw7oSc&w=560&h=315]
"Rockin' in the Free World" by Neil Young
There's a massive contrast between the MTV Video Music Awards of 1993 and what transpires on that channel today, and it all starts with the hottest performance of that night back in '93.
Last year it was Beyonce dancing her way through a 15-minute promo for her latest album Lemonade. But 23 years ago the most-talked-about set from the MTV Video Music Awards was courtesy of Pearl Jam, who debuted "Animal" off their hotly anticipated second album Vs., a ferocious version that's still notorious to this day.
But the "Holy Guacamole!" moment came immediately after, when they were joined by Neil Young for a rowdy rip through the Godfather of Grunge's Bush 41-era anthem "Rockin' in the Free World," a song Eddie and the boys were liberally incorporating into their own concerts over the course of their prior two years on the road.
The performance marked the beginning of a long and fruitful relationship between Pearl Jam and Uncle Neil, one that would yield a wonderfully off-the-cuff collaborative LP in 1995 called Mirror Ball and a permanent slot for the band at Young's Bridge School benefit concerts.
They also continued to gratuitously pull from the Canadian great's catalog for covers with a particular concentration on his '90s material with equally inspiring takes on "Fuckin' Up" from 1990's Ragged Glory and a note-perfect reading of the title cut from 1992's Harvest Moon. (Don't be surprised if you hear them bust out a cut from Peace Trail on their upcoming tour.)
A lot of fans found Neil Young thanks to Pearl Jam, and that accomplishment alone earned them their first year eligibility into the Hall.
[youtube https://www.youtube.com/watch?v=iSqugzxhgpU&w=560&h=315]
"I've Got A Feeling" by The Beatles
The May before the release of Ten in 1991, a three-song promo tape was sent out to fans on the Soundgarden and Mother Love Bone mailing lists introducing them to Pearl Jam. In addition to embryonic versions of "Wash" and "Alive" there was also a cover of The Beatles' "I've Got a Feeling," chosen for inclusion by Jeff Ament because Let It Be was the first album he ever bought.
It's a faithful version, albeit one augmented by ad libs by Eddie about the late Andy Wood and the band's forthcoming appearance in the Cameron Crowe-directed Seattle rom-com Singles. But what's more captivating is how the selection of the song itself, a deep cut from the final Beatles LP, set the stage for how Pearl Jam would go on to interpret the great rock songbook over the course of the next quarter century.
[youtube https://www.youtube.com/watch?v=4447lT5GQOk&w=560&h=315]
"Last Kiss" by Wayne Cochran
The White Knight of Soul's tearjerker rock ballad about a necking date that took a tragic turn barely registered on the pop charts when it was first released on the Gala label in 1961. Yet when J. Frank Wilson and the Cavaliers tried on the tune in 1964, their cover stayed in the Top 10 of the Billboard Hot 100 for eight weeks, peaking at No. 2.Vedder found a copy of the Cochran original in a Seattle antique mall, which lead to Pearl Jam recording the tune on the 1999 charity album No Boundaries: A Benefit for the Kosovar Refugees.
As a single, it became the band's biggest hit yet, reaching No. 2 on Billboard just like its predecessor did in '64 while helping to raise over $10 million in funds for Kosovo relief. If not for Pearl Jam, this Kennedy-Era classic would have been surely lost to the ages instead of given a third lease on life heading into the 21st century.
[youtube https://www.youtube.com/watch?v=OQUKpa9DwCU&w=560&h=315]
"Sonic Reducer" by The Dead Boys
You can pretend to be as cool as you want, but chances are you never heard of the Dead Boys before you experienced Pearl Jam's uncompromising cover of the Cleveland punk legends' 1977 anthem they've been playing since September 1992, releasing a studio version as part of their holiday 7-inch series as well later that year.
The song has since been a regular staple on the group's set lists, even seeing the likes of Joey Ramone, Mudhoney and The Buzzcocks joining them onstage to bash it out through the years while educating fans on the merits of Stiv, Cheetah, Johnny, Jimmy and Jeff and their classic debut Young, Loud And Snotty.
[youtube https://www.youtube.com/watch?v=iEU7S-6MfIg&w=560&h=315]
"I Believe In Miracles" by The Ramones
Perhaps the most contradictory friendship rock 'n' roll had ever seen was the one between Eddie Vedder and Johnny Ramone.
On one side you have a guy who blessed George W. Bush during the Ramones' induction into the Hall, on the other stands a man who wrote one of the most scathing takedowns of Dubya with "Bu$hleaguer" off 2002's Riot Act LP. Regardless of his political affiliations, Vedder returned the camaraderie in kind, even giving a eulogy at the guitarist's funeral.
When it came to choosing a Ramones song to cover, Pearl Jam chose one of the great dark horses in the Ramones' catalog in the lead single from their last true classic LP in 1989's Brain Drain. The acoustic rendition of "I Believe In Miracles" from Pearl Jam's Live at Benaroya Hall brings out the brilliance of Dee Dee Ramone's underrated songwriting chops better than the original itself.