Peter Thiel has become notorious in recent months for financing Hulk Hogan's lawsuit against Gawker and being one of the only people in Silicon Valley to support Donald Trump. But when Alexandra Wolfe met him in 2009, he was still best known as the billionaire venture capitalist who founded PayPal and invested in Facebook.
"It's brave that he'll think of something new and follow it up no matter what people think of him," Wolfe said. "His lack of concern makes him successful."
Wolfe, a staff reporter at The Wall Street Journal (and former Observer reporter) got to know Thiel while researching her new book Valley of the Gods. The book goes behind the scenes of an annual "anti-university program" financed by Thiel in which 20 students drop out of college to start companies in Silicon Valley. These "Thiel Fellows" (the book focuses on the inaugural 2011 class) network with tech bigwigs and attend lectures about success, all while trying to get their startups off the ground.
"I was surprised by everything I saw," Wolfe, daughter of author and New Journalism founder Tom Wolfe, said. "They were so optimistic, and they were inventing the future every day."
Most of the male Thiel fellows exhibit a personality quirk that Silicon Valley employers call "Asperger's chic"—they're socially awkward, and so will theoretically be more productive than recruits who try to get by on charm alone.
"It's a knock against the slick salesmen of the East Coast that a lot of people disdain," Wolfe said. "You can prove yourself without using the crutch of a smooth personality."
One East Coast recruit who did end up making the cut was Dartmouth student and Massachusetts native John Burnham, who told the Observer that people in Silicon Valley are "more effusive" than "straightforward" East Coasters.
At the start of the fellowship (and book) Burnham is interested in asteroid mining, but he eventually finds computer science and cryptocurrency more rewarding.
"My interests definitely evolved," Burnham told the Observer. "The space industry really is rocket science, and I wasn't ready to commit the next 20 years of my life to this one field."
Eventually he left California and enrolled in Thomas More College of Liberal Arts in New Hampshire (he transferred back to Dartmouth to study math last fall).
"People in Silicon Valley have grand ambitions about changing the world, but there's real value in the college experience if you do it in the right way," Burnham said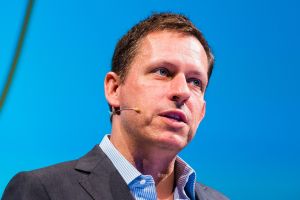 Women in tech, on the other hand, do their best to "lean in" like Sheryl Sandberg. One fellow who exemplifies this is Laura Deming, who started lab research on longevity at age 12 and focuses her work on combating aging and death. (She now runs The Longevity Fund, a life science venture capital firm).
"There's no better place to try these experiments than Silicon Valley, because people don't say no there," Wolfe said. "They don't think it's hogwash, they think it's cool, which is really exciting."
Deming did not respond to Observer requests for comment.
While the fellows do their work, Thiel pulls the strings—Wolfe said readers can draw a direct line between his stewardship of the fellows and his recent controversial political positions.
"Everybody thought he was completely crazy (for supporting Trump) but in a way you could put it together with his other bets," she said. "All of it fits together. He has the ability to surprise everybody."
In fact, Wolfe thinks readers can learn something from both Thiel and his fellows, because she did.
"I wanted everybody to succeed, because I was so seduced by Silicon Valley," she said. "But it's not that easy. You can't just go somewhere, imitate the idiosyncrasies of a bunch of really successful people and assume you'll become successful."
Wolfe also said that the stories in her book prove there are different roads to success.
"Not everyone can drop out of school with these amazing credentials, but you also don't have to get an Ivy League degree," she said. "Just because you're not a billionaire doesn't mean you're a failure."
Disclosure: Donald Trump is the father-in-law of Jared Kushner, the publisher of Observer Media.