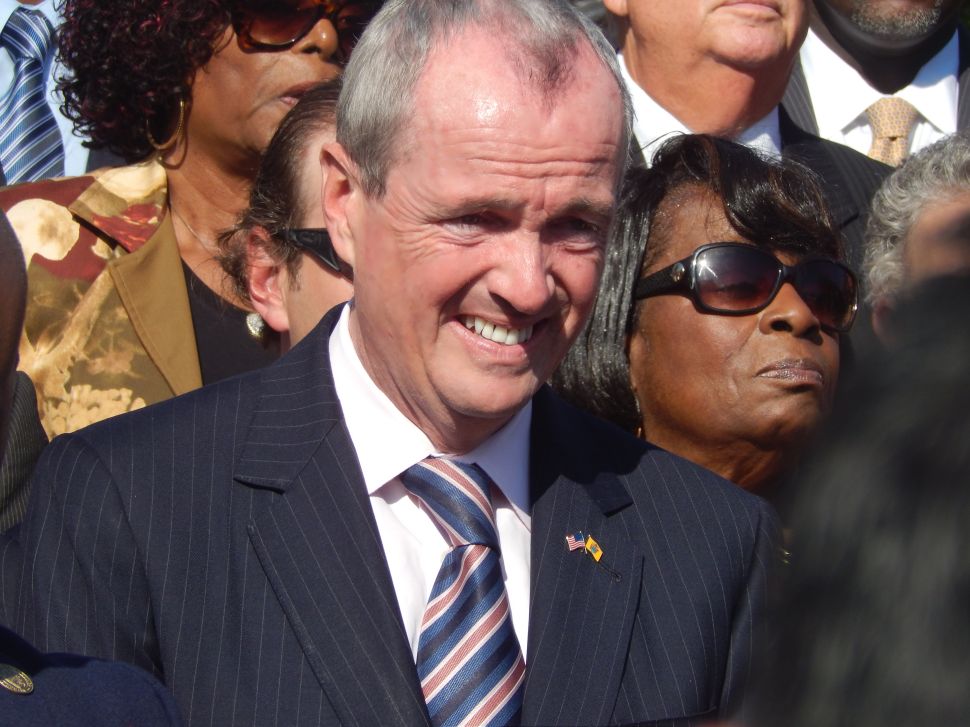 Former U.S. Ambassador to Germany Phil Murphy has never held elected office. Even so, the Democrat has quickly emerged as the frontrunner in the 2017 race for New Jersey governor. He announced his candidacy early, in May 2016, and snatched up notable endorsements—including one from the New Jersey Democratic State Committee—before competitors could jump in, effectively ending the forecasted contested June 2017 primary.
Now, the wealthy former Goldman Sachs executive, 59, is running on a promise to make the economy "work for everyone" in New Jersey—and build new bridges in state reeling from Gov. Chris Christie's scandals.
According to Murphy's tax returns—which he released in December 2016—the gubernatorial candidate brought in $7.3 million in income from investments in 2015. Despite his gold-plated bank balance, Murphy touts his humble beginnings growing up in Massachusetts and his desire to ensure a bright future for the four children he shares with his wife Tammy as the main reasons he hopes to become the Garden State's next governor. While he acknowledges his wealth, he contends it hasn't kept him from understanding the struggles of the working class.
"I was the youngest of four to a dad who didn't get out of high school and a mom who did," Murphy told the Observer by phone. "A house so crammed that I slept for the first nine years of my life in a bedroom with my parents. Middle class on a good day, growing up in John Kennedy and Lyndon Johnson's America. That is the me that burns most deeply."
Murphy claims he is "lucky" to have found the success he did during his 23-year Goldman Sachs career and that he wants to provide New Jersey's children similar opportunities.
If elected, Murphy will resist any orders from the federal government on issues Trump has discussed, including registering Muslims or deportations of those undocumented immigrants.
"I am not ashamed to having hitched my star in my own little way to the American Dream," Murphy said. "I want to make sure that the kid in the same circumstance—hanging in the middle class by a thread today in New Jersey—has the same prospect I did."
When Murphy talks about his vision for New Jersey, he touts progressive policies, such as boosting minimum wage to $15 per hour (a significant increase from where it sits at $8.44), bolstering women's health programs, signing "sensible" gun safety laws, pushing for action on climate change and legalizing marijuana. He also said that, if he is elected, he plans to fight to keep the Affordable Care Act from crumbling in New Jersey. Additionally, Murphy envisions a local economy focused on STEM fields.
Along with the gubernatorial race in Virginia, New Jersey's 2017 race will be the first notable election after Donald Trump is sworn into office. For Democrat Murphy, that position provides an opportunity to make a statement about the country's direction.
"We are going to be first up and we have the opportunity—and I think the obligation and responsibility—to plant the flag and say, 'Actually, this is what America is about. These are American values,' " Murphy said.
The candidate added that, if elected, he will resist any orders from the federal government on issues Trump has discussed, including registering Muslims or deportations of those undocumented immigrants who participated in the Obama administration's protective Deferred Action for Childhood Arrivals program.
"I will not take orders if I believe they are un-American or if they are not consistent with our Constitution," Murphy said. "I am not going to sell out dreamers or split up families or register people based on their religion. If [Trump] is going to register folks based on religion, I want to be first in line to be registered."
Murphy urged the Democratic Party to start rebuilding nationwide after crippling losses in 2016 including holding the least governorships since the 1920s. As the former finance chairman from the Democratic National Committee, Murphy said the party as a whole needs to revamp its economic message, something that he believes can start in New Jersey.
"I don't think we have gotten the economic message right," Murphy said when asked why Democrats have lost ground to Republicans in recent election years. "I think we have had these false choices between the so-called Obama coalition on the one hand and the white working class rank-and-file on the other hand. That is a false choice. I think that is a mistake we have made, and that is a mistake that we must not make in our state."
Murphy, who will likely face off against still-undeclared Republican candidate Lt. Gov. Kim Guadagno or declared candidate Assemblyman Jack Ciattarelli, said that he feels New Jersey can become an example nationwide under his tutelage and get away from the soiled brand the state has developed under Christie, a Trump confidante who seemed guaranteed a position in Washington until the resurgence of "Bridgegate" tanked his approval ratings and further sunk his credibility.
"We have become a state that people don't trust. In some respects, with Gov. Christie's sort of love affair with Donald Trump, we have become a state that people outright laugh at. I find both of those offensive," Murphy said. "We have to get back to being a state that people trust and people take seriously. New Jersey has historically been—until Chris Christie hijacked it—a progressive beacon, even under Republican governors."
If Murphy wins office, he will be one of just 17 Democratic governors nationwide, at a time when the party faces a severely depleted bench going into the 2020 presidential race. Murphy, who according to a December 2016 poll from the Fairleigh Dickinson University poll is known to only 39 percent of New Jersey voters, said that he does not have any plans to pursue elected office other than the New Jersey governorship. He cited Christie's failed 2016 run for the White House as proof of the importance of maintaining a laser-like focus on his current job.
"We have seen no better example than Chris Christie. If you start focusing on other agendas you end up not doing the job that you were elected to do. That is not going to happen with me," Murphy vowed.
Murphy said that his vision for New Jersey is bright and without any of the vitriol that has come to define politics in recent elections.
"I do think," Murphy said, "we need an attitude adjustment in the sense that let's come together again. Let's give each other a hug. I like a little bit of a President Reagan 'Morning in America,' reminding us that this is a great state filled with great people and we may have challenges and crisis but we are equal to that task."
Disclosure: Donald Trump is the father-in-law of Jared Kushner, the publisher of Observer Media. 
READ MORE ABOUT THE COMING YEAR…
The Next Big Anthony Bourdain: Michael Twitty
The Next Big Protest: The New Sanctuary Movement
The Next Big Consumer Trend: Imperfection
The Next Big Career Hack: Equine Therapy
The Next Big Change to Office Culture: Virtual Reality Meetings
The Next Big Workout: VR in the Gym
The Next Big Disrupted Industry: The Music Business
The Next Big Cologne: Hawthorne for Men
The Next Big Cocktail Ingredient: Activated Charcoal
The Next Big Democratic Governor: Phil Murphy
The Next Big Marijuana Marketing Ploy: Appellations
The Next Big Guru: Light Watkins
The Next Big Zika Fighter: BugBling