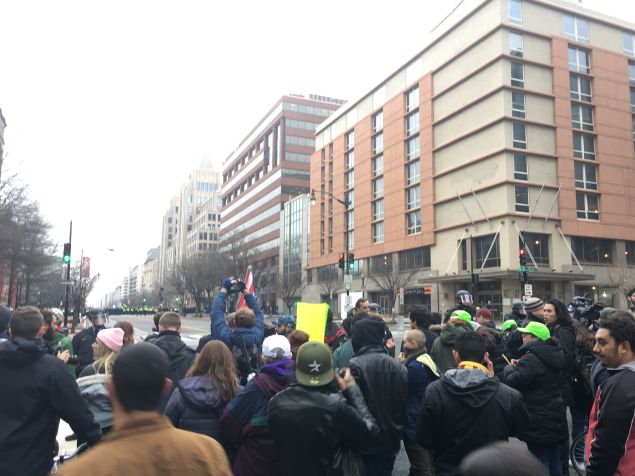 WASHINGTON, D.C.—As President-elect Donald Trump officially took the oath of office today, a group of aggressive protesters clashed with police officers dressed in riot gear and armed with tear gas.
Several far-left demonstrators smashed storefronts, started fires and smashed car windows in the vicinity of McPherson Square, prompting police to retaliate with arrests and canisters of gas. Those the Observer spoke to who witnessed the confrontation up close described a fierce and physical encounter between activists and authorities.
"There was some people that threw a couple of bottles and they began tear gas and pepper spray, the cops did in full ride here and began to arrest people at that point, throw them to the ground," Alex Roberts, a college student, said. "And they forced, they had all their riot gear up and they kind of had a human shield and pushed the protests this way so down several blocks now that we're here."
Washington, D.C. Mayor Muriel Bowser chastised those who caused property damage on social media, saying that she respects the rights of protesters but that she would not condone crime and vandalism. She also vouched her support to her city's police department and the other law enforcement who came to D.C. to assist with crowd control and support.
The #DisruptJ29 activist network held the "Festival of the Resistance: March Against Trump" at 12:30 p.m., kicking off at Columbus Circle, marching along H Street and finally making its way along K Street and was on its way to McPherson Square The march sought to protest Trump's flirtations with racism, sexism, transphobia, Islamophobia and ableism.
A McPherson Square, a large number of police officers in body armor faced the protesters at all corners. The officers quickly collided with protesters, and deployed their tear gas, which rose in a cloud over the heads of shouting demonstrators.
The gas soon mingled with smoke from a fire that protesters had started in the middle of the street.
Roberts reported seeing protestors chuck bottles as cops responded with more tear gas and pepper spray. Helicopters circled overhead.
At one point, protesters could be seen marching into Union Station yelling "Trump and Pence are fascists! Trump and Pence are illegitimate!" over and over and over.
ANSWER COALITION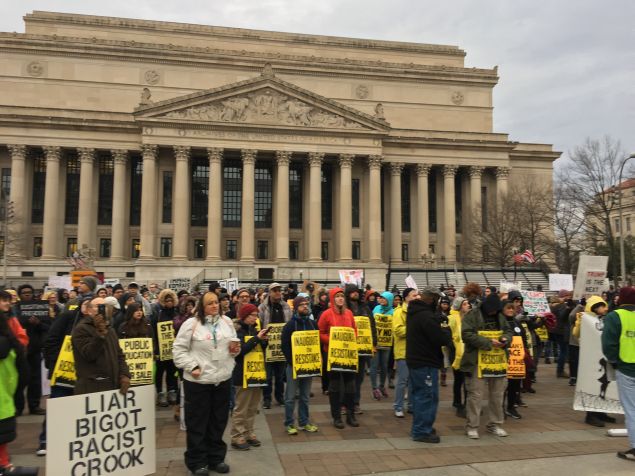 Earlier this morning, the ANSWER (Act Now to Stop War and End Racism) Coalition led a protest at the Navy Memorial that drew at least 600 people to speak against war, racism and inequality and in favor of immigration and workers' unity. Protesters had signs with slogans such as "We SHALL OVERCOMB" (with a photo of Trump, orange hair and a comb), " and "We'll Build a Wall AGAINST RACISM & BIGOTRY."
Participants chanted "say it loud, say it clear, immigrants are welcome here!" and "this is dissent, we are the 99 percent!"
Police set up a security checkpoint to enter the protest zone in the area of 7th Street and D Street NW, and hundreds of people stood on line to enter—many carrying pickets bearing slogans like "INVESTIGATE AND IMPEACH," "Don't normalize misogyny" and "Mexicans are natives." A few Trump supporters wearing "Make America Great Again" caps and shirts waited to get in as well.
Brian Becker, ANSWER Coalition's national coordinator, described these precautions as encroachments on freedom of assembly and of the press.
"For Trump to be able to say where we can be or where the media can be, if we can't be here on Pennsylvania Avenue, then the First Amendment actually has no meaning," Becker said. "It has no meaning. What right and especially the right to free speech what right means anything if this billionaire racist misogynist pig can tell us whether we can be at Pennsylvania Avenue to demonstrate against this program."
Anna Cook, a 14-year-old girl who lives in Richmond, Va., came to Washington, D.C. to participate in the protest with her cousin, 19-year-old Emily Casillas, who also lives in Richmond. She said that she's "really afraid" of Trump's supporters.
"I know a lot of people at school who will just defend him to the end no matter what he does. Being a Mexican-American, it really scares me to hear all the things he says about our people, you know," Cook said. "There's no need for hatred like that, especially when you're in a government that has that much power. You shouldn't be a leader if you're saying things like that."