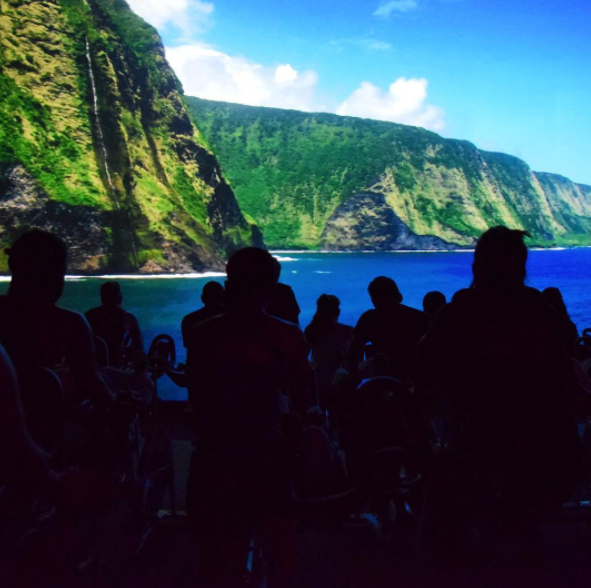 Candles at SoulCycle are no longer enough for fitness fanatics. And music videos at The Monster Cycle just don't do the trick anymore. Instead, classes like The Trip at David Barton's TMPL and IMAXShift embrace virtual reality experiences while music blares. Unfortunately, virtual reality workouts don't mean you watch other people workout for you. Instead, they're all about bright lights and immersive, interactive video screens. Think Epcot's Soarin' ride, only with spinning. Similar to the Disney experience, where participants smell fresh orange blossoms as they "soar" over Florida orange groves in an enormous hang-glider, some classes include scents.
At WOOM Center on the Bowery, a wellness hub with health tonics, a custom-designed 3D sound system and multi-sensory yoga, participants put on sleeping masks for sound meditation. They take off their masks to experience an audio-reactive visual installation on the walls while practicing yoga. Then, they are blindfolded yet again during Savasana, deemed one of the most difficult poses, to listen to a series of tuning forks. At the end of the class, everyone is spritzed with lavender. It's not exactly a trip to your building's gym with its lone treadmill.
At IMAXShift, participants watch an enormous screen, but they aren't watching Everest videos at a science museum. Sometimes music videos appear, showcasing Usher's abs. But the true virtual reality kicks in when the life-like landscapes come into view, urging riders to spin up hills and adjust their torque accordingly, and then coast down into cityscapes, swerving from side to side.
https://www.instagram.com/p/BM9rm7-hDM_/?taken-by=imaxshift
"IMAXShift is an important step in the future of immersive fitness," IMAXShift's Director of Creative Integration, Bree Branker, told the Observer. Branker creates custom playlists and encourages riders to imagine they're pedaling through the forest or soaring over the coast of Hawaii, far from the actual DUMBO studio. "Utilizing IMAX's patented theatre geometry and visual technology, we have the unique opportunity to fully inspire the rider's senses, catapulting their fitness success to immediate new levels," Branker promised.
These new workouts present the opposite of mindful movement, and instead offer an escape from the usual boutique fitness classes. Climbing hills is easier with a screen to focus on, instead of staring at the instructor while they "Woo!" Of course, if this all sounds much too high tech, there's always the option of hopping on a Citi Bike and venturing outside, where the cityscape is real.
READ MORE ABOUT THE COMING YEAR…
The Next Big Anthony Bourdain: Michael Twitty
The Next Big Protest: The New Sanctuary Movement
The Next Big Consumer Trend: Imperfection
The Next Big Career Hack: Equine Therapy
The Next Big Change to Office Culture: Virtual Reality Meetings
The Next Big Disrupted Industry: The Music Business
The Next Big Cologne: Hawthorne for Men
The Next Big Cocktail Ingredient: Activated Charcoal
The Next Big Democratic Governor: Phil Murphy
The Next Big Marijuana Marketing Ploy: Appellations
The Next Big Guru: Light Watkins
The Next Big Zika Fighter: BugBling