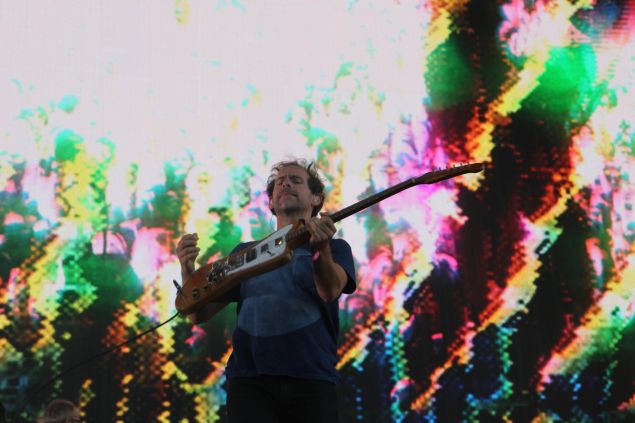 With the Presidential Inauguration just over a week away, the list of artists who nothing to do with the incoming administration—including Elton John, Andrea Bocelli, The Dixie Chicks, Ice-T, Moby, and every local marching band—continues to grow.
But more remarkable is the tone-deaf solicitation of these names in the first place. Elton John is a proud gay man who runs an AIDS foundation. Ice-T built his career on fighting the power of oppressive, old white one-percenters. The Dixie Chicks long used their genre as a subversively effective platform for their progressive values. And Moby told me himself that he considers Trump to not be a person when we spoke late last year.
So while it's not surprising that these artists have declined to be a part of the ceremony, it's nonetheless telling that those responsible for booking talent are so clueless and disconnected with the pulse of the creative class.
So far the talent for the evening includes a Bruce Springsteen cover band, The Rockettes, The Mormon Tabernacle Choir and likely some other shit your parents dragged you to as a kid. (No word yet if Mannheim Steamroller will be performing, but 3 Doors Down just agreed, and there's a good "Kryptonite" joke in there somewhere.)
As of this writing, the ceremony will be closed out with a performance of "The Star Spangled Banner" by Jackie Evancho, a 16-year-old soprano from Pittsburgh who finished second place in the 2010 season America's Got Talent. You can't make this shit up.
But that doesn't mean there isn't a good helping of great music going down on Inauguration Night, or that whole week. Rather than simply stay put, musicians with values and pulses have organized to host a slew of anti-inauguration celebrations, most of which are raising funds for the organizations and institutions the incoming administration threatens to defund and dismantle. Here are the events on our radar in New York and D.C. that encourage the youth to organize, protest, support each other and dance.
Washington, D.C. 
Show Up!, Thursday, January 19, 9:30 Club
Rapper Common and brooding baroque rockers The National have agreed to headline "Show Up!", a free concert at D.C.'s 9:30 club that's hosted by Planned Parenthood and the All Access coalition—13 organizations committed to providing women health and abortion services throughout the country. More special guests are promised for the free, ticketed event that intends to provide a "call to action for supporters of reproductive freedom to take action wherever they are." All organizations in the coalition have an allotment of tickets to distribute.
"Women should be able to make their own decisions about their bodies and health. This is a basic human right, and we're at the very beginning of a long and tough battle to defend these basic rights," said Matt Berninger, lead singer of The National in a statement issued by Planned Parenthood. "A concert in D.C., inspiring people to take action, seems like a pretty good way to kick it off."
NO THANKS: A Night of Anti-Fascist Sound Resistance in the Capital of the USA, Friday, January 20, The Black Cat
Those in town to protest or join the Million Woman March might want to come early for the second high-profile protest show, taking place the same evening as the dreaded ceremony in question. "NO THANKS" adds a decidedly more punk tone to the organization, promising a night of anti-fascist songs that will likely include a fair helping of Dead Kennedys and Sham 69.
This one isn't free, but $20 for a lineup that includes D.C.'s own Priests, Sadie Dupuis, Waxahatchee, Flasher and more ensures you're getting a good dose of reality for your dollar.
Proceeds from this show will benefit Casa Ruby, "the only Bilingual Multicultural LGBT Organization providing life saving services and programs to the most vulnerable in the LGBT community," and One DC, an organization dedicated to "build sustainable community capacity and leadership so that low-income people of color can speak for themselves."
[youtube https://www.youtube.com/watch?v=sgpa7wEAz7I&w=560&h=315]
The Women's March on Washington, Saturday, January 21, Washington D.C.
The biggest event this weekend, inauguration be damned, is actually the massive march planned on Washington. Marches are happening across the country, but this is the big one, and some big names have agreed to perform, showing solidarity with our sisters. R&Bs icon Maxwell and Janelle Monáe are marching and performing alongside the tremendous talent gracing protestors with entertainment, including Angelique Kidjo, Toshi Reagon, Samantha Ronson, Emily Wells, DJ Rekha, MC Lyte, St. Beauty, Beverly Bond, Alia Sharief, DJ Rimarkable, the Indigo Girls, Mary Chapin Carpenter, and Climbing PoeTree. Ex-Dirty Projector Amber Coffman will also be performing, particularly resonant considering her speaking up about being sexually harassed by one of the music industry's most notorious predators.
Laugh. Dance…then Get to Work!, Saturday, January 21, 9:30 Club
Planned Parenthood sponsors the official afterparty for the march at this super sold-out benefit show. The stacked line-up includes The National, Sleater-Kinney, Tig Notaro, Janeane Garofalo, and Ted Leo.  Senators Al Franken and Cory Booker will appear along with Phoebe Robinson (2 Dope Queens), Samantha Ronson, Sam Harris (X Ambassadors), Casey Wilson, June Diane Raphael, Morgan Walsh and Ronna & Beverly.
THE ANTI-BALL: Women's March After Party and PP Benefit, Saturday, January 21, The Black Cat
The Black Cat hosts another amazing benefit following the Million Woman March. The Anti-Ball features some amazing performers including Brooklyn's own Afrobeat band Antibalas, TEEN, Kimya Dawson, Trixie Whitley, Xenia Rubinos, Holly Miranda and Kyp Malone from TV on the Radio. "We know which party brings the Party," write the organizers of this anti-ball, which promises live music, dance, speakers, and protest with all proceeds benefiting Planned Parenthood. This one'll set you back $30, or $50 with a poster of the show. But it's tax deductible and, you know, going to an organization that needs all the help it can get right now.
New York City
Madonna and Marilyn Minter In Conversation, Thursday, January 19th, The Brooklyn Museum
This one's not music, strictly speaking, but badass and timely nonetheless. Madonna and feminist artist Marilyn Minter will hold a discussion at Brooklyn Museum's Iris and B. Gerald Cantor Auditorium. The Brooklyn Museum says:
On the eve of the presidential inauguration, join Madonna and Marilyn Minter—two fearless feminist provocateurs—as they talk art, culture, feminism, and the current state of affairs. Connecting Madonna, an artist, activist, and philanthropist, with Minter, whose work explores cultural perceptions of women, this unprecedented conversation will highlight the impact of female artists within broader culture and social change. Moderated by poet, essayist, and playwright Elizabeth Alexander and by Anne Pasternak, Shelby White and Leon Levy Director of the Museum.
This historic program is part of our A Year of Yes: Reimagining Feminism at the Brooklyn Museum, a yearlong series of exhibitions and programs celebrating the 10th anniversary of the Museum's Elizabeth A. Sackler Center for Feminist Art.
Brooklyn Freedom Concert, Thursday, January 19, Unit J
Unit J has earned a growing reputation as one of the most all-inclusive collaborate art spaces Bushwick, and their first annual Brooklyn Freedom Concert promises to continue the trend. "We create and host live concerts, video/photo shoots, and film screenings," they told me. "Once a factory, now our home and creative playground."
Thursday night's Brooklyn Freedom Concert  features a vast line-up of musicians including Jeremy Bass, Elijah Bridges, Christine Cherry, Bryan Dunn, Dru Cutler Music, Chanese Robin Elifé, Amanda Gookin, Opera Cowgirls, Caitlin McKechney, Nicole Mitchell, Phoebe Nir, Amos Rose, Amy Marie Stewart, new compositions by Alex Weston and Alyssa Weinberg and is hosted by Petra Fried, New York City's self-described "giant blonde bombshell lesbian 90s power ballad loving drag queen."
Unit J says: The BROOKLYN FREEDOM CONCERT will present an evening of performance and art from across thespectrum inspired by the inclusivity and equality of all people. Hosted by Petra Fried, the evening will feature local musicians, new works by classical composers, instrumentalists, Brooklyn's own Opera Cowgirls, and spoken word. 
All proceeds go directly to the Audre Lorde Project and the Brooklyn Community Pride Center.
If you can't make it, Unit J will be streaming the event live on their Facebook Page.
Concert For America, Friday, January 20, Town Hall 
Fans of Broadway and showtunes will marvel at the incredibly stacked line-up for this protest show at Town Hall on Friday. Performers include stars of the stage and screen Betty Buckley, Judy Gold, Anika Larse, Andrea Martin, Jessie Mueller, Brian Stokes Mitchell, Julia Murney,Rosie O'Donnell, Kelli O'Hara, Rosie Perez, Billy Porter, Chita Rivera, Seth Rudetsky, Lillias White and more. It's super sold-out but you can still sign up to stream it on Facebook Live.
The Anti-Inaugural Ball, Friday, January 20, The DiMenna Center for Classical Music
For a more avant night of protest, the Dimenna Center hosts this free night of music at its "acoustically intimate" Mary Flagler Cary Hall, featuring the best all-female Mariachi band you've never heard, Flor de Toloache, alongside musicians from across the city's experimental and jazz communities like Phyllis Chen & Friends, Jordan Dodson, ETHEL,  Flutronix, Gemini, the International Contemporary Ensemble (ICE) , JACK Quartet , Darius Jones, loadbang, So Percussion and Adam Tendler.
Adding to the mystique of this one, Stephen King will be bartending. True story—I had a drink next to him once at the Rock Bottom Brewery on Tremont Street in downtown Boston and all he wanted to do was talk about baseball.
The DiMenna Center says they "will provide laptop stations for attendees to donate funds for institutions that uphold America's democracy and diversity including ACLU, LAMBDA Legal, Planned Parenthood, Southern Poverty Law Center, Hollaback! and more."
Anti-Bigot Brigade and Max Decibel Music Present: The "Keep It Together" Charity Concert Series, Friday, January 20 at Gold Sounds
I confess to not know one of the acts playing the first of many promised "Keep It Together" charity concerts, but the fact that they want to keep this thing going makes it more than worth your support. Acts include No Nets, Almost Aimless, Swinging Riot, The Thirds and Girl Scout, while the $10 cover will be donated to the Ali Forney Center for LGBTQ youth, and the organizers will be collecting coats for New York Cares' annual coat drive.
Most exciting about this show is the organizers' assurance that "in every case, proceeds will benefit a predetermined NYC charity that serves one of the many populations that this incoming administration seems determined to endanger."
Is this plan a viable means of engaging the pissed-off creative class in charitable giving? We sure hope so. My generation spends so much disposable income on shows, nightlife and going out in general that if there was any viable way to parlay those profits to at-risk organizations, we all ought to get on board.
Sailor Poon, Friday, January 20 at Alphaville
This one's just billed as a special inauguration day show, but with a name like Sailor Poon, how can you resist? Lindsay Krause interviewed the Austin feminist punks for an entertaining, timely read over at Brooklynvegan. She writes:
With lyrics like "Eat me out, buy me shoes, make me cum, and then please leave," their infectious attitude is impossible to resist or ignore. The Poon goons are fresh off of their first major festival appearance at November's Sound on Sound Fest, and notable live gigs over the past year include sharing the stage with King Khan (who mixed their track, "Leather Daddy"), GAYCL (Austin City Limits' LBGTQ counterpart event), and opening for NOBUNNY in Houston late 2016.
[youtube https://www.youtube.com/watch?v=aukRVFNXxrA]
"The politics of Texas right now are pretty screwed up, so Planned Parenthood is a big deal," Poon member Cheraya Esters told Krause. " Especially within our community itself, people were ready to pool together for that and show up, and put the money out for the benefit record… that was pretty badass. I guess every little bit counts. The Rape Crisis Center gig was pretty interesting, it was a younger crowd. It's been a minute since we've stepped out of a bar scenario…"
Other Big Anti-Inauguration Events
The most disruptive, collaborative event isn't happening in one place, but digitally over Facebook live. The I-Day Creative Stream Explosion's empty Tumblr page says:
Starting Friday, Jan 20th @12:00 noon EST, We call on musicians/performance artists/video artists/poets/dancers/comics/people who just want to read something they love (the Constitution?) to counterprogram the inauguration on Facebook Live. We would like to see hundreds of artists, etc all jamming at the same time, around the country and beyond. We further request that each participant make a sign with the name of an organization, or a cause—including a website for donations. For a couple of hours we want to turn everyone's Facebook feed into a river of sounds, noise, songs, voices all shouting down what will be happening in D.C. — info/questions: idaycreativestreamexplosion@gmail.com #IDAYSTREAM
The big rumor going around last month was that a massive "Freedom Concert" would be presented by People United and feature a shit-ton of big names. Then Snopes debunked it and identified its fliers as created by a team online in response to Robert Reich's proposal that musicians organize an opposition event.
Still yet to be dismissed is a rumored Inauguration-night event in my hometown of Miami called "We the People" organized by promoter Mark Ross. Buried in one of the daily Politico Playbooks is an unnamed source for Ross that states talent is "banging at their door" to do this. Time will tell.
This is an living list. Do you have any other organized musical protests planned that we should know about? Hit me up on Twitter and let me know.