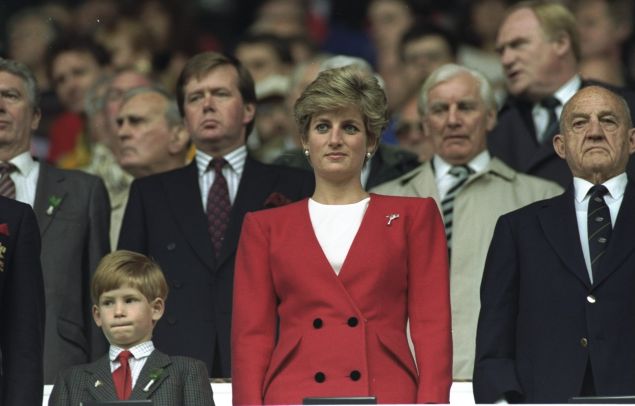 It's been 20 years since the death of Britain's Princess Diana of Wales, the beloved royal who captured the world's hearts. Now, her two sons, Prince William and Prince Harry, have decided to honor their late mother by erecting a statue in her likeness at Kensington Palace. On January 28, the palace released a statement on Twitter detailing the princes' vision for an artwork, which is to be commissioned by a committee and paid for by privately raised funds.
"It has been twenty years since our mother's death and the time is right to recognise her positive impact in the UK and around the world with a permanent statute," said the princes in the statement. "Our mother touched so many lived. We hope the statue will help all those who visit Kensington Palace to reflect on her life and her legacy."
Sunday Express royal editor Camilla Tominey told the BBC, "This is Harry and William saying that want a more permanent and personal memorial to their mother. They were too young when she died to have any role in the memorial."
London already has three monuments to Diana scattered across the city, however this would be the first artwork to inspired by her likeness. In 2004, the Diana Memorial Fountain opened in Hyde Park. The seven mile-long Diana Princess of Wales Memorial Walk, which cuts through Kensington Gardens and passes Buckingham Palace, is set with plaques designed by artist Alec Peever. And a fantastical memorial playground featuring a large wooden pirate ship, teepees and an assortment of sculptures was built in her name in 2000 adjacent to Kensington Palace.
With the princess' sons leading the effort to commission the artwork, a question arises: which iconic image of Diana will be the sculpture's inspiration? Among famous images of Diana that might be top contenders are the well-circulated portraits of the princess wearing her glittering diamond tiara, or those from her wedding day to Prince Charles, dressed in ruffles and carrying a flowing train and white roses. She was well-known for her charity and humanitarian efforts, and on one occasion even walked through a landmine field in Angola. During President Ronald Reagan's White House gala in 1985, she was snapped dancing with John Travolta. And in 1992, during a visit to India, she was photographed sitting on a bench in front of the Taj Mahal.
While there are many images synonymous with the princess' legacy, some critics argue that a bronze likeness won't do the royal justice. The Guardian's Jonathan Jones proposes instead that the princes' forgo the ubiquitous portrait in favor of a contemporary work by a British artist. Jones writes: "Commission a sculpture not a statue. That might mean anything from a sky mirror by Anish Kapoor to a sombre cast by Rachel Whiteread. It should be a work by a leading British artist, that will represent the modern Britain to which Diana very much belonged."
The final sculpture is expected to be unveiled by the end of 2017. Read the full statement from Prince William and Prince Harry below and on Twitter.