(Previously on "A Quick Word From")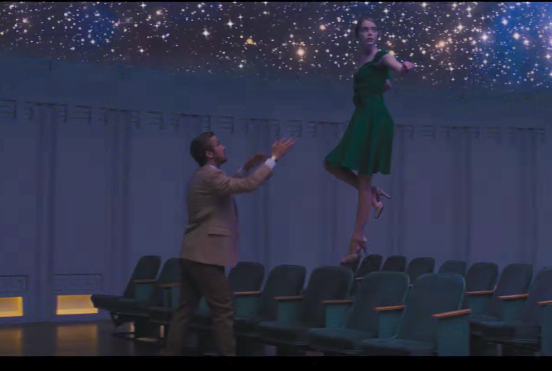 Listen, I know I'm probably fired. I had one job, which was to make sure no one broke into the Griffith Observatory after hours. Based on the security footage, it looks like a white couple broke in and proceeded to fly all over the planetarium. I'm sorry.
I fell asleep on the job. I know that is completely unacceptable. I do not make any excuses, even though I did lock all the doors and windows and have absolutely no idea how they got in.
I know how lucky I am that the couple in question did not steal or break any of the expensive telescopes and space do-dads housed in the observatory. It would appear that they simply danced and stared at each other across exhibits. By all accounts, it looked like they had as cute and wholesome a time as two trespassers could have. This, of course, does not excuse the fact that I fell asleep on the job.
I do not know how they turned on the planetarium projector. It was definitely off when I locked up. Nor do I know how they flew all over the planetarium. That was pretty amazing. I know that I was negligent, but the fact that two perpetrators could fly should cut me some slack. I am used to guarding against walking or even running people. Nowhere was it ever mentioned that flying people may break in. That's just not something you think to prepare for as a Griffith Observatory security guard.
I know this sounds ridiculous, but I think the power of a meet-cute allowed them to literally transcend gravity and reach the stars. Do you buy that? I think you sort of just have to buy that.
This does not change the fact that I fell asleep. I should have noticed an old-timey dressed couple approaching the building. We get that a lot out here in La La Land. I was just so tired. You see, I'm an aspiring jazz artist and I work multiple jobs so I can one day open a club. You may not have known that about me because it's not something I like to bring up literally all the time.
So go ahead, fire me. I had one task, and I didn't do it. I know that people have lots of opinions about the break-in. Some of you think it was lovely and well-done, while others don't really see what all the fuss is about. I know that it really makes some of you angry for some reason. This is understandable. People flying is new for all of us, but this is our reality now.
Before you make your decision, please keep in mind that I am a good man, and I cannot fly, no matter how hard I try. I need this job. I am not a gorgeous movie star. I'm just one of the fools who dream, crazy as I may seem.
Yours truly,
Gus from the night shift.
P.S. Have you guys ever thought about how L.A. is the city of stars, and we work at an actual planetarium full of stars in L.A.? Interesting connection, no? Please don't fire me. Did I mention I have kids? I have kids.