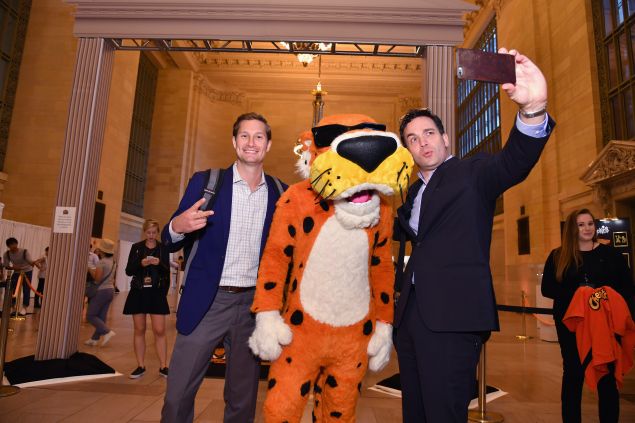 Chester Cheetah died last night of unnatural causes, asphyxiating on one of the trademark cheese curls to which he lent his name and likeness.
Chester was a cool cheetah, known for the black sunglasses he would adorn on nights out, often with his good friend and fellow sunglasses-wearing mascot Joe Camel, to mingle with the youth. But he also knew his brand. Close family remain certain that Chester could swallow a cheese curl in his sleep, and for them, his failure to do so causes several members to consider that Chester committed suicide. It's much more likely, they say, that he ended his own life due to a broken heart.
Chester was depressed for months after allegations emerged that the cheetah was intentionally embroiled in a licensing deal with the very soon-to-be president-elect, his family claims. Comparisons between the president-elect's hue and Chester's fur were tolerable at first, but they slowly ate away at Chester's confidence, and before so long the iconic mascot soon found himself reduced to parody.
When a feminist punk band from Austin called Sailor Poon repurposed his image into the flier pictured below to protest the president-elect, crucified and set ablaze, the dollar signs he had for eyes no longer rang of a noble, capitalist snack-food enterprise. The cheetah remained bedridden for days leading up to his death, which is why sources closest to the Cheetah family are calling his death a suicide.
All of this is my longwinded, indirect way of saying that the kids are energized again, at least out here in Brooklyn, at levels not seen since Bernie's primary run. We love our National Endowment of the Arts and don't want to see it be defunded or dismantled.
They're doing homework on the mangled process that has been the transition of power, researching cabinet picks and not allowing themselves to be distracted by tweet storms or press conferences with invisible folders (bringing new meaning to the term "political prop").
But most impressively, we're seeing people using the creative scenes they've always been part of as an immediate opportunity to organize, agitate and resist.
Sailor Poon are but one example of a band that's taken ownership of the passionate, aware vitriol informing their actions. Last week I brought you a list of this week's imminent anti-inauguration protest concerts, all of which have donated their proceeds to various causes and organizations that threatened to be defunded or wholly dismantled by the incoming administration. That list proved to be ever-growing, and as of this writing is still being updated with the influx of music-related protest events.
Since then, the vitriol for our president-elect among musicians has proven participatory at levels not seen since the Reagan years. And history tells us that the hatred of Reagan among the creative class had a powerful, lasting effect for punk music.
The three-ring circus analogy again proves fitting for the incoming administration, which will have a tweet-storm or a photo-op going on in the center ring so the audience is distracted from all the fucked up shit going down off to the side. But if Saturday Night Live can hold Washington accountable with their opening monologues, so can you.
A brief recap of the music news this week provides a snapshot of the seething rage that artists and musicians have been feeling, likely exacerbated by the fact that the president-elect gets openly hostile toward those freely practicing the exchange of information and facts (journalists etc.). Their public platforms fast became the only lectern for the voiceless.
Trump's inauguration inspired cartoon supergroup the Gorillaz to release their first music video in six years today, the politicly charged "Hallelujah Money," the first single from their upcoming as-yet-untitled new album. Via Uproxx:
[youtube https://www.youtube.com/watch?v=CDUrpPvU1_4&w=560&h=315]
Featuring imagery from the gilded halls of Trump Tower, as well as a Ku Klux Klan march, Mercury Prize-winning poet, artist, and composer Benjamin Sainte-Clémentine delivers a stark future R&B hymnal over belching electro-rap production that recalls some of the Gorillaz's more experimental leanings.
Arcade Fire returned yesterday, too, with a powerful electro groover that features the American legend Mavis Staples, whose music with The Staples Singers soundtracked the civil rights marches of the '60s.
[youtube https://www.youtube.com/watch?v=f6jma9VQEls]
Earlier this week, Fiona Apple released this blisteringly catchy little chant she recorded on her phone, intended to be chanted while marching—"We don't want your tiny hands/ Anywhere near our underpants."
[soundcloud url="https://api.soundcloud.com/tracks/303184466″ params="auto_play=false&hide_related=false&show_comments=true&show_user=true&show_reposts=false&visual=true" width="100%" height="450″ iframe="true" /]
Baltimore-born Guy Blakeslee made a name for himself with heady stoner psychedelia as Entrance Band, but he's back to his original monicker of ENTRANCE with a strong new album next month, and sharing this sweeping, cathartic protest number to tide listeners over until then.
[youtube https://www.youtube.com/watch?v=IqpQEHHV6Ns&w=560&h=315]
A pay-what you want compilation called Battle Hymns was released by Quasi, "created in direct response to the current political situation in the U.S.A." Janet Weiss and husband Sam Coomes are Quasi, who  organized the comp and appear on it alongside Stephen Malkmus, Jon Spencer, Carrie Brownstein, Corin Tucker, Peter Buck, and many more great, talented friends.
That it was released on the day of  the inauguration, of course, is no coincidence. And all proceeds from the comp are divided equally between Planned Parenthood, the ACLU and 350.org.
Audioslave, the personification-of-an-energy-drink-soundtrack supergroup made up of Rage Against the Machine and Soundgarden members, announced that they would reunite for the Anti-Inaugural Ball at Los Angeles' Terragram Ballroom on the night of the inauguration.
Prophets of Rage, the new supergroup that Rage formed with members of Public Enemy and Cypress Hill, wrote in a release that the ball was "a celebration of resistance. Resistance to racism. Resistance to sexism. Resistance to homophobia. Resistance to bullying. Resistance to environmental devastation. Resistance to fascism. Resistance to Donald Trump…Bad Presidents make for great music."
Artists are protesting in more visceral ways, too Wacka Flocka Flame spotted a Trump shirt in the crowd at one of his shows and asked that the wearer to kindly throw it onto the stage; he then proceeded to pull down his pants and use the shirt to wipe his ass.
So three cheers for the radicalized musicians, willing to potentially alienate some fans and lose some cheese curl licensing deals for their values and ideals.
But the true challenge of wills comes later, after the Women's March on Washington has ended and the headlines about clueless, contrarian appointees take a backseat to the center ring distractions. The true test of conviction will be measured by the willingness of these musicians and activists to stay up, to stay informed, and to keep reading.
The opinions contained herein are solely those of the author and by no means reflect the opinions of our Editorial Board.