New York Rangers captain Ryan McDonagh just listed this apartment.
Modlin Group
The kitchen is newly renovated.
Modlin Group
It's just a few floors below Taylor Swift.
Modlin Group
Many exposed beams, of course.
Modlin Group
McDonagh bought the loft in 2014.
Modlin Group
And lots of exposed brick.
Modlin Group
Marble bathrooms.
Modlin Group
It's not yet clear where McDonagh is headed next.
Modlin Group
He and his wife welcomed their first child in October.
Modlin Group
More marble.
Modlin Group
Sadly, Swift is currently in the West Village.
Modlin Group
As anyone who follows a member of Taylor Swift's girl squad on Instagram is well aware, the whole crew loves getting together in a certain palatial Tribeca penthouse. As the unofficial (or maybe official) leader of the #squad, it's rather fitting the gatherings take place within the confines of Swift's massive apartment, where we imagine cookies are passed around and cat photoshoots ensue.
Swift purchased the aforementioned apartment at 155 Franklin Street in 2014, paying Lord of the Rings director Peter Jackson $20 million for the top two floors of the building. She's not the first celebrity to reside within the walls of the Sugar Loaf Warehouse—past inhabitants include Orlando Bloom and Academy Award-winning director Steven Soderbergh.
https://www.instagram.com/p/yBNhN5DvCw/?hl=en
Perhaps people were so captivated by Swift's purchase that New York Rangers captain Ryan McDonagh's acquisition of a third-floor apartment that very same year went unnoticed. McDonagh paid $5.2 million for a three-bedroom, two-bathroom condo, which encompasses 2,450 square feet and is replete with the same exposed brick and timber-beamed ceilings oft-spotted in the background of a Gigi Hadid Instagram.
Any Rangers and/or Swift fans are in luck, as McDonagh just put his loft on the market for $5.75 million.
The condo features a few recent renovations, per the listing shared by Modlin Group brokers Adam Modlin and Jaime Davis, including a new kitchen with SubZero, Miele and Viking appliances, as well as Calacatta gold marble, custom white cabinetry and a breakfast bar. There are also all new floors and lighting.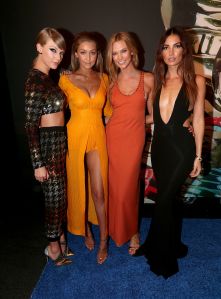 The master bedroom is equipped with en-suite bath with a double vanity and separate soaking tub, and per the listing photos, the second bedroom is currently functioning as a very adorable nursery—McDonagh and his wife, Kaylee, welcomed their first child in October 2016.
At the moment, Swift is living in a West Village townhouse while she completes renovations on her Tribeca penthouse—she's reportedly finally combining the two floors.
We can't guarantee that buying McDonagh's abode will include an invitation to Swift's next supermodel studded sleepover, but you're sure to catch a glimpse of a Victoria's Secret model somewhere in the building. Or maybe Henrik Lundqvist because also, #LGR.
If this particular Tribeca apartment isn't your cup of tea, maybe former Rangers center Derick Brassard's apartment at One York will be; it's still up for grabs at $4.35 million.