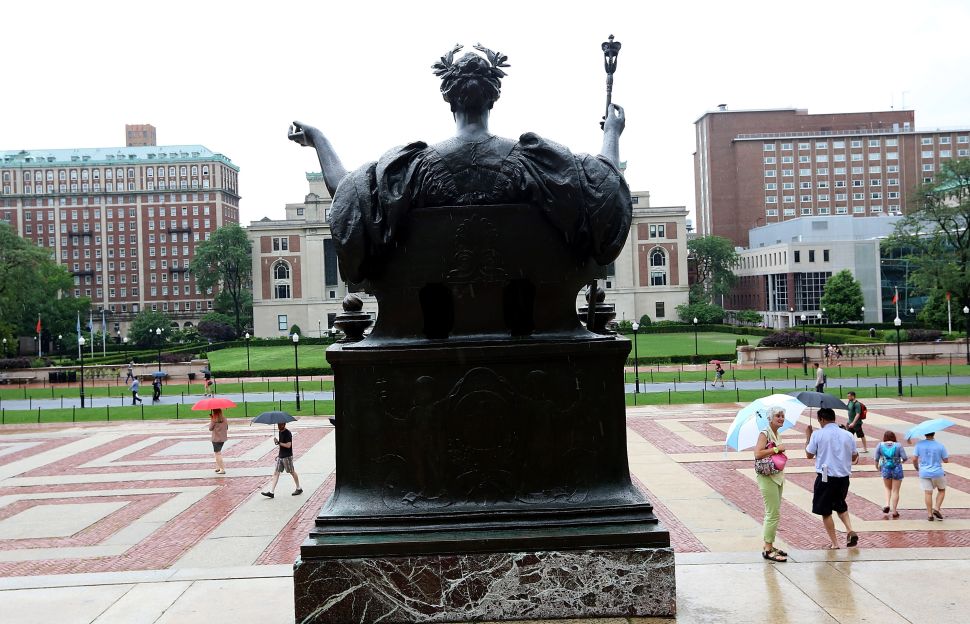 Rashid Khalidi, the Edward Said Professor of Modern Arab Studies at Columbia University, is no stranger to controversy, especially when it comes to Jews and Israel.
Khalidi, an American citizen, has been described as the spokesperson for the Palestine Liberation Organization in Beirut at a time when the PLO was emblazing headlines with its acts of terrorism and wanton killing of American citizens. For his part, Khalidi denies he had an official position with the organization, claiming he was merely living in Beirut during the 1976-1982 civil war and was sought out by the media as an informed observer. Any official role, he insisted, was erroneously misattributed to him by the media. But Khalidi did not attempt to correct the record.
Whatever his role, Khalidi is no shrinking violet when it comes to supporting the anti-Israel cause. He has been criticized for downplaying terrorism and asserting that anti-Semitism in the Arab world would disappear when the Arab/Israeli conflict does—as if there never was anti-Semitism in the Arab world prior to the existence of a Jewish state.
His scholarship has been controversial. An heir to Edward Said's paradigm that denounced "Orientalism"—defined as studying the Arab world through the prism of Western imperialism—Khalidi is viewed as an important scholar.
Said's critics, however, claim that his view of history is nothing more than a flawed, politically-correct version of the West that draws attention to its defects while creating a false Arab world whose peacefulness is a product of a vivid fiction. From this perspective, Said's disciple, Khalidi, is simply another typical leftist academic obsessing about the evils of the West and being disproportionately rewarded for what is commonplace in academia.
Even though academics thrive on generating controversy, we would have thought that Khalidi had either generated or unwittingly been ensnared in sufficient controversy to last the length of his academic career. Apparently not so, for on January 17, during an interview with Chicago public radio station WBEZ, Khalidi addressed the Middle East policy of the new Trump administration. Referring to "a group of people, a lot of them in Israel and some in the United States, who live in a world of their own" when it comes to what he sees as the realities of the Middle East, Khalidi concluded that "unfortunately, these people infest the Trump transition team; these people are going to infest our government as of January 20."
You most certainly do not have to be a chaired professor at a prestigious American university to recognize the anti-Semitic allusion that could have been lifted from an unending supply of Nazi propaganda. Anti-Semites depict Jews as vermin that infest societies. And of course the implication is obvious. What do you do to vermin? You exterminate them.
"Infelicitous" his how Khalidi described and justified his own remarks, claiming they were not directed at Jews. A person who can readily come up with the word "infelicitous" to describe both "unfortunate" and "inappropriate" in one word and who is a chaired professor certainly knows the implications of juxtaposing "Jews" with "infestation."
Khalidi burst upon the national scene in 2008 because of his friendship with then-aspiring national figure Barack Obama. At a 2003 farewell dinner for Khalidi, who was departing the University of Chicago for Columbia, Obama reportedly heaped lavish praise on the professor and noted Khalidi's influence on his own thinking about the Middle East.
Peter Wallsten, then of the Los Angeles Times, obtained a video of the farewell dinner where not only were Khalidi's views on the Middle East a source of inspiration to Obama, but some participants took it a bit further to condemn America's policy toward Israel and Israel itself. Obama's presence at the dinner became a source of controversy during his bid for the presidency.
Khalidi is a formidable presence in the debate on the Middle East conflict. He certainly is entitled to his views about settlements, the legitimacy of Israel, and American policy in the Middle East.
But the status of public intellectual entails a sense of responsibility. No reputable public intellectual would casually refer to any other ethnic or religious group with such stereotypical disdain.
Then again, Khalidi may have simply become very comfortable and secure in his anti-Semitism. Columbia is regarded by numerous watchdog groups as one of the most anti-Semitic campuses in America.
Home is where the hate is.
Abraham H. Miller is an emeritus professor of political science, University of Cincinnati, and a distinguished fellow with the Haym Salomon Center. Follow him @salomoncenter