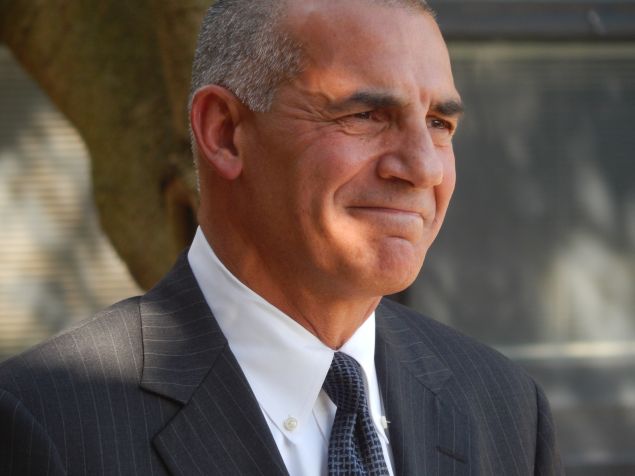 Republican gubernatorial hopeful and New Jersey General Assemblyman Jack Ciattarelli released his endorsements for his district's other legislative, municipal and countywide elections Tuesday. Ciattarelli will likely face off against Lieutenant Governor Kim Guadagno for the Republican nomination despite "scaling back" in-person appearances while he undergoes radiation treatment for cancer affecting his throat and tonsils.
"New Jersey Republicans want an entirely new direction for our state and our party," Ciattarelli said. "As a MBA/CPA, a successful entrepreneur and a Main Street business owner with a record of creating jobs, my campaign is about results, not rhetoric.
"That positive and dynamic message is resonating loud and clear across the state, which is why our support continues to grow.  Today, I am proud to announce my first list of endorsements, including respected Republican leaders in Somerset, Hunterdon, Middlesex, Union, Warren and Mercer Counties.  I look forward to announcing additional endorsements from all over the state in the weeks to come."
See the full list below.
State & County Elected Officials
State Senator Kip Bateman (R-16)
State Assemblyman John DiMaio (R-23)
Hunterdon County Sheriff Fred Brown
Hunterdon County Freeholder Director John Lanza
Hunterdon County Freeholder Deputy Director John King
Hunterdon County Freeholder J. Matthew Holt
Hunterdon County Freeholder Suzanne Lagay
Somerset County Republican Chairman Al Gaburo
Somerset County State Committeewoman Janice Fields
Somerset County State Committeeman Vic Sordillo
Somerset County Sheriff Frank Provenzano
Somerset County Clerk Brett Radi
Somerset County Freeholder Director Peter Palmer
Somerset County Freeholder Deputy Director Patrick Scaglione
Somerset County Freeholder & Montgomery GOP Municipal Chair Mark Caliguire
Somerset County Freeholder Brian Levine
Somerset County Freeholder Patricia Walsh
Additional Hunterdon County Endorsements
Bethlehem Township Mayor Paul Muir
Delaware Township Deputy Mayor Charlie Herman
Former Delaware Township Mayor Roger Locandro
Former Raritan Township Committeeman Gary Hazard
Tewksbury Township Committeeman Shaun Van Doren
Mercer County Endorsements
Hightstown Councilman Connor Montferrat
Princeton Municipal Chairman Dudley Sipprelle
Middlesex County Endorsements
East Brunswick Township Council President Mike Hughes
East Brunswick Township Council Vice President Jim Wendell
East Brunswick Township Councilwoman Camille Ferraro Clark
South Plainfield Council President Rob Bengivenga
South River Councilman & GOP Municipal Chair John Sapata
Middlesex County Young Republican Chairman John Steiner
Monroe Township Municipal Chairwoman Roslyn Kane
Additional Somerset County Endorsements
Bedminster Township Mayor Steve Parker
Bedminster Township GOP Municipal Chairman Bob Holtaway
Bernards Township Mayor Carolyn Gaziano
Bernards Township Deputy Mayor John Carpenter
Bernards Township Committeeman John Malay
Bernards Township Committeewoman Carol Bianchi
Bernards Township GOP Municipal Chairwoman Leslie Workman
Bernardsville Township Mayor Kevin Sooy
Bernardsville Township GOP Municipal Chairman Skip Orza
Bound Brook Mayor Bob Fazen
Branchburg Township Mayor Tom Young
Branchburg Township Committeewoman Anna Columbus
Branchburg Township Committeeman Robert Petrelli
Bridgewater Township Mayor Dan Hayes
Bridgewater Township GOP Municipal Chairwoman Beth Powers
Far Hills Mayor Paul Vallone
Far Hills GOP Municipal Chairwoman Janis Vallone
Franklin Township GOP Municipal Chairman Bob LaCorte
Green Brook Township Committeeman Patrick Boccio
Green Brook Township GOP Municipal Chairman John Lore
Hillsborough Township Mayor Carl Suraci
Hillsborough Township Deputy Mayor Gloria McCauley
Hillsborough Township Committeeman Frank DelCore
Hillsborough Township Committeeman Doug Tomson
Hillsborough Township Committeeman Greg Burchette
Hillsborough Township GOP Municipal Chairwoman Chickie Haines
Manville GOP Municipal Chairman Joe Lukac
Millstone GOP Municipal Chairwoman Kristin Ross
Montgomery Township Mayor Ed Trzaska
North Plainfield GOP Municipal Chairman Mike Haggerty
Peapack-Gladstone Mayor William Muller
Peapack-Gladstone GOP Municipal Chairman Dean Lurker
Raritan Mayor Chuck McMullin
Raritan GOP Municipal Chairman Rich Deluca
Rocky Hill Municipal Chairman Brian Nolan
Somerville Mayor Brian Gallagher
Somerville GOP Municipal Chairman Rich Reitman
South Bound Brook Municipal Chairwoman Jo-Anne Schubert
Watchung Municipal Chairman DJ Hunsinger
Union County Endorsements
Garwood Councilman Joseph Sarno, III
Garwood GOP Municipal Chairman James Mathieu