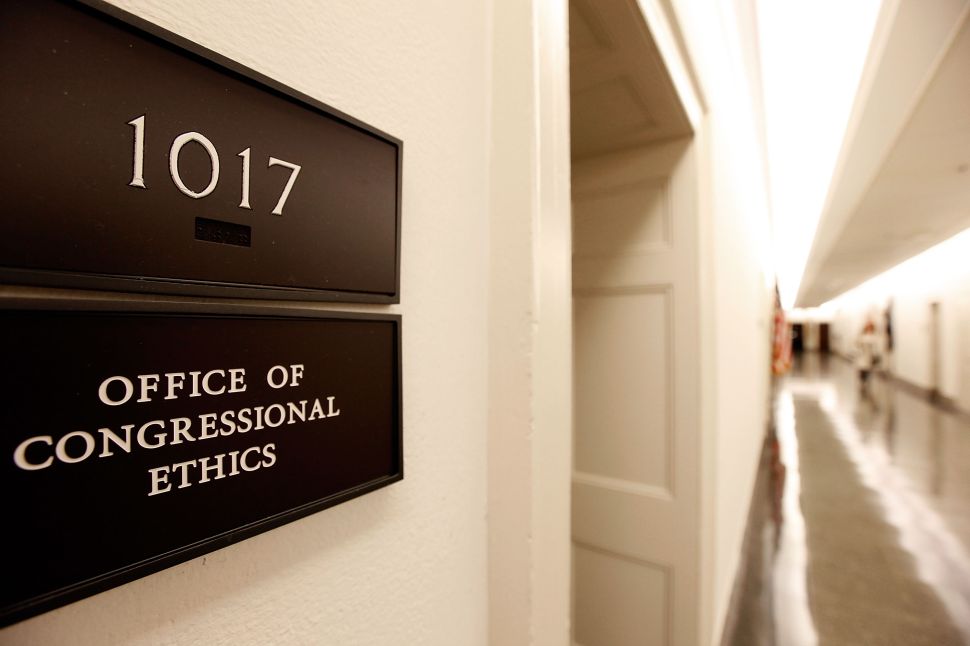 Upon the Republicans' announcement to gut the Office of Congressional Ethics (OCE), Democrats were in an uproar. While the plan was ultimately pulled amid widespread criticism—including from President-elect Donald Trump—the Democratic Party's partisan response fails to acknowledge that they also once attempted to gut the OCE. In truth, the OCE has been widely ineffective.
In addition to often publishing complaints from Hillary Clinton propagandist David Brock, the OCE was also accused of racism by the Congressional Black Caucus (CBC). In 2010, The Washington Post reported "Rep. Marcia Fudge (D-Ohio), joined by 19 other members of the Congressional Black Caucus, last week introduced a resolution that would essentially neuter the ethics board, making it more difficult for OCE to launch investigations and inform the public of its findings." However, The Post said Fudge's motivations stemmed from her chief of staff being reprimanded by the OCE for helping CBC members obtain an all-expenses paid trip to the Caribbean.
The OCE wastes money, providing cover to legislators who don't fulfill their obligations to their constituents or who don't report unethical behavior from their fellow legislators. When an elected official is discovered to have violated ethics or the law, those who were privy to their wrongdoing should be investigated as well. It is going to take a lot more than the limp OCE to purge corruption from both political parties in Congress. The Democratic Party's opposition to gutting the office is little more than a partisan facade to portray themselves as the champion of ethics, when their recent behavior suggests this is anything but the case.
The Democratic Party has failed to acknowledge corruption within the Democratic National Committee (DNC) even after WikiLeaks revealed undeniable evidence confirming former DNC chair Debbie Wasserman Schultz and the Clinton campaign rigged the primaries to favor Hillary Clinton. Wasserman Schultz was rewarded by party leaders with unprecedented endorsements and interference in her primary re-election bid to the House of Representatives. Rather than sever ties with Wasserman Schultz, the Clinton campaign hired her. She was replaced as DNC chair by another corrupt surrogate, Donna Brazile, with whom CNN severed ties after she was exposed for helping the Clinton campaign cheat before debates.
Democrats widely defended Clinton throughout an FBI investigation into her private email server, even before they were aware of the findings. The Party also defended the Clinton Foundation from its own conflicts of interest. But it isn't just the Clintons who are guilty of wrongdoing.
In 2016, Rep. Chaka Fattah was convicted and sentenced to 10 years in prison for corruption. Rep. Corrine Brown was indicted on fraud and will be leaving Congress this week to face trial in federal court. Sen. Bob Menendez was indicted on bribery and awaits a decision from the U.S. Supreme Court on his appeal. Virginia Gov. Terry McAuliffe is under investigation by the FBI for donations he received from a Chinese billionaire. In October, it was revealed he donated to the campaign of a top FBI official presiding over Clinton's FBI investigation. In response to the ethics and campaign finance investigations he is facing, Connecticut Gov. Dannel Malloy slashed the budgets of government watchdogs in August 2016. After mounting bipartisan pressure, Malloy's appointee to oversee a health insurance merger between Anthem and Cigna recused herself in September. Former donors and aides to New York Gov. Andrew Cuomo were indicted on federal bribery charges, and his administration has been slow to enact ethics reforms in the wake of his own scandals and those that led to the convictions of former New York Assembly Speaker Sheldon Silver, a Democrat, and former New York Senate Majority Leader Dean Skelos, a Republican.
Even when overt corruption is discovered, the Democrats provide immunity to their own. Though Republicans have fared no better when it comes to "draining the swamp," neither political party can pretend to care about maintaining ethics in Congress when they have fostered an environment conducive to corruption, dysfunction, and special influences superseding the interests of voters.