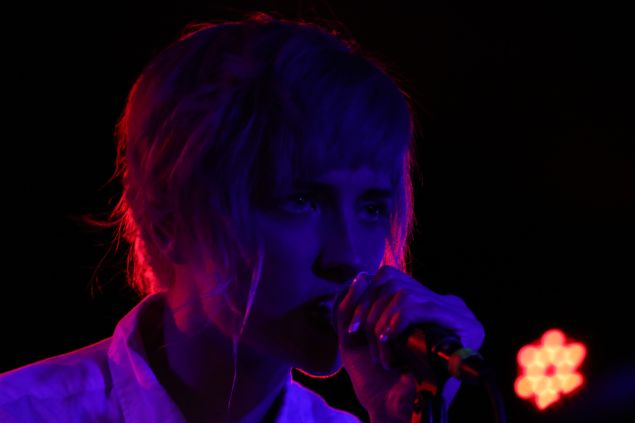 Midway through their album release show and opening night of their tour, Priests singer Katie Alice Greer stopped the set to update her audience on the refugee ban. At some point in the evening, a New York federal judge issued a freeze on the ban that held refugees from Muslim-majority countries at JFK.
"We have a lot of work to do," she told a packed Brooklyn Bazaar to cheers, "but tonight we celebrate." After standing up for a free press and explaining how staying informed remains the best way to stay engaged, Greer's final words before getting back to the show were ones we needed to hear—"Resistance absolutely works."
It's safe to say that no one at a Priests show would dare tell them to shut up about politics and focus on their music; to this band of D.C. activists, the two are inherently intertwined.
Priests' urgent and bone-rattling debut, Nothing Feels Natural, released one day earlier via the band's own Sister Polygon Records, puts the current administration's neo-con Accelerationist agenda on notice through 10 vignettes about scarcity, logic, commerce, culture, feminism, anarchy, and protest. A week prior, Greer organized the "No Thanks!" anti-fascist concert at D.C.'s Black Cat immediately after the inauguration. On this night they were donating a dollar from each ticket to Casa Ruby, a D.C.-based nonprofit providing bilingual, multicultural services and support to at-risk LGBT people in the community.
The "organize, agitate, resist" approach is already a daily exercise for Priests, the D.C. band told me in our conversation last week. And the best defense against policy changes or executive orders signed without our knowledge remains staying informed, all the time, not just through reading but through doing a bit of research about who's behind the changes, too. This is the same "follow the money" mentality that journalists have practiced for eons, a diligent verification process of solid sourcing and indisputable objectivity amounting to a truth that no "alternative facts" can discredit.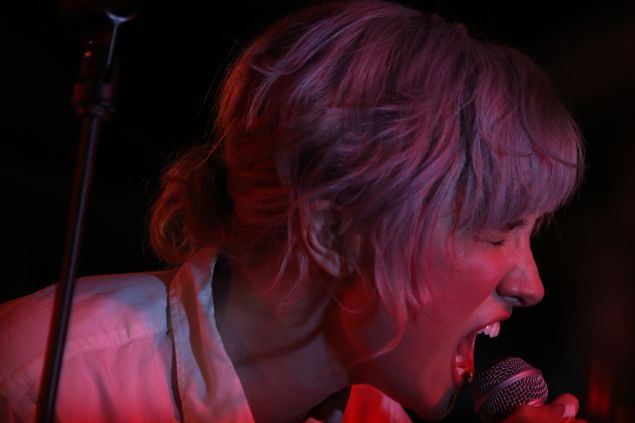 The "follow the money" mentality remains especially important for patrons of art and culture, too, Greer said. So much of the work we take comfort in as a means to rebel and disassociate is delivered by channels of media with vested capitalist interests and executed marketing campaigns.
"America has become really obsessed in the last couple of decades with selling people iconography of rebellion, but packaging it in a way that's not actually subversive or rebellious at all," she told me. "So I think it's important to be really engaged in critical thinking with the way that you're consuming art and culture right now."
Some of that critical thinking, I suggested, comes from our understanding of algorithms.
If we share a well-worded, whistleblowing long-form thinkpiece about a cabinet member's nefarious overseas investments on Facebook, then share a GIF of a cute dog licking peanut butter immediately after, the longform piece takes a spot further down in our audience's feeds than the GIF, and appears with less frequency.
But if we accept that, in its purest form, social media was intended to serve as a tool for collective organization and communication, we can also search for ways to take it back from monied, advertorial interests that collect our personal data and market to our tastes on a fixed track of accelerating consumption.
Any artist with a large social media following puts themselves in a prime position to help subvert the advertorial aspirations plaguing social media platforms. The beauty of a tool like Twitter lies in its disruptive ability to amplify a chorus of voices above its sponsored posts or any planted virality, as we saw this weekend when thousands of Uber users took to Twitter with screenshots of them deleting their accounts in protest of the companies cooperation with the Trump administration.
Artists of influence are using their reach in concert with these platforms to do some good as well.
Grimes matched $10,000 in donations to CAIR in less than one day, and she did it by harnessing the empathy of her audience, already organized and engaged around her music, to spend their money where it would make a difference. The idea behind this is simple in both theory and practice—that we can liberate these technologies we put blindly our money into from the interests and the causes that we believe are pulling the world backwards.
Now that we find ourselves in a time when misinformation and distractions are intentionally planted in these channels, we must take such subversive attempts to hijack the true narrative in the same dismissive breath that we take the trustifarian finance majors in skinny jeans, paying their way to Bowery Ballroom and creating a false sense of hype around their shitty, soulless music.
Liberated from the vocabulary of some shotgun-wielding patriot, "vigilance" these days means that we all have to act a little bit more like journalists—sourcing everything, investigating the monied interests of both publications and the players who keep them in business.
Whether or not the current administration supports a prosperous creative class, they need us. They listen to us. And when we stop listening to them, it hurts their feelings.
But if the creative class, if the artists and the music makers can put this into practice, too, then the cultural capitalist infrastructure can be transformed into a tool of resistance.
We know that the scorn of almost all artists affects the current administration, from Trump's vitriolic rant at Meryl Streep to the self-assuring, ego-stroking laugh fest of seeing every reputable performer turn down the chance to play the inauguration. Maybe that's why the National Endowment for the Arts and the National Endowment for the Humanities are reportedly on the chopping block, despite the fact that they accounted for only .006 percent of the annual $3.9 trillion spent by the U.S. government in 2016. We already know that our current president holds grudges. And if the artists hate him, dismantling the NEA and the NEH will hit them where it hurts.
But the creative community holds a value no spreadsheet or balance form can capture, and even the bafflingly contrarian Secretary of State nominee Rex Tillerson knows it.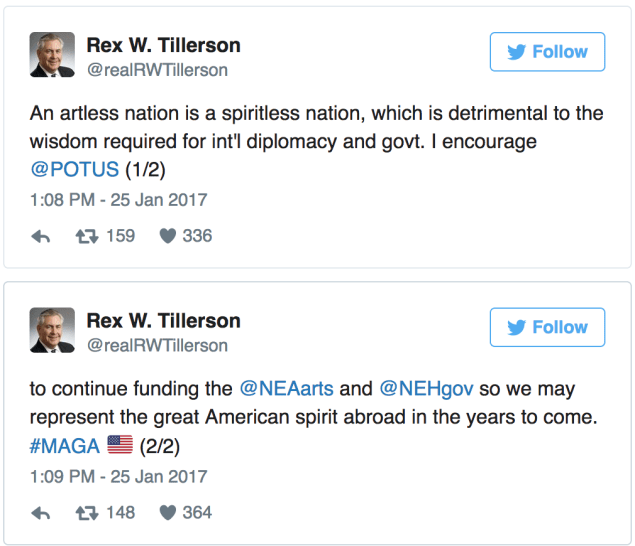 Whether or not the Trump administration supports a prosperous creative class, they need us. They listen to us. And when we stop listening to them, it hurts their feelings.
Pink Floyd's Roger Waters was one of the first artists to announce his dissent, through a live video of "Pigs (Three Different Ones)" off Animals that he published on Inauguration Day. Something tells me he'll likely bring The Wall back soon, too.
[protected-iframe id="9b6afa6fa3fb9d42dbb2afcd1da3e778-35584880-59143305″ info="https://www.facebook.com/plugins/video.php?href=https%3A%2F%2Fwww.facebook.com%2Frogerwaters%2Fvideos%2F1300753293301806%2F&show_text=0&width=560″ width="560″ height="315″ frameborder="0″ style="border: none; overflow: hidden;" scrolling="no"]
We can only imagine how conflicted Donald Trump Jr., who professes to be a big Floyd fan, must feel over Waters' inflatable pig and animated graphics of his father projectile vomiting in drag.
No word yet if Betsy DeVos is a Pink Floyd fan, too, although she certainly takes the "We don't need no education" lyric to heart.