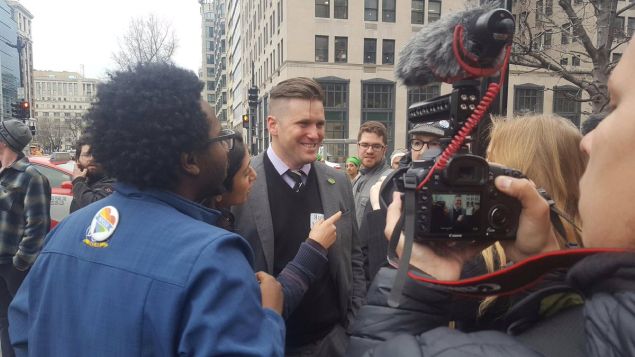 Yesterday's presidential inauguration (and the accompanying protests, including today's Women's March on Washington) featured many moments made for social media, from Batman references to clever protest signs.
But no single event allowed the internet to vent its anger more than this video of white nationalist Richard Spencer getting punched in the face during the inaugural activities:
Spencer, who coined the term "alt-right" and stated that "America belongs to white men," gave the internet a creative outlet for its outrage. This weekend Twitter was flooded with videos adding background music to Spencer's blow. Here are some of the best creations:
Bruce Springsteen, "Born in the USA"
Phil Collins, "In the Air Tonight"
Montell Jordan, "This Is How We Do It"
"Guns and Ships" from Hamilton
Celine Dion, "My Heart Will Go On"
Psy, "Gangnam Style"
"Glorious Domination" WWE theme song
Thin Lizzy, "The Boys Are Back in Town"'
Miley Cyrus, "Wrecking Ball"
Idina Menzel, "Let It Go"
Rachel Platten, "Fight Song" 
Spencer (whose Twitter avatar features Pepe the frog) tweeted earlier today that he will be filing a police report in Washington, D.C. about the incident.