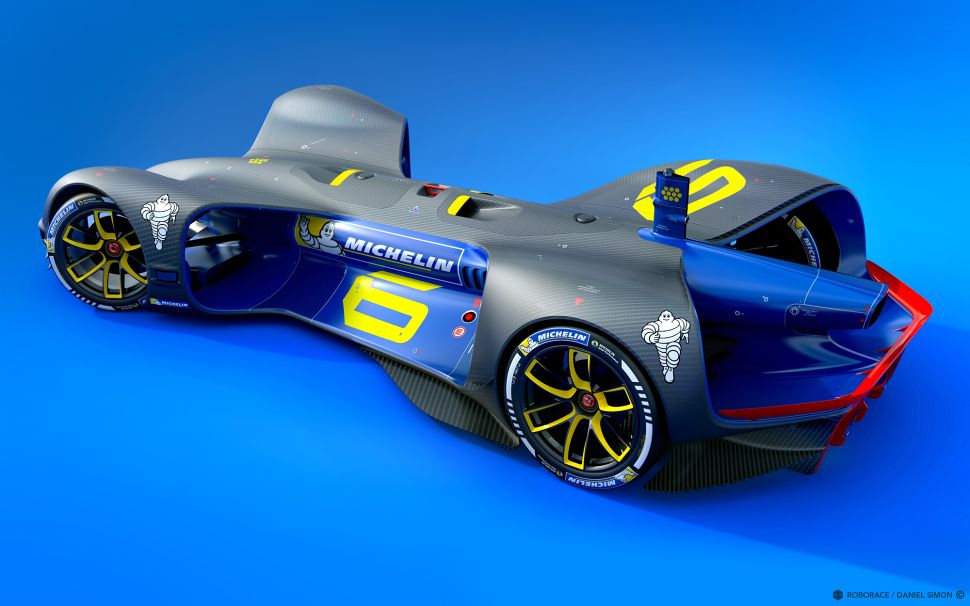 Roborace is a British company that wants to create a new sport: motorsports driven by artificial intelligence. Imagine cars driven only by software competing on a looping racetrack. In theory, racing could be considerably faster and more aggressive because no one has to worry about putting a real driver at risk. On the other hand, will racing have that dramatic tension without people in the cars? We went to racing fans here in the US to find out what they think about robot racing.
To build buzz, Roborace has been documenting its progress toward bringing fully autonomous vehicles to electric vehicle tracks on YouTube. Last week, it released episode five in the series, which primarily focuses on testing a scale model of their car in a wind tunnel:
The video doesn't actually say anything about how well the model performed. This is typical of videos in this series. In the third episode, which documents the company's first completely driverless runs around a racetrack, the video says that its prototype racecar increases its speed with each pass, but never says what top speed it ends on. In the end, it completes 12 passes uneventfully.
The car looks like something from Hot Wheels' 1980s series of futuristic looking toy cars, Ultra Hots. It better be a very cool machine, because it's the only car that anyone will see in its self-driving competitions. Roborace will create one racecar, and every team will use it. The competition won't be over the best wheels or the best engines—it will all be in the software, as Fortune previously reported. This means that fans can't even connect with a particular car's form factor. They will all have the same nuts and bolts, through and through.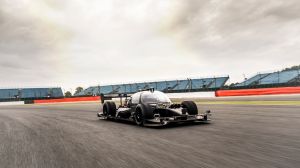 In Roborace's latest video, Chief Design Officer Daniel Simon says, "We need to build a bridge pretty much between two worlds that are about to clash right now, which is the hardcore auto enthusiastic world and where artificial intelligence is happening."
Can they do it? We sought out people who already like watching cars throttle around tracks: NASCAR writers and fans.
Former USA Today sports reporter, Jeff Gluck, now writes and podcasts about the sport on his website, a beat that has earned him 128,000 followers on Twitter. "NASCAR is such a personality-based sport. When people watch it, it's as much about the drivers as what they're driving," he wrote the Observer. "However, I do think this is likely the future whether people like it or not. Because in 50 years, no one will be driving themselves."
Brian Neudorff is meteorologist in Idaho, but he grew in Indiana as a fan of racing, which has a long tradition in the state. Today, he provides unofficial forecasts for NASCAR races on the side. "We know there is a lot of stamina and work that goes into muscling a car at high rates of speed around a track," he wrote. "When we see a dicey situation and cars are close, we feel it as fans."
And it's not just the danger. He's seen drivers make what would technically be considered the wrong move on the track, but it has paid off. What if computers always make the right move, based on their overall strategy? Will that be fun for spectators? That said, the right move might not be ones humans predict, as Google proved as its AI played the board game Go.
He added, "When a driver leaves a team to race in a different car, with a different number and sponsor, fans don't stay with a car. They cheer on the driver."
Motorsport says that there is still a human factor, arguing that the personality behind each team will be its chief engineer instead of a driver, which could yield a whole other kind of fan. Jalopnik has been a bit more skeptical that there's anyone for a fan to follow, but one of their guest writers argued that it might not matter, provided the company takes the lid off speed. If that happens, fans could one day watch auto races nearly as exciting as those portrayed in the Wachowskis' (seriously underrated) Speed Racer movie.
We also asked the NASCAR subreddit, which has 27,000 subscribers, what it thought about driverless racing. Almost everyone agreed that they would never be sold on autonomous cars as the main event; in fact, the post got a majority of downvotes just for asking the question.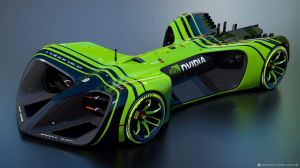 "Having imperfect humans as the drivers gives the variables that make racing so fun. Some guys race harder and burn up the tires. Some guys make mistakes and spin or get into another car. Or they just briefly lose control, and fall back a few spots," @bored_at_work29 wrote, who pointed out that an AI is never going to hurl a helmet in the pit after losing a race. "Taking the drivers out would be like taking 95 percent of the appeal of racing away."
Some were open to it as a sideshow. For example, @Kvetch_22 wrote, "Super modify a bunch of street cars, retrofit them with AI drivers, and let them run like 100 miles. No safety concerns is a benefit."
More than one redditor predicted that autonomous racing could be aimed at a whole new demographic. "I have three kids and most of the toys these days are electronic where you just turn it on and watch it entertain you. How is this any different?" @Apreston48 asked.
Electric vehicle racing (or Formula E), is sanctioned by the French racing organization, FIA—not NASCAR. That said, NASCAR dominates racing here in the states. Folks on the much smaller Formula E subreddit seem cautiously optimistic about robots going zoom. They will have their next taste when Roborace appears at a race in Buenos Aires on February 18.
In the end, car makers may be the only fans the new sport really needs. Denis Sverdlov, the company's CEO, predicted to Fortune that the software in self-driving racecars will find its way into street legal automobiles. The cars themselves will test new sensors, CPUs and other hardware.
If gunning electric engines as fast as possible around race tracks turns out to be a useful laboratory for iterating on day-to-day vehicles, it might not even matter whether or not regular people want to watch.