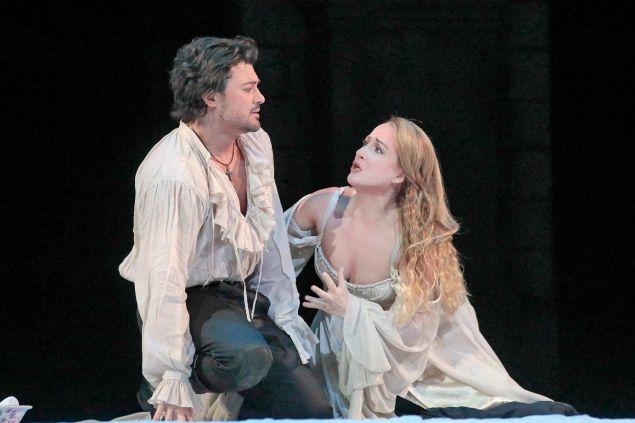 Remember the story of "Stone Soup?" The one where the scam artists claim they can make a delicious soup out of just water and a rock… but if the gullible villagers will throw in a few carrots and a little stew meat and some cream the broth will be even more delightful?
Well, Stone Soup is what the Metropolitan Opera served up as a New Year's Eve gala Saturday night, with tenor Vittorio Grigolo and soprano Diana Damrau providing virtually all the flavor in an otherwise insipid new production of Gounod's Roméo et Juliette.
The two singers offered performances of complementary excellence. Grigolo alternated between wild fortissimo cries (including a rock-solid high C) and ravishing voix mixte soft singing. His was the most moving moment of the performance, a gossamer reading of the final line of the balcony scene "Que la brise des nuits te porte ce baiser!" With the beguiling artisty of a true matinee idol, Grigolo seemed to send a kiss floating on the night breeze to each member of the audience… individually.
The more cerebral Damrau conceived her Juliette in more sophisticated terms, her silvery voice darting and swooping like a startled butterfly. Nost notable were her pianissimo effects, aptly representing the teenaged heroine's innocence and sweetness. Even more so than the famously outgoing Grigolo, she was always in motion. During her first act waltz song, the fluttering of her pale gold gown and long blonde hair would have done honor to any Disney princess.
So intensely theatrical—to the point of seeming utterly stylized—were these performances that they might have sprung from a high-concept production of this Shakespeare adaptation in which Gounod's perfumed melodies depicted a case of histronic personality disorder a deux. (The suicidal ideation is a dead giveaway.) But, oddly, for this staging the Met turned to perhaps the least adventurous director on its roster, Bartlett Sher. Besides a crisply-directed stage combat scene that lasted all of 90 seconds, Sher's only original idea, a dreadful one, was to have the young lovers spend their wedding night stumbling over a stage-spanning painter's tarpaulin in lieu of a bed.
Among a gaggle of unremarkable supporting performers, baritone Elliot Madore as Mercutio stood out for having no voice at all. Gianandrea Noseda's bombastic conducting was at least congruent with the profligate performances of his two stars, if rather too grand even for grand opera.
The Met has a thrilling star team in Grigolo and Damrau. They deserve far better vehicles than the thin gruel of this Roméo.