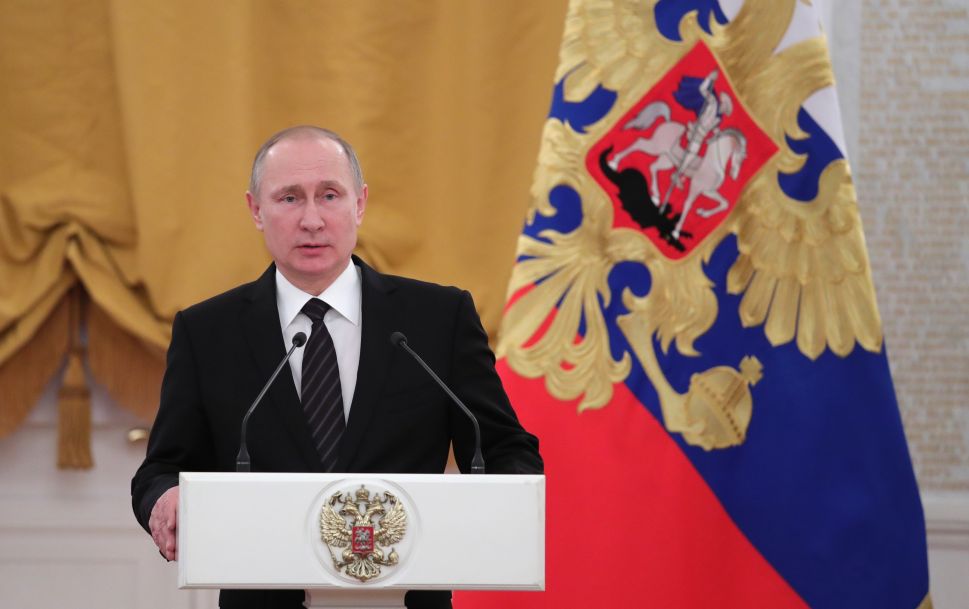 The Internet is flooded with reports that Russia is pulling out of Syria. I have a Russian word for that: nyet.
Russia is simply sending its aircraft carrier—Admiral Kuznetsov, the only one of its kind—back home to port in Severomorsk.
Admiral Kuznetsov arrived in the region in mid-October, dropping anchor just outside the Syrian port of Tarsis. The conflict in Syria began a full six years ago—and this was not Admiral Kuznetsov's first, second, or even the third trip to the Syrian shoreline. Again, because Admiral Kuznetsov is the only Russian vessel of this caliber, the aircraft carrier is in constant transport: when it has a role to play, it is dispatched.
While the United States deploys carriers for peacekeeping purposes, Russians use their carrier as an offensive weapon, integrated into its ground and air strategy.
Admiral Kuznetsov is equipped with about 35 jets and 26 standard helicopters—eighteen of which are designed for attack. There is no doubt those planes played an important role in giving cover to Assad's forces and pounding ISIS and Syrian rebel forces.
Two Russian air force bases remain in Syria: one in Latakia and one in Hmeymim. According to the best intel available, each base houses 20 fighter jets and 15 attack helicopters. This indicates that Russia still maintains a strong air force presence above Syria.
The Russians, who are gifted at these games, are going nowhere.
The Russians never do or say anything without a deeper, often hidden, agenda. Their press announcements quoting official sources and high-ranking generals are never simply press releases.
Remember in March, when Russia announced they were pulling out of Syria? What that really meant was that they were reorganizing.
So too, now.
Vladimir Putin is master of messaging. Now, following the ceasefire he brokered in Syria, Russia is showing good faith and drawing down its heavy power. Putin said Russia will drop fewer bombs in the region—not leaving, not withdrawing, not abandoning or pulling out. The dozens of jets and helicopters pack the punch to continue the brutal job after the Admiral Kuznetsov departs.
Russia positioned two French Mistral helicopter carriers outside of Tarsis for several months. These Mistral carriers are much smaller than aircraft carriers, and are designed to be launch pads for attacking ground targets. Each of the ships holds 35 helicopter gunships.
The history of the arrival of these French military weapons in Syria remains a mystery. Russia commissioned the helicopter carriers at about $1 billion each from France, but couldn't take delivery because of the arms embargo placed on Russian after their invasion of Crimea.
So instead, the carriers were sold to Egypt in a gift package financed by the Saudis, where in September they arrived with great fanfare. And then they disappeared, only to reappear a few days later as Russia's two, brand new, Mistral helicopter carriers sitting off the cost of Tarsis.
Russia subverted the arms embargo—all to come to Syria's aid.
And they built not one, but two air force bases and numerous land bases in Syria, including a $3.5 billion naval port in Tarsis which Russia uses as their command and control center for the entire Middle East. From there they can see, hear and reach everything and everyone in the region.
The Russians, who are gifted at these games, are going nowhere.
Micah Halpern is a political and foreign affairs commentator, author the "The Micah Report," online and host of the weekly TV show "Thinking Out Loud w Micah Halpern." follow him on twitter: @MicahHalpern