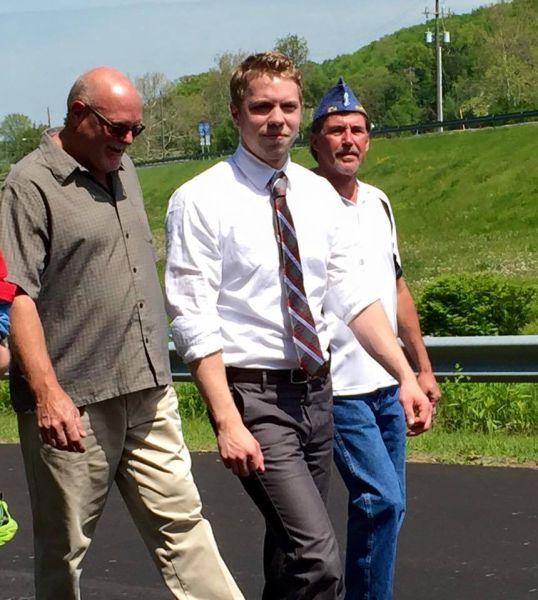 Ryan Reynolds is the mayor of Whitney Point, an upstate New York village so small (we're talking 964 people) he spends less than 20 hours a week performing mayoral duties. The rest of the time he spends clarifying, that no, he's not Deadpool.
OK, not the rest of the time, not since he was elected mayor at age 28 at least. "When you become a mayor, your first name just kind of changes to 'Mayor' and that probably helps the situation," he said in a Reddit AMA.
Reynolds (again, not the actor), who first ran for office at 21 and won at 23, makes only $3,600 annually as mayor. To supplement his tiny government income, he's also the manager at a local store. But his interests are actually pretty standard for a dude his age: hardcore gaming, going to the gym and Game of Thrones. Who knew Ryan Reynolds was so relatable?
"As far as Mayors go, I think I'm pretty unique," he wrote in his AMA intro, inviting users to ask him about government, politics, public service, elected office, New York and whatever else.
They did, asking questions like "on a scale of 1 to 10, how concerned are you about a military coup to remove you from power?" (his answer—"1″) and "how similar to Game of Thrones is being the mayor of a village in New York?" (his answer—"Well I haven't met any White Walkers and I don't have a Direwolf so…"). But it always went back to the name.
"Did you post this AMA because you really wanted to talk politics or because your name is Ryan Reynolds?" asked one Redditor.
"If all I wanted to talk about was my name, I wouldn't be here," he replied. "I don't consider it an asset. It's just a designation. My mother actually named me after the actress Meg Ryan which I have always chastised her for."
"How will you convince Hugh Jackman to team up with you for Deadpool & Wolverine?" asked another.
"Someone do a Hugh Jackman & Ryan Reynolds AMA request and ask them to come visit Whitney Point. I will be glad to give them a tour of the Village and help them coordinate filming here," answered Reynolds (the mayor).
"How often do you have to explain that you're not that Ryan Reynolds?" inquired one user.
"Most people don't actually believe that I am Ryan Reynolds. They just doubt that it's actually my name," he said. "I get a lot of 'seriously?' or 'really? wow' comments," he replied.
After a few hours, the actor Ryan Reynolds still hadn't shown up on Mayor Ryan Reynolds' AMA. But maybe they'll meet for Deadpool & Wolverine.