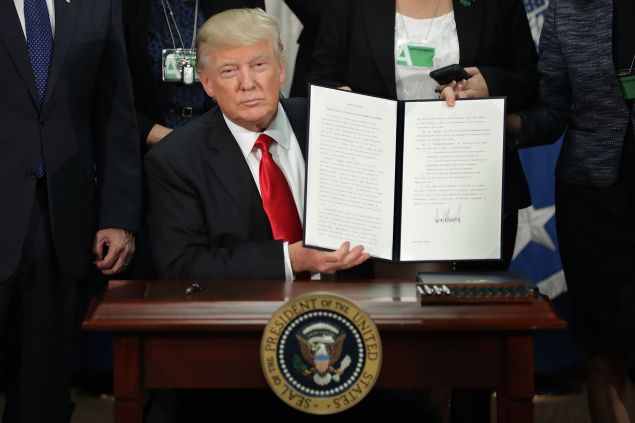 A coalition of more than 100 sanctuary city mayors released its defiant reaction today to the executive order President Donald Trump signed on Wednesday severing federal funding for municipalities that grant haven to undocumented immigrants.
Cities for Action, which has long advocated against deportation and for a path to citizenship for millions of foreign nationals, blasted the statement to the press this afternoon. The group asserted that the White House fiat will "not change who we are or how we govern our cities," and vowed at a legal challenge as Trump seeks to implement his plans.
"We will fight against attempts to undermine our values and the security of our cities," the group's release reads. "Representing cities and counties across the country, we are united in our commitment to remain inclusive cities, providing for the public safety of all. As mayors and county executives nationwide have made clear today, we will continue to provide for all in our communities—regardless of where they come from."
Mayor Bill de Blasio, who has independently promised to fight the administration in court, was among the 25 leaders who donated a quote to the Cities for Action release—an excerpt from his lengthy press conference the evening of the action.
"The president's executive order runs contrary to our values, but the stroke of a pen does not change the people of New York City," the liberal New York Democrat said. "We are not going to deport law-abiding New Yorkers. We will not tear families apart. We will not leave children without their parents."
The statement included similar remarks from Chicago Mayor Rahm Emanuel, Los Angeles Mayor Eric Garcetti, Philadelphia Mayor James Kenney, Jersey City Mayor Steven Fulop, New Orleans Mayor Mitch Landrieu and Atlanta Mayor Kasim Reed.
"Chicago is going to stay a sanctuary city. There is no stranger among us. We welcome people—whether you're from Poland or Pakistan, whether you're from Ireland or India or Israel and whether you're from Mexico or Moldavia where my grandfather came from," Emanuel's statement said. "You are welcome in Chicago as you pursue the American dream."